Orient Paper sells fine writing paper, corrugated paper for boxes (playing into our "selling picks and axes" theme) and they recently started production of paper for digital photographs. One of our friends, Dr. Eric Jackson, just visited China a couple weeks ago. He met with the management team of ONP and came away very impressed with them and their prospects for continued growth, especially in their new business in digital photography paper.
The paper company was founded in 1996 by Zhenyong Liu, CEO, who still owns 35% of the company. We like CEO /Founders and also high insider ownership.
Orient Paper has its headquarters in the city of Baoding, about two hours to the southwest of Beijing, and is strategically located where the majority of publishing houses are based. Orient Paper has two plants operating at three-shifts-a-day capacity, churning out its paper products. They keep their days and nights extremely busy.
There are only three to five China-based companies who are producing digital photography paper and ONP gets 30%-plus margins, versus its 20%-plus margins on its other businesses. Orient Paper can sell its fine paper and corrugated paper for roughly double what it pays. It can sell its digital photography paper for roughly triple its cost.
When businesses tried to save money by using the company's products made from scraps and recycled paper, net income rose 42 percent.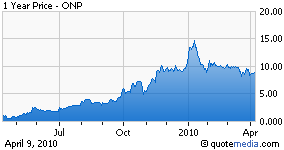 ONP is a rapidly growing company with a P/E just over 8 in a growing industry in China's incredibly growing economy. We think the stock is cheap. Orient Paper has a $120 million valuation, $30 million in cash and $4 million in debt (and it did $102 million in revenue last year).
To watch the video with Dr. Jackson, click here.
Disclosure:
Own ONP stock