Introduction
In this article I'll have a closer look at Royal Gold (NASDAQ:RGLD), one of the major gold royalty and streaming companies in the world. I will provide my views on the financial results of its Q2 results and balance sheet. I will also briefly talk about the outlook for the remaining part of the financial year, and this will result in my investment thesis at the end of this article.
My view on the financial results
In the second quarter of FY 2014, Royal Gold reported revenue of $52.8M which is approximately 34% lower than the revenue in the same period last year. This difference is obviously caused by the decline in the price of gold, the lower copper production at Voisey's Bay and a lower gold output at the Mulatos project which is operated by Alamos Gold (NYSE:AGI).
Fortunately, Royal Gold's costs (except for depletion costs) are quite low, which means operating income was still positive at almost $23M. Net income decreased by 60% to just $10.8M or $0.16/share. This obviously doesn't look very good, but before you run to the exit, most of my readers know I also like to have a look at the cash flow statements of a company because I believe those represent a better view of the quality and strength of the underlying business.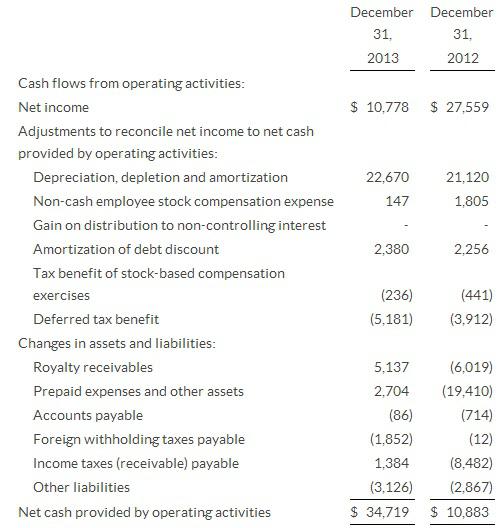 So when moving over to the cash flow statements, Royal Gold actually generated an operating cash flow of $34.7M which resulted in a net cash inflow for the quarter of $21.4M, as the only real cash outflows were the paid dividends.
My view on the balance sheet
The balance sheet still looks very robust, as the company had a working capital position of $705M at the end of December 2013, which is approximately the same as at the end of FY 2013. This means that Royal Gold still has a lot of financial flexibility and could jump on new opportunities in the market by acquiring new royalties or gold streams from (distressed) mining companies.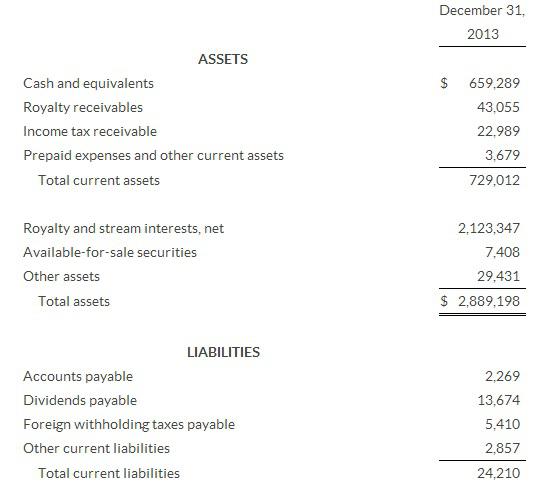 The current ratio is a very high 30.1 (keep in mind a ratio higher than one means the company has sufficient current assets to cover its current liabilities), which could indicate an inefficient capital allocation. However, it's not uncommon for royalty and streaming companies to have a high current ratio, as most of them are looking to maintain a very high level of flexibility.
The book value of Royal Gold was $36.25/share at the end of the quarter, which means the company is trading at almost 1.5 times its book value.
Outlook
The gold price continues to be relatively low, and this will obviously continue to put pressure on Royal Gold's financial results, and investors better get used to this. However, as Thompson Creek Metals' (TC) Mt Milligan project is ramping up its production rate, Royal Gold will definitely benefit from its 52.25% gold stream. According to TC's press release yesterday a second shipment of concentrate containing almost 10,500 ounces of gold was being sent to the refinery. This means that Royal Gold's share of this second concentrate shipment is approximately 5,500 ounces and this will obviously have a positive impact on the H2 2014 results, as Mt Milligan will continue to increase its production rate.
Investment Thesis
Even though Royal Gold's net profit seems to be quite low, investors cannot focus just on earnings but should have a look at the cash flow numbers as well. As Royal Gold didn't acquire any new streams or royalties, it was able to add $21.4M to its cash balance and I expect this number to increase as the production revenue from Mt Milligan will definitely have an impact on the cash flow numbers.
That being said, Royal Gold still isn't trading cheap, but I'm tempted to write an out of the money put option. I'm particularly looking at a P40 July 2014 for an option premium of $0.80, which results in an annualized yield of 4% should the option not be exercised.
Disclosure: I have no positions in any stocks mentioned, and no plans to initiate any positions within the next 72 hours. I wrote this article myself, and it expresses my own opinions. I am not receiving compensation for it (other than from Seeking Alpha). I have no business relationship with any company whose stock is mentioned in this article.
Additional disclosure: I might write an out of the money put option, as explained in this article.