Whirlpool (NYSE:WHR) just ended a record year with revenues of $18.8 billion and net income of $827 million or $10.24 a share doubling 2012's $401 million or $5.06 per share.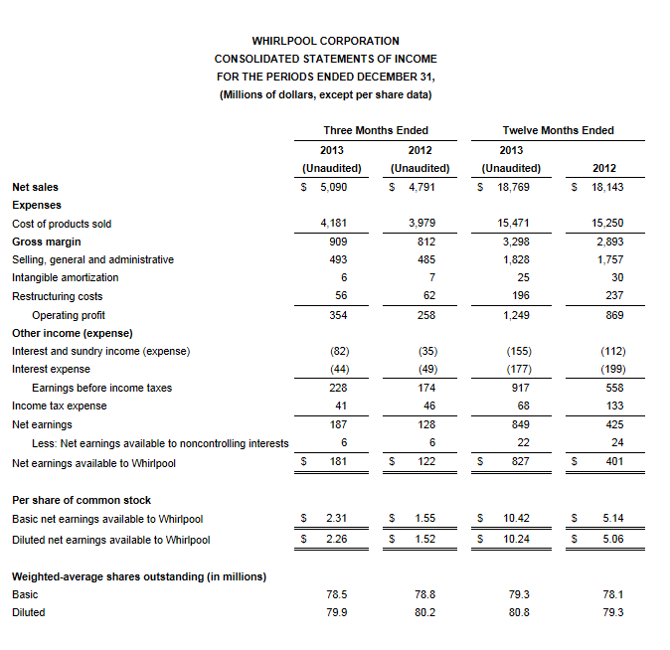 During the year, Whirlpool repurchased $350 million in stock. Despite the repurchase, the share count rose to 81 million shares from 79 million. Part of the increase arose from the exercise of stock options by insiders who purchased 534,249 shares primarily through stock options and sold 499,488 into the market. Insiders know when to hold them and know when to fold them.
On December 19, 2013 Whirlpool announced increased guidance for 2013 estimating net income would be in the range of $10.45 to $10.65 a share, up from previous guidance of $10.05 to $10.30. Whirlpool actually earned $10.24, which fell short of the raised guidance raising the interesting question of why the guidance was raised so close to year end only to then miss it and turn in results consistent with the previous guidance.
Despite the strong year, Whirlpool debt remained at $2.5 billion with the cash flows not needed for capital expenditures of $578 million returned to shareholders by way of dividends of $187 million and stock buyback of $350 million leaving $212 million of increased cash on the balance sheet.
Whirlpool revenues are now about half in the United States and half external with Latin America making up 26% sales.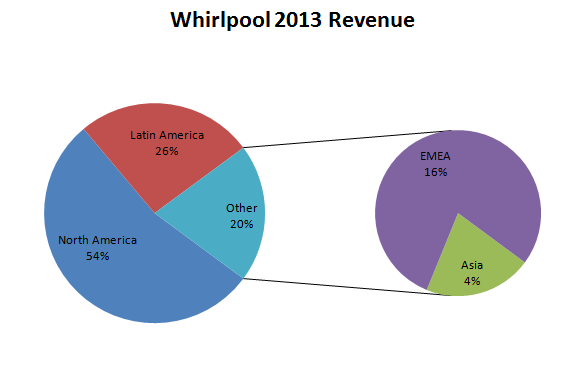 Earnings are not quite so cosmopolitan with the United States making up almost two thirds and the balance pretty well confined to Latin America.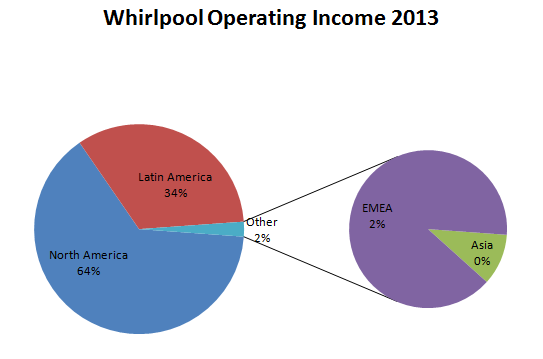 Latin America may not be as kind to Whirlpool in 2014 as it was in 2013 with serious dislocations taking place in Argentina and Venezuela where currency devaluations seem chaotic in the last couple of weeks and there is rampant civil disorder and looting.
Recent reports speculate on the risks that the recent disorder in Argentina and Venezuela might spill over into Peru, Brazil and other emerging economies with links to the region.
Those cannot be good indicators for major appliance sales. The Argentina devaluation has already triggered a 30% price mark up for Whirlpool products in Buenos Aires. For many customers, a 30% price increase means deferring purchases until wages catch up to prices and that is unlikely to happen overnight.
Whirlpool guidance for 2014 is for earnings of $12.00 to $12.50 a share.

Based on the December 19, 2013, guidance revision, my take is that Whirlpool's guidance is more "I wish" than "I can see" and errs on the side of optimism.
Whirlpool operates in a cyclical business with large swings in net income triggered by economic conditions. The $827 million earned in 2013 may be peak earnings despite Whirlpool management's optimistic outlook.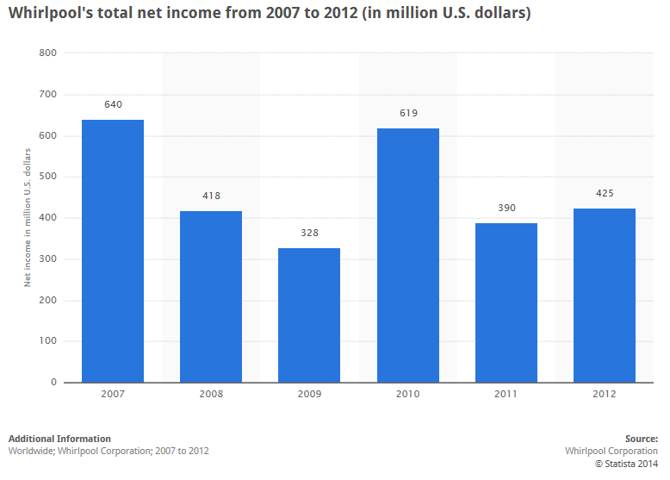 With deepening problems in emerging markets in general and Latin America in particular, Whirlpool's 2014 outlook seems certain to be challenged. The stock will very likely correct on the first downward revision, which may happen in Q1 if the Latin American crisis deepens.
I am short the stock.
Disclosure: I am short WHR. I wrote this article myself, and it expresses my own opinions. I am not receiving compensation for it (other than from Seeking Alpha). I have no business relationship with any company whose stock is mentioned in this article.