Ah, yes, earnings season. Where we all gather around the laptop, crack open a cold one, and watch our stock drop 20%. OK, maybe that's not the typical experience, but any Nuance (NASDAQ:NUAN) investor over the last year knows what I'm talking about.
On Jan. 21, Nuance announced preliminary results for the first quarter of $487-$491 million in revenues vs. previous guidance of $477-$487, and EPS of 23-24 cents vs. guidance of 18-21 cents. On this news, the stock rose 8%.
My personal view is that Nuance is turning a corner long term. While the preliminary results are encouraging, official earnings will be released after the bell on Feb. 10. Here's what I'll be watching for in Q1 earnings for confirmation/contradiction of my long-view thesis.
Guidance
Guidance has come to be the holy grail of Nuance earnings releases. It's getting to the point where the actual earnings could be skipped entirely and a one-paragraph press release spelling out guidance would suffice.
Looking back at the last four earnings releases, Nuance stock dropped roughly 20% on three of those occasions. The actual results were not the issue (one-cent miss, six- cent miss, one-cent beat), but rather each was accompanied by dismal guidance, with full-year projections always taking a hit. It was blamed on everything from sales execution to weakness in Europe to a decline in manual transcription of medical records to revenue model transition.
Once again, Nuance investors will be sitting on the edge of their seats awaiting this quarter's guidance. John Bright of Avondale Partners said that "starting fiscal 2014 with a solid beat will begin to restore confidence and credibility." I agree, but any reduction in guidance, especially for the full year, will cause the stock to continue on its downward slide regardless of the actual Q1 results.
On the other hand, an increase in full-year guidance would be extremely positive for the stock. In my last article I argued that Nuance has various forms of potential for brand-new revenue. If the company sees any of these new revenue streams coming online, they would be apt to bump up the full-year guidance. That would not only be good news in its own right, but would also signal a sea change in the company's earnings giving even more reasons for bulls to cheer.
Whatever the case, be very sure that guidance will play a large role in the future direction of Nuance stock.
Stock Buyback
As of the end of the fiscal year ended Sept. 30, Nuance had completed $185 million of its $500 million stock buyback authorization announced last spring. I'll be keenly watching to see how aggressive the buyback was this quarter.
My personal view was that Nuance stock saw a capitulation bottom the day after the last earnings release. All the earmarks are present. The stock traded over 60 million shares, 20% of its float, in one day while dropping from $16 to $13. From that point the stock climbed steadily back to its 50-day MA before gapping up on the preliminary earnings last week.
If management saw fit to aggressively buy back stock at that $13 level, it would provide further confirmation that the bottom is in. Normally I wouldn't expect management of a company to have a trader's mentality, but with Icahn on board, it would be a classic move for him to push for an aggressive buyback at an historic low.
On a side note, a comparison of the Hewlett-Packard (NYSE:HPQ) chart from Oct. 1, 2012, to Feb. 1, 2013, shows a striking resemblance to the Nuance chart for the past three months. I think most investors would agree that HPQ experienced a capitulation bottom in November 2012.
Click to enlarge images.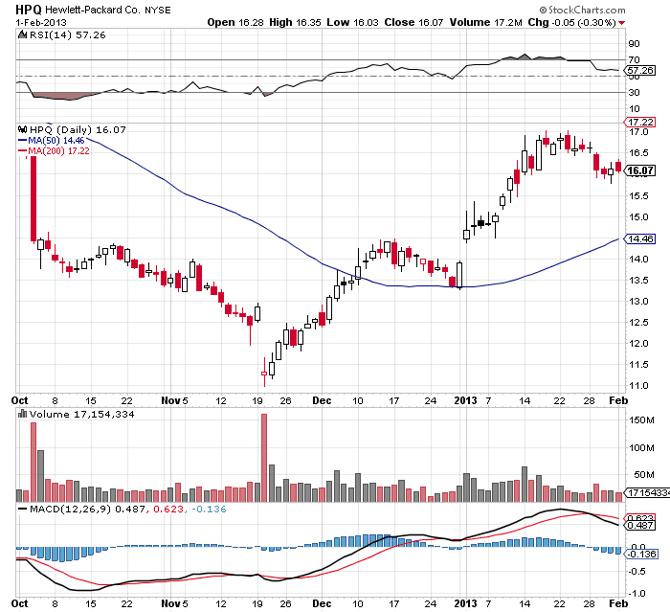 Hot Topics
One of the interesting things about Nuance is that it defies categorization. It's a PC software company, a healthcare company, a mobile device company, and a call center company. Icahn gave it the not-so-thrilling name of "The Voice of Healthcare" -- not exactly creating goosebumps. I prefer "Mobile Advertising 2.0" or "The Go-To Company for Wearables." So I'll be looking for any substantial discussion in the press release or earnings call regarding hot topics, specifically mobile advertising and wearable tech.
At this year's CES, Nuance demonstrated its technology for wearable tech. Wearables have the potential to drive voice activation technology quite rapidly as it is the only realistic way to interact with these devices that, due to their size, don't allow for the typical touchscreen interface. I believe it's only a matter of time before stocks associated with wearable tech go the way of social media and 3D printers, namely up.
On the mobile advertising front, Nuance announced last April its launch of Voice Ads, a technology that utilizes the microphones in mobile devices to create two-way advertising. Since its announcement this technology has flown completely under the radar with almost no coverage. JetBlue had the first campaign in the fall, and now Toyota (NYSE:TM) is out with a voice ad that demonstrates its in-car voice commands. Amazingly, Nuance has sold Toyota an advertising technology to demonstrate Toyota's automotive voice technology, also provided by Nuance -- talk about cross-sell!
The ultimate point here is that any meaningful discussion of Nuance making inroads into mobile advertising and/or wearable tech, especially if tied to improved earnings, will no doubt cast the company in a very nice light.
New Metrics
In the last earnings release Nuance told us they'll be adding a new metric to the earnings releases in the form of bookings. This, in conjunction with the estimated three-year value of total on-demand contracts, allows investors to see the ongoing business from another angle beyond just standard revenue and earnings. Because the company is transitioning from license model to on-demand model, it's a way of saying, "Hey, look, we're not booking the revenue up front, but the same or better business is coming in the door."
They've introduced the metric, I'm sure it's not by accident, so I'm eager to see (with a grain of salt) what shows up on those particular lines. Maybe I'm making things too Icahn-ic, but I actually see him lurking in this updated reporting metric. This along with the newly arrived "What's Next" section of the Nuance website shows a company trying to work on its image. I believe the core thesis of many of Icahn's investments is buying companies that are misunderstood and being discounted as a result. The next step is to get them un-misunderstood, which is what Nuance seems to be doing.
Organic Growth
The other metric to watch is organic growth. As seen below, organic growth has become non-existent, going from 13% in 2012 to -3% in 2013. I believe that this drop is due to both the transition to an on-demand revenue model and the fact that Nuance acquisitions were made for long-term positioning at the expense of short-term numbers. So the fact that there is a lull in organic growth is not of particular concern, but it does deserve a close watch as it needs to be a temporary lull that eventually picks up steam again.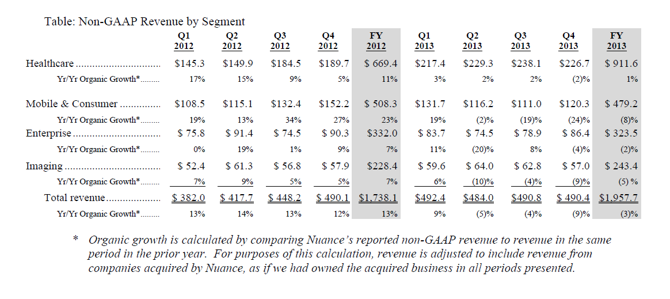 Conclusion
Nuance is a multi-faceted, misunderstood, undervalued company undergoing a temporary dip in growth and is on sale as a result. That's my thesis, and I'm sticking to it -- unless the earnings results steer me in another direction. All companies that have long declines start with what could potentially be a temporary decline, so investing in this manner requires close attention to the company and its potential to resume growth.
Disclosure: I am long NUAN. I wrote this article myself, and it expresses my own opinions. I am not receiving compensation for it (other than from Seeking Alpha). I have no business relationship with any company whose stock is mentioned in this article.