The question that has been in the back of all investors' minds for the last year - "Can social media stocks continue to grow mobile and find ways to innovate and monetize?" - just got an answer from Zuckerberg and company over at Facebook (NASDAQ:FB).
Facebook reported earnings that beat the streets expectation on just about every metric on Wednesday, after hours.
As everyone in the tech sector knows, it's all about mobile and monetizing the move from PCs to mobile and tablets - these are the tasks that companies like Intel (NASDAQ:INTC) are still trying to catch up on. Facebook, on the other hand, is in the thick of it with mobile - showing they are, for now, on the front of the adoption curve with their messenger and Instagram apps, in addition to their Facebook mobile app. Facebook's surge was directly attributed to mobile advertising, which made up more than half of the company's advertising revenue.
(click to enlarge - all slides sourced from Facebook IR)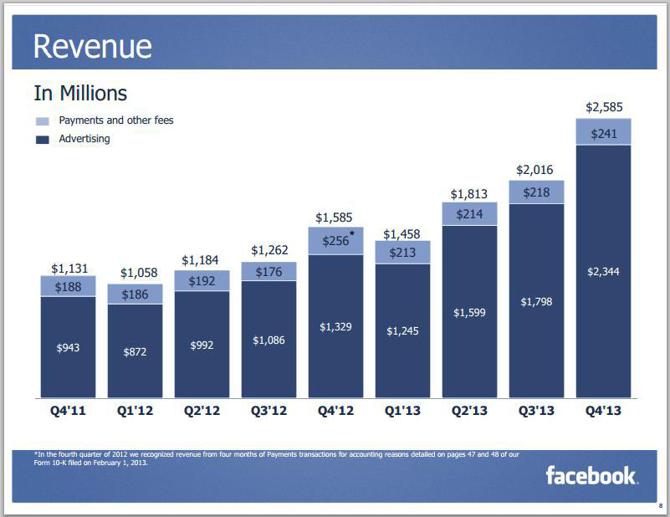 Facebook's overall revenue was $2.59 billion, soaring past the expected $2.33 billion from analysts. This growth was attributable to more people drifting to Facebook for advertising usages. The company's total revenue from advertising was up 76% YOY at $2.34 billion.
(click to enlarge - all slides sourced from Facebook IR)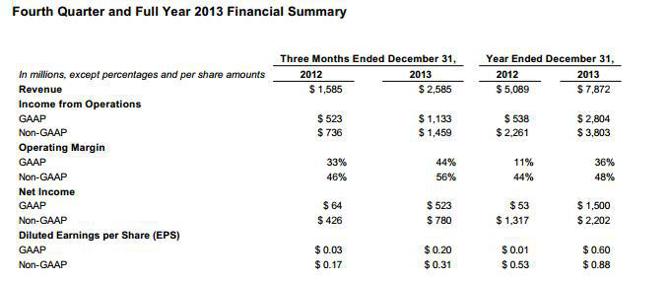 Excluding items, Facebook earned $0.31/share, up from $0.17 and crushing analyst expectations of $0.27.
Additionally, Facebook said that 1.23 billion users were on the site at the rate of once a month during the quarter - bringing this metric up by around 40 million users from last quarter. 757 million of those users were on the site daily. Revenues per user were also up 12% quarter-over-quarter.
(click to enlarge - all slides sourced from Facebook IR)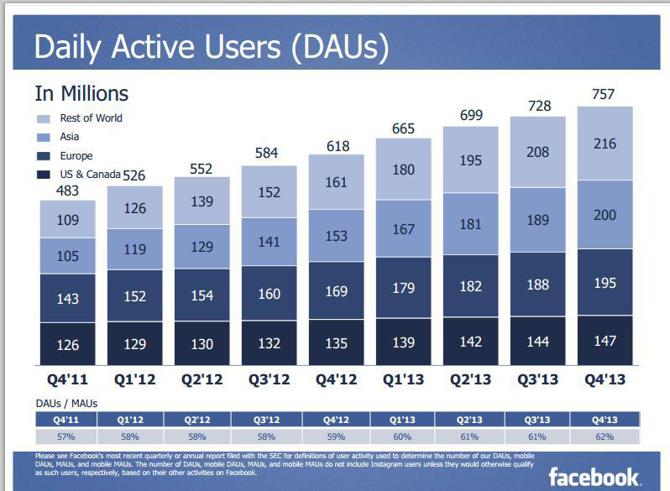 For all intents and purposes, it was an across the board spectacular earnings release for Facebook without much to find fault in.
Additionally, a lot of the chatter surrounding Facebook coming into this report was whether or not the newer generation of teenagers were looking elsewhere for social media, signaling the coming of a sea change from Facebook to other sites.
For now, that question has been answered. Long term, however, it's hard for me to have major confidence that growth will continue the same way.
Long term, I take caution with stocks like Facebook. The trades that I really like on stocks like Facebook, Twitter (NYSE:TWTR), LinkedIn (NYSE:LNKD), Tesla, and other momentum stocks is to play the volatility through options spreads. Such was my trade going into Facebook earnings - a small options strangle that yielded somewhere around 25% on the open this morning. I am not holding companies like Facebook for the long term, however.
While I do think they're in the meat of their growth stage right now, I'm wary of social media stocks after watching names like Myspace come and go in the span of just 5 or 6 years. Their innovation, what drives them, is also their Achilles heel. Right now, there's millions of developers out there, trying to compete with companies like Facebook - trying to be the next Zuckerberg story.
For now, Mark has stayed ahead of the bears, and Facebook continues to ride the wave. So, I give credit where credit is due. I'm not, however, buying and holding Facebook for the long term on this news.
This morning, the stock is trading up over 14%.
Best of luck to all investors.
Disclosure: I am long INTC. I wrote this article myself, and it expresses my own opinions. I am not receiving compensation for it (other than from Seeking Alpha). I have no business relationship with any company whose stock is mentioned in this article.