By any measure, 2013 was a great year for the equity market. Heading into 2014, the market is due for a breather as a once relatively cheap, by historical measures, market becomes more fully valued. Two sectors that didn't keep pace in 2013 were Telecommunications and Utilities. As is often the case, sectors that underperform in one market dynamic will outperform in others. Investors would be wise to look at two sector ETFs, the Vanguard Telecom (NYSEARCA:VOX) and Vanguard Utilities (NYSEARCA:VPU) ETFs.
Vanguard Telecom
The Vanguard Telecom ETF is heavily weighted toward legacy land line large capitalization names with AT&T (NYSE:T), Verizon (NYSE:VZ), and CenturyLink (NYSE:CTL) rounding out the top three names in the portfolio. Last year was a difficult one, particularly for CTL, as the land line cash cow continues to decline. All three have made significant investments in alternative revenue streams with T and VZ as the well known mobile phone carriers. Both T and CTL are aggressively returning capital to shareholders through dividends and stock buybacks, providing a substantial backstop should the market remain flat or decline. This ETF yields more than 3% and trailed last year's market offering an opportunity should the market return. Meanwhile you keep more of the return as Vanguard offers some of the lowest ETF fees in the industry.
Vanguard Utilities
The Vanguard Utility ETF is another 2013 underperformer with an above average yield. This ETF has a substantial position in one of our favorite utility stocks Dominion Energy (NYSE:D) that is positioned to benefit from the shale boom with attractive mid-Atlantic markets. Investors can look forward to low volatility as this ETF had only 14% difference between 52 week high and low.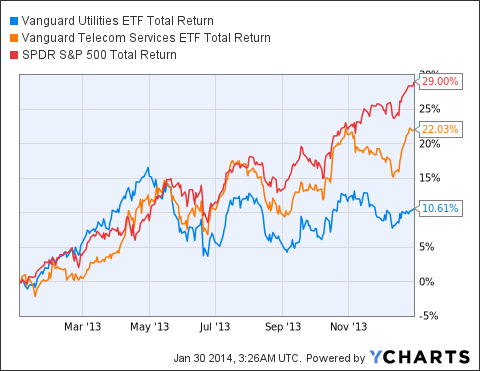 VPU Total Return Price data by YCharts
Disclosure: I have no positions in any stocks mentioned, and no plans to initiate any positions within the next 72 hours. I wrote this article myself, and it expresses my own opinions. I am not receiving compensation for it (other than from Seeking Alpha). I have no business relationship with any company whose stock is mentioned in this article.