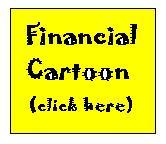 Outlook: "Chance" the Gardener, mistaken for an economist, in the movie classic "Being There", remarked to President "Bobby", played by Jack Warden, "Yes! There will be growth in the spring!" "As long as the roots are not severed, all is well."
While fanning investors' optimism with an earnings season of easy comparisons, the severely damaged economic infrastructure may have experienced a massive dislocation severing some of its root system associated with a post-WWII U.S economic model.
Our current unstable financial situation has handcuffed policymakers and has forced a strategy of "kick-the-can" financial reform. Our economic stratagem has been reduced to a game of "chicken" risking another financial bubble for a much needed political economic "jump start".
Our best hope is to muddle through this "bad patch" recognizing we'll need more than an aspirin to recover from a near-death experience.
CEF Weekly Review: The 13 closed-end fund (CEF) types on average posted a 1.0% increase for the week ending 4/9/10. The high-low spread was 4.6% vs. 2.7% last week. On an aggregate, unweighted basis the weekly average price change for the 500 plus CEFs was up 1.0%.
The PowerShares CEF Income Composite (NYSEARCA:PCEF), an ETF that invests in taxable income CEFs, advanced 0.5% for the week. The S&P 500 increased 1.4% for the week; up 7.1% YTD.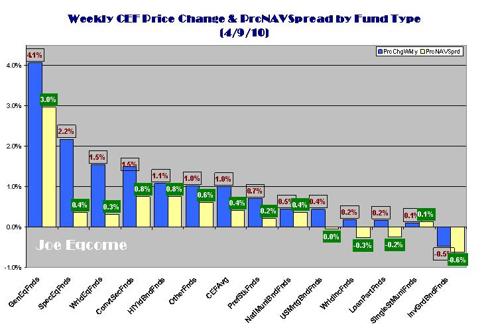 (Click here for YTD CEF performance. The table is based on a smaller CEF sample size as all the data fields are not available for the CEF universe.)
The Eqcome CEF Fear Index further eased for the week with the average price advancing 1.0% versus a 0.5% increase in the NAV. The CBOE Volatility Index (VIX), which typically moves inversely with the stock market—but is mostly a measure of volatility—closed at its lowest point (16.06) since October of 2007 representing a span of 30 months.
While not being an alarmist, it is probably instructive to note that October '07 was last cyclical peak in the stock market; it kicked-off a 17 month slide to its trough in March of '09. As mentioned here before, the VIX is sometimes a good contrary contrarian indicator, i.e. a very low VIX could signal an inflection point with the possibility of a downward change in the stock market. At the very least, with earnings season ahead, it's likely that VIX should experience greater volatility.
The S&P 500 average daily trading volume was up 5.3% from the previous holiday-shortened week to 4.462 billion shares.
CEF Weekly Fund Type Performance: Fund type performance reflected the continued up-beat mood of equity investors as the DJIA slithered its way towards 11,000 in the anticipation of a positive earnings season. Fixed-income oriented fund types continued to lag in the face of some improvement in yields. Treasury auctions generated stronger interest due to the Fed's commitment to a policy of lower interest rates and EU's Greek tragedy as Fitch downgrade Greece's credit.
The GenEqFnds soared 4.1% on the back of a small fund Engex (EGX) which spiked 80% on very heavy volume for a stock that trades by appointment. Backing out EGX, the group still appreciated an impressive 1.65%. SpecEqFnds climbed 2.2% with help from two precious metal CEFs (GNN and ASA). Real estate related CEFs also made a contribution to the gain by advancing on average 1.5%.
The spread between NatMuniBndFnds and SingleStMuniFnds continues as state and municipal budgets are making the 6:00 news with Los Angeles threatening to "shut down" twice a week.
The PrcNAVSprds[1], which typically move in the direction of stock prices, registered a couple of minor exceptions in the fixed-income area (see graph above). Notable InvGrdBndFnds was the only fund type to experience both a price and NAV decline. The major fixed-income ETFs flat lined for the week. The spread in the SpecEqFnds was significant and maybe indicative of more a moderate move next week.
CEF Winners and Losers: In an unusual occurrence, one of the CEFs with the greatest positive PrcNAVSprd was Nuveen Tax-Advantaged Floating Rate Fund (NYSEMKT:JFP). This was the second week in a row it occupied this position. JFP price appreciated 12.1% on top of the 7.7% the previous week while it's NAV up-ticked only 0.4% for the week, thereby generating a positive PrcNAVSprd of 11.7%.
As mentioned here last week, on the face of it the price increase in JFP makes sense as it addresses two of investors' most recent concerns: 1) rising interest rates' impact on fixed-income investments; 2) rising taxes rates. However, there may be a more specific event relative to JFP price movement.
While JFP is a very small fund with only $31 million in net total assets and trading at $2.50, its volume has spiked during the week with an average daily volume of over 200,000 shares—twice the average daily volume. There have been no filings with regards to insider trading. On March 24, 2010, JFP moved its listing from the NYSE to the NYSE-AMEX.
What makes this all very interesting is this week's CEF having one of greatest negative PrcNAVSprd was Eaton Vance Senior Floating-Rate Trust (NYSE:EFR). EFR's share price declined 5.2% and its NAV advanced 0.7% generating a 5.9% decline in its PrcNAVSprd. On Monday, EFR reported slightly lower 1Q YOY earning per share $.277 versus $.282.
Given this fact set, either there is: 1) a corporate event occurring at JFP; 2) JFP is either overpriced or EFR is undervalued on a relative basis. Stay tuned.
Economic & Earnings Outlook: (Click here for next week's economic calendar; click here for earnings announcements and estimates.) Next week kicks off 1Q earnings seasons.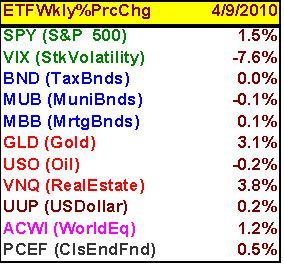 ETFs: (Click here for ETF YTD sector performance.)
Insider Trading: The first full week of April saw a modicum of insider trading returning to the CEF market sector after a very strong March showing.
Benchmark Plus Management, LLC, ("Benchmark") displaced Horejsi Group—at least temporarily—as the largest insider buyer. During the week various Benchmark related entities acquired 17,900 shares of DWS Dreman Value Income Edge Fund (NYSE:DHG) at an average price of $13.05 per share. (Benchmark and affiliates are designated as a 10% owner in its SEC filings.)
During the prior month, Benchmark was an aggressive acquirer of DHG's stock; it accumulated 237,203 shares for a capital expenditure of $3,051,322. Benchmark currently owns 218,500 shares. Western Investment Management, also considered a CEF connoisseur, owns a 9.4% position in DHG.
Currently trading at an 11.7% discount, DHG recently upped its monthly distribution from $.07 per share to $.075. DHG is focused on high yield bonds with a heavy concentration in energy names. A recent scan of the high yield CEF sector showed the group trading at par. There are a number of interesting attributes surrounding DHG that may warrant further investor attention.
(Click here for a hyperlink to the Joe Eqcome CEF Weekly Insider Report.)
CEF Distribution Announcements This Week: The following is a link to a table of CEF distribution announcements this week as well as the previous week's with yet expired ex-dividend dates. The list is not intended to be inclusive. (Click here for Weekly CEF Distribution Announcements.)
Significant CEF Corporate Events: ASA Limited (NYSE:ASA), a CEF specializing in gold and other precious mineral investments worldwide announced a 3-for-1 stock split to be effected in the form of a stock distribution. Each shareholder of record at the close of business on April 15, 2010 will receive two additional common shares for each common share held on the record date.
Western Asset Variable Rate Strategic Fund (NYSE:GFY) announced earlier this week of its intent to proceed with a tender offer. As previously announced by the Fund, the Fund's Board of Directors approved, subject to the occurrence of certain conditions precedent, a tender offer for up to 20% of its outstanding common shares at a price equal to at least 98% of the Fund's net asset value per share on the date the tender offer expires.
Both H&Q Life Sciences Investors (NYSE:HQL) and H&Q Healthcare Investors (NYSE:HQH) announced on Monday the 5th the reinstatement of distributions pursuant to its managed distribution policy (the "Policy"). The Policy will provide for quarterly distributions at an annualized rate equal to 5% of net assets.
CEFs Focus for the Week: The focus stocks of week will be the ten stocks making up the CEFMuni10™. In an article penned earlier this week entitled, "Muni CEFs Revisited: Feeling Lucky?" (4/8/10), I attempted to make the case for CEF munis as having another potential round of price appreciation. The points I make for this case are as follows:
The current pre-tax yield on the CEFMuni10™ is 6.2% with a taxable equivalent yield of 9.6% (based on a 35% federal income tax rate) which is a competitive yield in today's yield starved investment environment;

While the spread between Bond Buyers GO 20 Year Bond Municipal Index and the 20 Year Treasury Constant Maturity spiked in late 2008 and have declined, its spread is still 50 basis points above its average since 1993;

The inevitability of rising tax rates and the looming retirement of the baby boomers may drive the more income-oriented buyers to tax-exempt securities which in turn may drive up their value;

The potential reduction in tax-exempt muni bond supply as the Build America Bonds, which have their interest rates subsidized by the fed government, replace new muni tax-exempt issues;

The precedent of the high-yield (junk) bond explosive returns of last year, which in my opinion had greater risk than munis, set a precedent as to the recovery of high-risk, high-yielding asset prices in a low yield environment.
Caveats: Of course there are numerous risks associated with this investment strategy. The biggest being the likelihood that interest rates will increase and the value of fixed-income investments, like muni bonds, will decline in value. Additionally, the "Great Recession" has been devastating to state and municipal budgets and increases the likelihood of default on even general obligation muni bonds.
Beyond that major asset class risks, there are risks specific to CEFs that hold muni bonds. The first is the high level of leverage employed by the CEFs that could materially increase the costs of borrowing and reduce the future level of distributions. Additionally, CEFs have a regulatory debt level requirement that could cause them to be forced to suspend their distributions until such a time that the leverage comes back into compliance.
Muni CEFs when compared to their ETF counterpart charge an average expense ratio of 1.32% versus 0.25%, respectively. Muni CEFs generate a yield that is 72% greater than that of a muni ETF and trade at par relative to a 10% premium for the ETF.
All Things Considered: The risks of higher interest rates, bond defaults and an average high expense ratio appear to be priced into the CEFMuni10™. Given the inherent risk articulated above, an investor should approach this investment idea from an equity investment framework as opposed to considering this a riskless high credit, fixed-income investment.
---
[1] A positive PrcNAVSprd can be interpreted as negative because it typically signals a share price movement less favorable than the NAV. All things being equal, price and NAV should move in tandem. A price movement greater than the NAV may indicate the stock is overvalued relative to its NAV which in theory is the stock's intrinsic value. The opposite would be true for a negative PrcNAVSprd.
---
Disclosure: Author owns a diverse portfolio of CEFs that include CEFMuni10