I must admit to having a contrarian bent through-and-through. When everybody was screaming about Apple (NASDAQ:AAPL) to $1,000, I thought that many investors were getting ahead of themselves. In fact, when I started seeing websites popping up that were dedicated to "trading Apple for a living", I knew that the party couldn't last.
I was always wary that Apple would see dramatically slowing growth as the iPhone/iPad S-curves played out, and of course, fierce competition from handset vendors such as Samsung (OTC:SSNLF) and LG (OTC:LGEIY), wasn't exactly something that I wanted to ignore. This, unfortunately, gave me what I believe to be an undeserved reputation as an "Apple hater."
That said, with shares at about $500 (dropping a whopping 8% from the earnings release), and after carefully scrutinizing the most recent earnings report, my impression is that "it's not that bad" and that there really is a long-term growth story here for more conservative investors. It just won't play out as quickly nor as dramatically as some had hoped.
A Larger iPhone Sounds Good
Call me crazy, but I'm firmly in the camp of folks that believes that when Apple actually goes ahead and starts offering a broader array of iPhones (and makes sure that it can manage the supply/demand balance properly - something that was an issue with the 5s), it will start to take share pretty rapidly from the various Android handset makers in a similar fashion to what the original iPad mini did when it finally launched.
I think that this not only will drive share increases for Apple, but I actually think that there could be some real ASP/gross margin dollars per unit uplift as larger phones tend to sell for more than smaller ones. I don't think that "large" iPhone buyers will be one-to-one replacements for smaller phones, so there seems to be real upside here.
That being said, it's pretty surprising that Apple has been so late to actually participating in this portion of the high end of the smartphone. Was this a deliberate move on management's part for some broader strategic reason (perhaps trying to optimize the iOS experience for different iPhone screen sizes) or did management just really drop the ball and fail to anticipate the robust demand for these products?
Not As Bullish On iPad
While I think there's a real opportunity for Apple to gain share in its most important business (iPhone), there's not a whole lot of upside that I see in iPad from here on out. iPad mini with Retina is an excellent "small" high end tablet and iPad Air is an excellent "large" high end tablet. While there are murmurings of an "iPad Pro", this seems like a bit of a stretch. How much would such a product sell for? Would this be additive to the total iPad + MacBook unit volumes, or would a larger iPad Pro (presumably with a keyboard dock of some sort) simply "replace" the MacBook Air at roughly the same price point?
That said, it does seem likely that the high end of the tablet market (and thus the majority of the profits) is largely sewn up by Apple at this point. While I still believe in Apple's ability to defend share here, I'm mostly neutral as the risk of share loss likely outweighs the ability to gain share. Watch Samsung here and its ability to gain traction at the high end with its Tab Pro/Note lines.
I expect iPad to grow at rates that trail the broader tablet market as there seems to be some very real price elasticity in this market.
New Product Categories?
This is what I believe will keep Apple investors strung along for the year. Check out the following quote from the most recent conference call:
Gene Munster - Piper Jaffray

Just a follow up to some of the previous questions. Tim, I've got to ask it. In the previous quarters, you've talked about specifically product categories multiple, and that's different than variations of existing products. And that would be by the end of 2014. I just want to be clear that's still on track, and consistent with some of the expenses that we talked about earlier in the call?

Tim Cook - CEO

Yes, absolutely. No change.
While everybody seems to be wild about a potential iWatch or iTV, I have to point out that the TV business is exceptionally low margin. Take a look at Samsung's recent quarterly earnings to get an idea of just how "profitable" the TV/smart-TV market is (and to be clear, Samsung is already integrating full apps processors into its TVs and they are, indeed, smart"):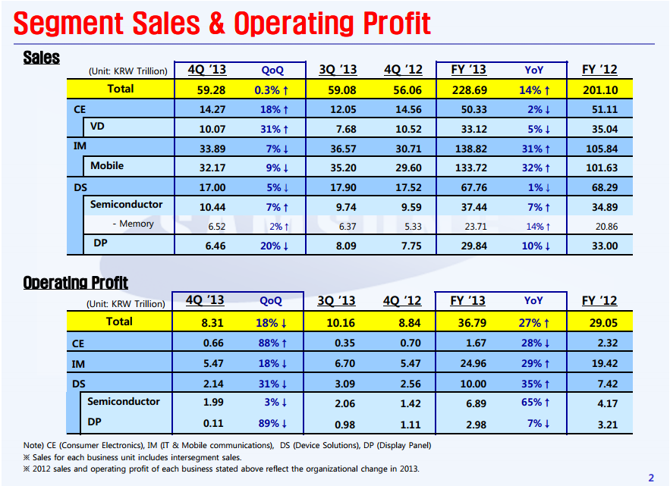 See Samsung's "consumer electronics" division profit? In the quarter this came up to just 660 billion Korean Won (~$611M), and note that this was the peak seasonal quarter. Also keep in mind that the largest portions of a TV bill of materials is likely the display which Samsung is able to obtain at a very favorable cost structure (since it builds the things in-house). Apple would have, starting out, a poor cost structure and would find it very difficult to compete here without some major game changing differentiating factor.
Also keep in mind that Apple's "premium" priced iPhone enjoys robust sales largely due to carrier subsidies on a device that sells for maybe $650 - $950. An "iTV" that's of a fairly large size would sell for multiples of that value and would likely have a pretty limited audience to begin with. Apple's iPhone/iPad success has been largely due to the fact that the company has been able to sell people "luxury" items for a price that even your everyday person could afford. In fact, Apple really drove home the point in its 30-year celebration of the Mac: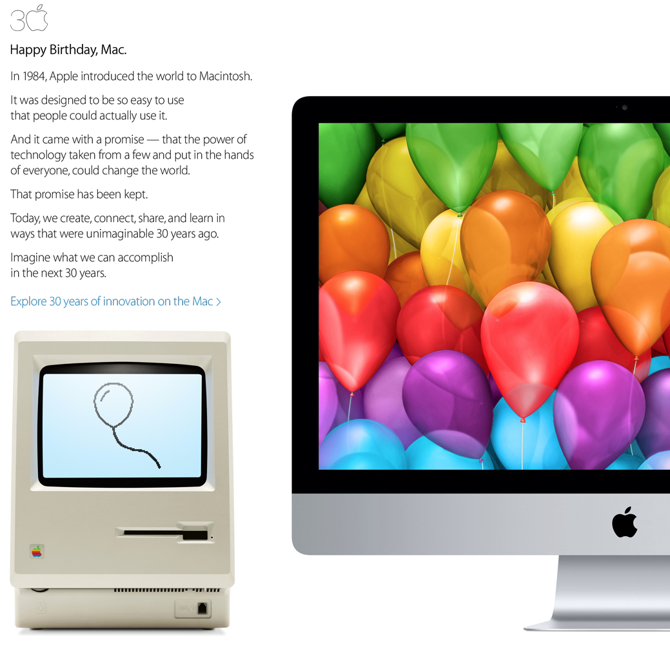 Take careful note of the following:
And it came with a promise -- that the power of technology taken from a few and put in the hands of everyone, could change the world.
In order for a "new" product category to succeed, Apple will need to find something else that is currently in the "hands of the few" and can put into the "hands of everyone" in a way that is so compelling, and that can be done with a favorable margin structure, that Apple once again ends up reaping the benefits of high unit volumes and high gross margin dollars per unit.
In this context, an iWatch sort of makes sense (i.e., Apple could try to disrupt the luxury watch markets), but it remains unclear what the demand profile for such a product would be, and whether such a product could really revolutionize the market. Apple did it with cell phones by making something patently better/more useful, so we'll have to see if they can do it again with watches (or whatever it is they release). I do think, for the record, that the next step for Apple should be trying to make everything in the home "smart".
It's All About Growth
The bottom line is that Apple needs to return to year-over-year growth (and in excess of a couple of percent) in order to garner a better multiple. While FQ2 guide was actually pretty "bad" relative to sell-side expectations (and relative to the prior period in a year ago), I wouldn't be so quick to rule Apple out just yet. I do think the iPhone 5s will go stale at a more rapid pace than its predecessors did (especially post-MWC and Galaxy S5 launch), but I am hoping that Apple's management has the foresight to anticipate this and to not hold back a potential "large" iPhone launch until September.
If Apple gives the iPhone another jolt in, say, May or June, then the odds are good that it can start really revving up its y/y growth numbers beginning in FQ3. I also think Apple will benefit nicely from the PC recovery and I wouldn't be so surprised if Apple were to quicken the cadence at which it launches its next generation iPad. Apple certainly has the R&D might to keep the improvements coming (even if they're incremental) and thus keeping the product pipeline fresh.
And that's really what will drive the financials, in my humble opinion. Once-per-year refreshes simply won't do. Apple needs to refresh at a faster pace (maybe as quickly as every six months for some product categories), constantly driving a desire for its latest-and-greatest products. Don't underestimate the subset of Apple's customer base that will go and buy a new Apple iOS product simply because it's the latest and greatest, especially with iPad (which isn't as dependent on carrier subsidies/contracts).
Icahn Is An Apple Trader's Friend, Investor's Enemy
So, if you ever wanted to know why a share buyback was a bad idea, look no further to the $525/share average price that Apple spent on buybacks. Just think, instead of wasting that money on shares that are now on the decline (reflecting the business performance), Apple could have let that pile up on the balance sheet (cash has value), used it for an acquisition, or done something else that created real (not artificial) value for shareholders.
Buybacks increase "earnings per share," but they come off of the balance sheet, so you're really just robbing Peter to pay Paul. Buybacks are great when they are done strategically at what is likely to be a low point in the stock, but what Icahn is proposing (and what Tim Cook said on the call) suggests that the shares should just be bought back without any regard to the actual price of the shares.
If Apple goes ahead and destroys its balance sheet by loading up on debt to buy back stock and the business doesn't significantly improve, then I've got news for you: Apple will be destroying shareholder value just so that Icahn can get the stock up temporarily to make an easy buck (nothing wrong with that if he can pull it off, but don't think that he cares about you other Apple shareholders). The best way to generate returns is to actually grow the business - then the share price takes care of itself. Just ask Google (NASDAQ:GOOG) or Facebook (NASDAQ:FB) just how many shares they need to buy back to keep investors happy (answer: it's in the negatives and investors don't mind).
Conclusion
Yes, the FQ2 guide from Apple was pretty bad (although there were some non-demand related factors in play here), but I wouldn't write off the whole year (or Apple longer-term) because of this. I think Apple will return to growth in the second half of the year, and I think that as long as it keeps piling up the cash that it generates onto the balance sheet, the stock will have pretty tremendous downside support.
But if Apple does something boneheaded like levering up to buyback stock, then you should take advantage of any "spikes" that this causes to get out as Apple will have demonstrated that it is either easily pushed around by an activist investor (or interested in boosting EPS to juice up bonuses) or that it is reckless. But I don't think it is in Apple's nature to do stupid things, so I'm not terribly worried about this.
Disclosure: I have no positions in any stocks mentioned, and no plans to initiate any positions within the next 72 hours. I wrote this article myself, and it expresses my own opinions. I am not receiving compensation for it (other than from Seeking Alpha). I have no business relationship with any company whose stock is mentioned in this article.