Yesterday, New York State utility regulators, the Public Service Commission, froze National Grid (NYSE:NGG) electricity rates due to what they call "unusual price spikes." In addition, the PSC has authorized NGG to provide upwards of $32 million in direct credit relief to customers, hoping to offset higher electricity pricing in February. From the PSC press release:
The unusually cold weather that has gripped the region has caused energy supply prices to surge in New York State and throughout the Northeast," said Chair Audrey Zibelman. "This price spike is impacting National Grid's upstate service territory, where electricity prices could increase by as much as 27 percent in February… Earlier this month, New York set a new winter record peak demand for electricity of 25,738 megawatts (MW), beating the previous record winter peak demand of 25,541 MW set on December 20, 2004, according to the New York Independent System Operator. Demand remains high while the cold spell continues.
The cause of the price spike is a double whammy of record-setting electricity usage and a surge in natural gas usage. With the conversion of more electric generating capacity in the Northeast to natural gas, the spike in natural gas pricing in the Northeast is being passed on the consumers in the form of both higher natural gas and electricity bills.
The solution offered by the PSC to these price spikes is (drum roll please) - Consumers change to "budget billing" where the annual electricity bills are spread out into 12 equal payments.
In addition to taking specific steps to aid National Grid's residential and small business customers, Chair Zibelman announced today that she was strongly encouraging all investor owned utilities in the state to notify eligible residential customers about the advantages of using a budget plan to spread out the recent price increases in supply costs. With a no-fee budget plan, a customer could spread out their bill payments over a 12-month period, rather than paying a larger-than-expected increase in a single month.
Really?
Natural gas has been touted as the best alternative to replacing base-load coal generating plants. With low national pricing of gas, electricity auction 3-year pricing in the Northeast and Midwest has been correspondingly low as well. However, natural gas spot pricing in the Northeast has spiked this winter. From the eai.org report for the week ending Jan 22:
Prices/Demand/Supply:

Prices rose across the country, with record increases in the Northeast. The Henry Hub spot price in Erath, Louisiana, rose by 47 cents/MMBtu, from $4.44/MMBtu last Wednesday, to $4.91/MMBtu yesterday. The extremely cold weather on Tuesday and Wednesday caused substantial price increases in populous, pipeline-constrained parts of the Northeast such as New York City and Boston. Transco Zone 6 serving New York City saw record price increases, beginning the report week at $4.92/MMBtu last Wednesday, more than tripling to $16.95 on Friday, then reaching a record $121.68/MMBtu on Tuesday. (Markets were closed Monday for the holiday.) The price fell somewhat on Wednesday, closing at $84.02/MMBtu. Transco Zone 5 and Transco Zone 6 non-NY saw similar price movements. Algonquin Citygate, serving Boston, also featured extreme price jumps late in the report week. It began the week at $6.63/MMBtu, tripling to $20.90/MMBtu on Friday, reaching $58.39 on Tuesday, and closing at $78.30/MMBtu yesterday.
While the spot pricing at Henry Hub rose to $4.91 on Jan. 21, spot natural gas in the Northeast rose to $121. Below is a graph of natural gas and electricity pricing for the Northeast through early January from eia.gov: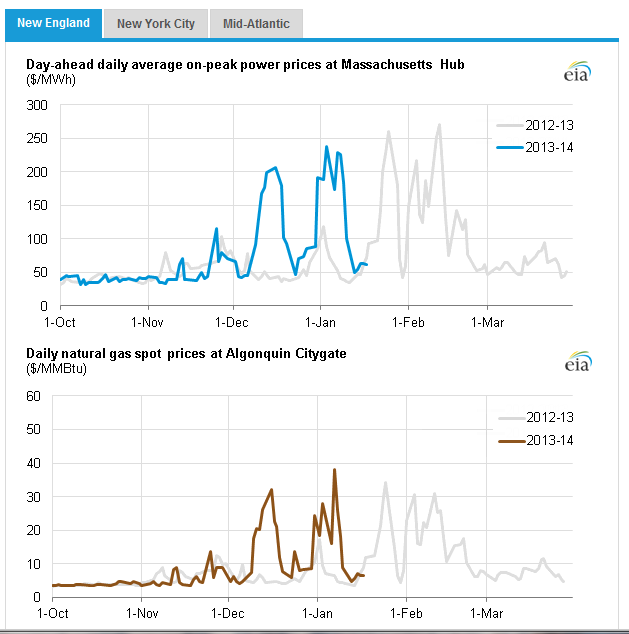 The basic supply and demand problem is a lack of local supply and a lack of pipeline capacity to move the local supply to market. In December, six governors in the Northeast signed a letter pledging better cooperation in developing energy infrastructure to assist in alleviating this capacity issue.
Gas-fired electric generating plants accounted for 43 percent of New England's power-generating capacity in 2012, up from 18 percent in 1990. However, new pipeline capacity that has come online over the past few years has been driven by the supply side, connecting the wellhead to regional pipelines, with no major projects increasing deliveries to consumers in New England. The New York City market recently added additional pipeline capacity and was spared some of the recent drastic price hikes experienced farther north.
However, New York still has a ban on natural gas fracking and critics have stalled capacity additions to pipelines. For example, according to a Feb 2013 article on energyindepth.org, the following is a partial list of pipeline projects that are being stalled in the Northeast:
•The MARC I Pipeline, which would be built by the Central New York Oil and Gas Company, has a stated capacity of 550 MMCF per day. It was also approved by FERC, but not before being challenged by Earthjustice and other environmental groups.

•The Northeast Upgrade Project, with approximately 630 MMCF per day of capacity, is facing efforts by environmental groups to get a federal court to halt construction. Perhaps bowing to those special interests, U.S. Sen. Bob Casey (D-Pa.) is also trying to force a reroute.

•During a hearing last fall about the Constitution Pipeline (capacity: approximately 640 MMCF per day), one local opponent went so far as to suggest the project would destroy the United States: "Kristina Turechek of Oneonta, N.Y., told the panel approval would consign portions of America to a 'third-world nation' and turn the nation backward. Other opponents yelled, cursed or called for the arrest of gas industry executives."

•Spectra Energy is also in the process right now of constructing a $1.2 billion pipeline (capacity: 800 MMCF/d) that, once finished (Nov. 2013 is the current target), will help feed growing demand in New York City and elsewhere across the metro region. Estimates suggest the pipeline would help save customers more than $650 million per year in energy costs. Amazingly, the project has even earned the full-throated support of the League of Conservation Voters, in addition to picking up Mayor Bloomberg's endorsement and the support of a dozens of other local civic and labor leaders. Playing to type, and right on cue, the Sierra Club, Food & Water Watch and others of that ilk continue to file lawsuits (all to this point have failed) aimed at stopping construction from moving forward. (Author's Note: This pipeline has been put in service)
How can investors benefit from this situation? There are two different avenues: natural gas utilities with pipeline assets and non-natural gas fueled electricity producers, i.e. nuclear power producers in the Northeast. The three best stocks for this exposure are National Fuel Gas (NYSE:NFG), Spectra Energy (SE) and Exelon (NYSE:EXC). I have written reviews of these and they can be found here, here and here.
All three stocks are worthy of core positions in a long-term utility portfolio.
Author's Note: Please review important disclaimer in author's profile.
Disclosure: I am long EXC, NFG, SE. I wrote this article myself, and it expresses my own opinions. I am not receiving compensation for it (other than from Seeking Alpha). I have no business relationship with any company whose stock is mentioned in this article.