DryShips, Inc. (NASDAQ:DRYS) is a company which provides mostly water-based transportation for all kinds of cargo. From DryShips' website:
DryShips Inc. is an owner of drybulk carriers and tankers that operate worldwide.

Through its majority owned subsidiary, Ocean Rig UDW Inc., DryShips owns and operates 10 offshore ultra deepwater drilling units, comprising of 2 ultra deepwater semisubmersible drilling rigs and 8 ultra deepwater drillships, 3 of which remain to be delivered to Ocean Rig during 2013 and 1 during 2015.

DryShips owns a fleet of 42 drybulk carriers (including newbuildings), comprising 10 Capesize, 28 Panamax, 2 Supramax and 2 newbuilding Very Large Ore Carriers (VLOC) with a combined deadweight tonnage of approximately 4.4 million tons, and 10 tankers, comprising 4 Suezmax and 6 Aframax, with a combined deadweight tonnage of over 1.3 million tons
My last article on DryShips was on January 23rd, and explained two reasons why I continue to avoid buying DryShips stock. The main reason was the continued decline in shipping rates. When that article was published, DryShips was trading around $3.80. Today, it sits around $3.30 - traders who sat out avoided short-term losses of over 10%.
My article prior to that, from January 13, was entitled "DryShips Likely To Keep Pulling Back Short Term". I encouraged investors to take pause before investing in DryShips and to wait for a continued dip in the stock price. I've been advocating in my past few articles that I'm waiting for DryShips to get down under $3 before considering it a buy. DryShips bulls have called my strategy rubbish, claiming I'm beating a dead horse and not making sense. However, so far, we've managed to avoid major losses since I first called DryShips a sell at $4.68 in December, after encouraging people to buy before the ride up from $3.58. Say what you want, but the strategy has been dead on for the past two months - as has another prolific writer's work, The Specialist. He/she has echoed many of the same sentiments that I have with regards to dry shipping over the past month or two.
(source - Bloomberg)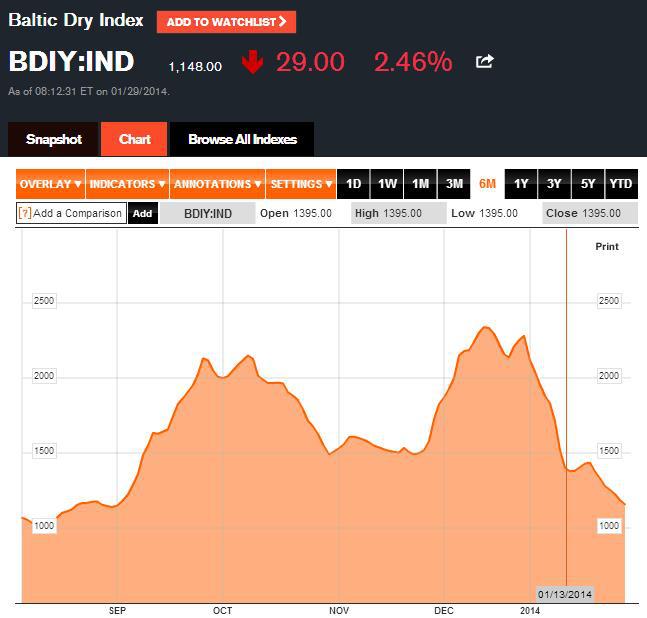 Aside from my continued claims stemming from dilution after DryShips resumed their recent stock offering, the one major item I've been watching has been the Baltic Dry Index, which DryShips and other dry shippers tend to track. The index has been in a nasty downtrend for the better part of the last three weeks.
Dry shipping rates have gone from bad, to worse...

...to worse.

And look at another anomaly - the cape rates are actually less than the panamax rates. That's like walking into a public storage facility and having them offer you a 10 foot storage locker for $100/month and a 20 foot storage locker for $75/month. It speaks to the current lack of demand in dry shipping.
Additionally, like we see with commodity cycles tied to public companies year round, dry shipping prices now won't have an effect on disclosed results for months to come. The current results won't hit the company or its disclosures until the next few months. As such, I'm forecasting DryShips stock to continue its downward trend to under $3.
I'm not the world's biggest Jim Cramer fan, as my readers know. However, one thing that I've seen Cramer preach many times over on his show to novice investors is the importance of:
1. Waiting for the price you want before you buy.
2. The importance of placing a limit order versus a market order.
Like in baseball, there's a beauty in waiting for your pitch to come around.
$2.80 is right in my wheelhouse and is the price I'd be looking for in terms of re-entry here. I'm waiting for a macro market shift upwards in shipping rates, and DRYS' dilution to make its mark before reentering for a cyclical ride back up.
Best of luck to all investors.
Disclosure: I have no positions in any stocks mentioned, and no plans to initiate any positions within the next 72 hours. I wrote this article myself, and it expresses my own opinions. I am not receiving compensation for it (other than from Seeking Alpha). I have no business relationship with any company whose stock is mentioned in this article.