Roche (OTCQX:RHHBY) reported on January 30, 2014, its 2013 results which were good and supported another dividend increase. As I discussed in my previous article, Roche is a safe income investment and its recent results show its business fundamentals remain attractive.
In 2013, Roche's sales increased by 6% to $51.9 billion, at constant exchange rates [CER]. Taking into account currency fluctuations, its sales were up by 2.8%. This performance was driven by its largest division, Pharmaceuticals, which account for about 78% of the company's sales, with sales up by 7%. Sales growth within this division was strongest in the U.S. (+10% year-on-year) and emerging markets (+12%), which grew faster than Europe (+2%) and Japan (+2%). The Diagnostics division posted sales growth of 4% CER, with all geographies contributing to growth. Sales growth in Diagnostics was strongest in Asia-Pacific (+14%) and Latin America (+13%), and lower in mature markets: Europe (+2%), North America (+1%) and Japan (+2%).
Roche continues to invest heavily on research & development [R&D], having one of the highest R&D-to-sales ratio in the industry like its Swiss peer Novartis (NYSE:NVS). In 2013, its R&D expenses were around $9.6 billion, or higher than 20% of its annual sales. For instance, Sanofi (NYSE:SNY) and GlaxoSmithKline (NYSE:GSK) spent about 14% of sales on R&D. During 2013 Roche's pharmaceutical R&D pipeline made significant progress both in oncology and in the areas of ophthalmology and immunology. The pipeline currently has 66 new molecular entities in clinical development of which 15 are in late-stage development. Roche has a very limited patent expiry in the next couple of years and has also a broad range of medicines and products, thus it is less prone to this issue than some of its peers like AstraZeneca (NYSE:AZN).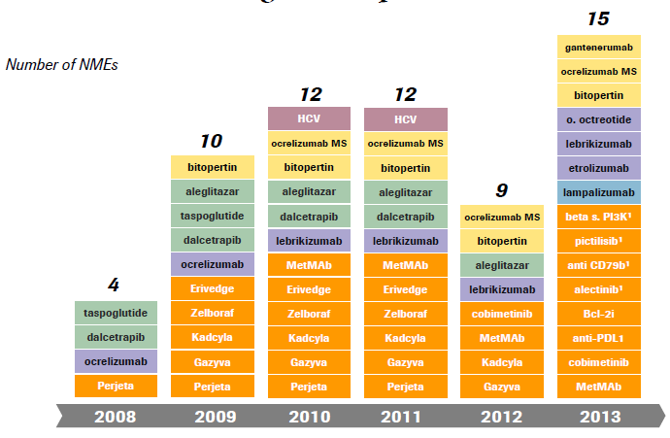 The sales performance contributed to an 8% increase in its core operating profit to near $20 billion, achieving an operating profit margin of 38.3% compared to 37.7% in 2012. Its net income rose 17% to $12.6 billion, benefiting from lower financing costs. In 2014, Roche expects low to mid-single digit growth in its sales at constant exchange rates and core EPS is targeted to grow (at CER) ahead of sales.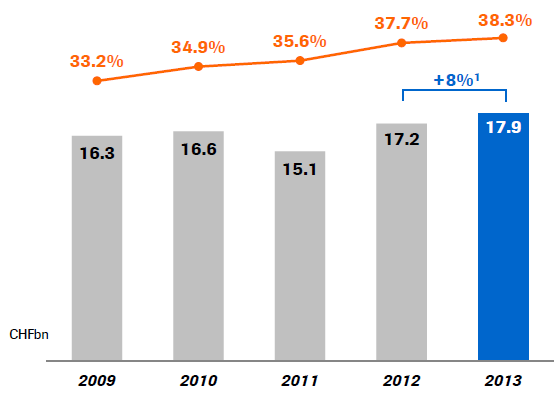 Roche's cash flow generation remained robust, given that operating free cash flow amounted to more than $18 billion allowing the company to reduce its indebtedness. Its net debt at year-end was about $7.4 billion, representing a net debt-to-EBITDA ratio of only 0.3x. Roche's strong balance sheet and good cash flow generation are clearly two factors that support a growing and sustainable dividend over the long-term. Roche has a very good dividend track record, with the 2013 dividend representing the group's 27th consecutive annual dividend increase.
The company decided to increase its dividend by 6% to CHF 7.80 ($8.65), and further increases are expected in the future. At its current stock price Roche offers a dividend yield of 3.15%, which is not among the highest in its industry but is clearly among the safest. Investors should note that each ADR represents one quarter of one ordinary share, so its ADR dividend should be about $2.16. On the negative side, as many European companies Roche only pays one annual dividend and the Swiss dividend withholding tax is high at 35%.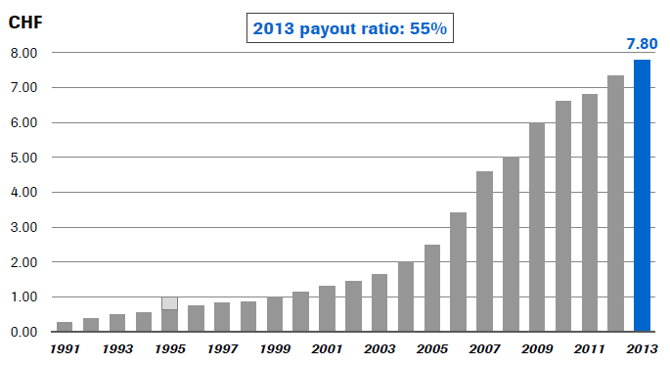 Its dividend payout ratio was 55%, stable from the previous year. This payout ratio is relatively low for a company like Roche, which has a stable business and an unlevered balance sheet showing that its dividend is safe and could be higher if the company decides to be more aggressive regarding its shareholder remuneration policy. Contrary to many American companies, Roche is not repurchasing its own shares clearly showing its conservative culture.
Disclosure: I am long GSK. I wrote this article myself, and it expresses my own opinions. I am not receiving compensation for it (other than from Seeking Alpha). I have no business relationship with any company whose stock is mentioned in this article.