Holders of J.C. Penney (NYSE:JCP) stock have been on a wild ride over the last couple years. Huge amounts of media attention and high volatility have made the stock a stalking ground for short term traders. JCP has stayed on my watch list for the past few months and I've considered purchasing shares several times, but I never felt it was worth the risk. There is a lot of uncertainty in this company's future. This long-shot turnaround story has a wide range of possible outcomes. I don't own JCP for my own account or for my clients. Here's why:
Too Much Debt
The company has a huge amount of debt and is currently unprofitable. High leverage and large operating losses can quickly spell doom for any company. Quarterly losses have been about $500 million per quarter in each of the last 4 quarters. Losses have been so big that the financial solvency of the company is now on thin ice. There was only $1.23 billion of cash left at the end of the last reporting period.
A successful long term outcome for JCP requires that operating performance improves significantly in the very near future. The company is burning through cash very quickly and won't be able to survive much longer on its current trajectory. The financial situation at the company became so bad in 2013 that the firm would have run out of cash several times had they not raised fresh capital.
Poor operating performance forced the company to raise capital 3 times in 2013 alone:
February 2013 - Raised $850M from banks via a line of credit
April 2013 - Raised $1.25B (net) from issuing bonds through Goldman Sachs
September 2013 - Raised $800M from issuing new common stock
The company is now overloaded with debt. Total debt, including debt raised prior to 2013, is $5.61 billion. This is a massive amount of debt relative to the value of the company ($2.04B). The debt burden is so large that the interest expense is about $100M per quarter. This is a significant headwind to returning to profitability and may prevent the turnaround from being successful.
To make problems worse, the company will likely need to raise more capital in late 2014. This is when the high cash burn rate is expected to deplete the company's reserves down to a level where the corporate finance department will be working hard to meet daily obligations. Vendors may also pull the plug and stop selling inventory on credit. This will be a very important time for the company. If operational performance does not improve by then, the company may not be able to secure additional financing from lenders. If this happens, it will be "Game Over". These problems are not small and a bad outcome appears significantly likely. This stock is just too risky for me own it.
The Bull Case
To be fair, the stock does look tempting to the bulls for several reasons:
The market's sentiment is currently so pessimistic that any improvement in the outlook for the company could cause a big jump in the stock's price. JCP tends to get a lot of media attention and everyone seems to hate the stock right now. Buying stocks that are unloved can be a successful strategy. JCP is also a very volatile stock. In about one month from now JCP will release its quarterly results. Any good news could send the stock price above $10.00 per share.
The company does have a turnaround plan. It has fired the CEO that ruined the company and hired back its prior CEO from the company's more successful days. This reminds some people of how Steve Jobs was brought back to Apple with great success.
It can be argued that there is a lot of value on the balance sheet. The stock trades at about 80% of book value. Much of the assets are in the form of real estate ($5.69B) as the company owns many of its stores and distribution centers instead of leasing them. There are a little over 1000 stores in total. $2.04B for 1000 stores may be a good value for an acquirer who may not even care about the operational side of things.
The stocks trades for just 13% of sales. For comparison, Apple (NASDAQ:AAPL) trades at 290% of sales (even after Monday's big drop down to the low 500s).
I don't agree with the bull case outlined above. Firstly, the stock price is low for good reasons, it's not just bad sentiment. The finances of the company really are dire. Second, bringing back Ullman as CEO will not necessarily result in a magical improvement. Steve Jobs was a brilliant man with amazing vision and was able to revive Apple. But he's one in a million. Ullman is smart and competent, but the situation is beyond his help. Even if Ullman does everything right, there are still serious risks on the financial side of things.
Lastly, regarding the valuation, much of the book value is tied up in inventory ($3.7B) that may not have much liquidation value. Overall, I can't bring myself to buy the stock, even though I might be missing out on a potentially big gain. This stock is similar to a lottery ticket. There is big reward potential, but on the other hand you might lose everything.
Conclusion
My main concern is that even if the turnaround starts to gain some momentum, the precarious financial situation might prevent the company from turning the corner. Moreover, I am not convinced of any reason why the poor operating performance should improve in the future. Why should it? Why now?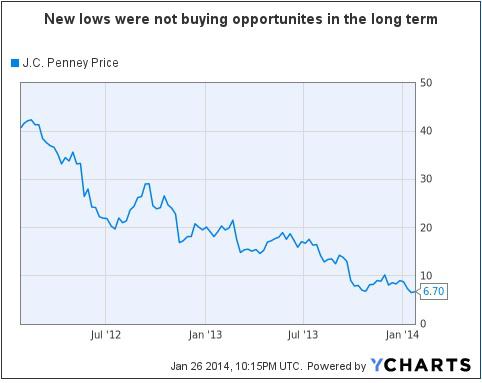 JCP data by YCharts
Analysts have been trying to push this stock as a turnaround story for a couple years now, but there haven't even been any signs of improvement yet. The stock has been on a downward trend for 2 years. There have been other tempting times to buy when the stock hit fresh lows; but all these levels eventually broke lower. If I was going to buy the stock, I would definitely hold off pulling the trigger until there started to be some signs that the situation was stabilizing. Good luck to you all!
Disclosure: I have no positions in any stocks mentioned, and no plans to initiate any positions within the next 72 hours. I wrote this article myself, and it expresses my own opinions. I am not receiving compensation for it (other than from Seeking Alpha). I have no business relationship with any company whose stock is mentioned in this article.