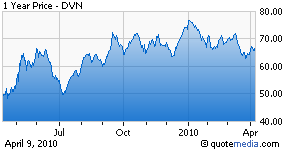 Selling $10 billion of properties, buy-recommended Devon Energy (NYSE:DVN) is divesting its offshore and international resources to concentrate its oil and gas operations onshore North America with special emphasis on shale gas and oil sands. The sale of $8 billion to buy-recommended BP plc (NYSE:BP) announced on March 11 triggers our revised analysis with no change to estimated Net Present Value (NPV) of $98 a share.
Applying the expected proceeds to virtually eliminate debt lowers McDep Ratio and increases unlevered appreciation potential to 39%. Removing the production of divested properties from our projection reduces unlevered cash flow (Ebitda) modestly. While the proceeds of the sales reduce Enterprise Value by 19%, weighted reserves decline just 6%.
Revised cash flow and adjusted reserve life readily support estimated NPV in an industry context. Shale gas increases by 14% in the U.S. and 12% in Canada in share of future potential as measured by probability-adjusted resources, while Gulf of Mexico and International no longer represent 23% and 9%. With newly minimal financial risk, Devon is an appealing investment as the lowest McDep Ratio large cap independent oil and gas producer.
Originally published on March 12, 2010.