"Ask what Time is, it is nothing else but something of eternal duration become finite, measurable and transitory." - William Law
January hasn't been too kind to stock investors, but then again it hasn't been too brutal either. People became conditioned to thinking smooth equity returns would be the norm following 2013's outlier gains and intermarket disconnects. Suddenly, equities drop a bit and it "feels" like the end of the world. The buy the dip crowd seems to be dazed and confused, and Treasuries have been laughing at the Federal Reserve since they began tapering in December. A deflation pulse began beating faster and faster post weak payroll reports, and it does look like a number of trends may be broken.
So is this the correction? We will of course only know with hindsight. At the very least, recent market action serves as a reminder that risk does exist in markets. Retailers (NYSEARCA:XRT) in particular have been a major source of that reminder. While everyone is focused on an emerging market "crisis," it has actually been consumer stocks in the US which have been under the most pressure. This largely explains why the yield curve has been narrowing, and the VIX spiking.
Corrections tend to be defined by deflationary pulses, higher correlations, higher volatility, and big downs followed by big ups. The nature of declines is extremely different than advances, given that overreactions tend to happen more frequently under falling market environments. From a contrarian standpoint, it seems almost too perfect for US markets to fall given that our markets have been perceived as the bastion of stability in the risk-seeking world.
The VIX, Gold, and Treasuries all confirm the "risk-off" period we seem to be in, and all of these trends of leadership appear to be early. The Yen too is in the early stages of a potential near-term unwind of the carry trade which benefits in favorable risk environments. Take a look below at the Currency Shares Japanese Yen Trust ETF (NYSEARCA:FXY) and note the trend on the far right that may be forming, and may be extremely early.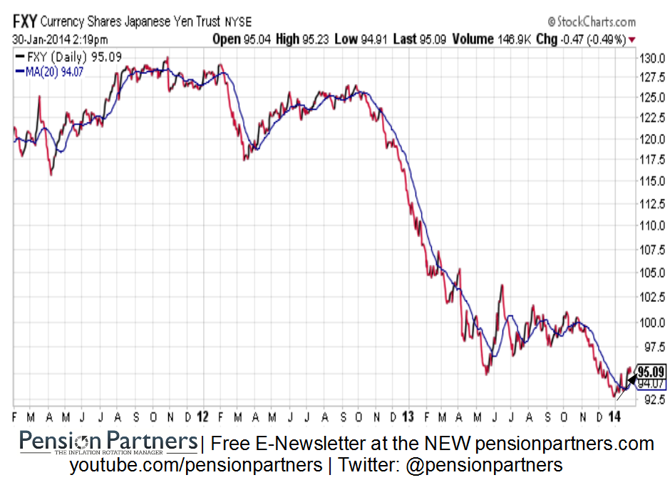 Back and fill may be what market action looks like in the weeks ahead, with ultimate pulses lower in the face of intermarket breakdowns across the board. If indeed this is a correction, I suspect emerging markets (NYSEARCA:EEM) will pull risk sentiment higher towards the tail end of it. I also suspect yields could surprise by dropping significantly lower to flush out bearishness on bonds before ultimately inflation expectations show signs of life again.
Should be a fun first quarter, with many transitory elements.
Disclosure: I have no positions in any stocks mentioned, and no plans to initiate any positions within the next 72 hours. I wrote this article myself, and it expresses my own opinions. I am not receiving compensation for it (other than from Seeking Alpha). I have no business relationship with any company whose stock is mentioned in this article.
Additional disclosure: This writing is for informational purposes only and does not constitute an offer to sell, a solicitation to buy, or a recommendation regarding any securities transaction, or as an offer to provide advisory or other services by Pension Partners, LLC in any jurisdiction in which such offer, solicitation, purchase or sale would be unlawful under the securities laws of such jurisdiction. The information contained in this writing should not be construed as financial or investment advice on any subject matter. Pension Partners, LLC expressly disclaims all liability in respect to actions taken based on any or all of the information on this writing.