David D'Amico is president of Braver Wealth Management, a registered investment advisory firm in Newton, MA. A CFA with more than 20 years of investment management experience, David has spent his career helping individuals and their families with wealth management.
Before joining Braver two years ago, David led the Private Investment Management group at Boston's Lee Munder Investments, where he managed roughly $1.5 billion for individuals, families and small institutions.
Seeking Alpha recently had the chance to ask David about the highest conviction stock holding in his portfolio.
To start, can you tell us about your investing approach?
Our concentrated, unconstrained equity portfolio is designed to give clients the best security selection of our team. We are not concerned with the size of the company or whether it is classified as growth or value. We have one primary criterion for our equity selection: Can we make money on the stock given the current valuation and growth prospects? We are focused on creating absolute value and investment returns and less concerned about beating a benchmark return.
We employ a fundamental, bottom-up security selection process - again, focused on consistent and positive investment returns. Our portfolio is concentrated in 20-25 holdings as we believe that it is better to know fewer names with conviction and that this concentration allows for better investment returns over time as it highlights stock selection ability.
What is your current highest conviction stock position in your fund - long or short?
Our highest conviction stock is Nuance Communications (NASDAQ:NUAN). Nuance, based in Burlington, Mass., is a leading software company focusing primarily on speech recognition. We have been long the stock for the past 16 months and still remain attracted to the company for its leading software products, its consistent earnings growth potential, and its valuation levels which remain very reasonable in today's marketplace, especially when factoring in the expected growth opportunity. In fact, we believe that Nuance is underappreciated and is not gaining enough respect in the marketplace.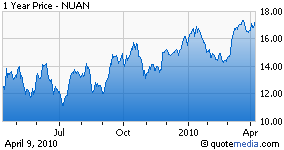 As the story unfolds through industry growth and maturation, we can envision appreciation being driven not just from earnings growth delivery but from multiple expansion. At $17.39 per share, the stock trades at 15 times this year's fiscal 2010 consensus earnings estimates of $1.15 per share. Looking forward, the stock trades at just 13 times 2011 consensus expectations of $1.29 per share, representing 12% EPS growth. Earnings visibility is good and business momentum appears strong. As such, we like this stock as a core holding for its position in the marketplace as a leading speech recognition software company and its growth prospects. We also like it for its low valuation and we see upside to earnings, with the bonus being potential multiple expansion.
Can you tell us a little more about Nuance and where it fits in?
Nuance is a leading software provider for businesses and consumers for both speech solutions and document management solutions. We focus more on the speech side of the business and the opportunities present in mobile applications and in healthcare. At the core, Nuance's software can convert speech into text to save time and costs while creating efficiencies across the enterprise.
At the same time, we believe there are safety benefits at the consumer level that are growing in importance within the mobile marketplace and with the proliferation of text and email messaging. In addition to speech recognition and conversion software, they offer a line of software products that assist with document management, editing and conversion.
Tell us a bit about Nuance's sector. How much is this an "industry pick" as opposed to a pure bottom-up pick?
Nuance to us is both a bottom-up pick and a top-down industry selection at the same time. On the bottom-up side of the equation, we are bullish on the mid–teens EPS growth projections that appear to be achievable and we believe can be beat to the upside, as the adoption rates increase across both the mobile marketplace as well as the healthcare sector. We are intrigued with the reasonable valuation metrics of 13 times next year's earnings estimates.
At the industry level, we are very excited about the current adoption and the future potential adoption rates of speech technology - from an efficiency and cost savings standpoint within the healthcare industry, and from a safety and responsiveness standpoint from the wireless side.
Can you elaborate a bit on these two aspects?
Our investment thesis for the industry and for the company is simple: As the world continues to adopt wireless as the preferred means of communication both at the consumer level and the enterprise level, speech recognition becomes more important for efficiency reasons and for safety reasons.
Texting while driving is a major problem around the country and around the world. Nuance's leading software allows one to convert speech into text for texting or emailing. This significantly improves safety.
At the same time, we all know that the healthcare industry needs to cut costs and become significantly more efficient. Clearly, the ability to dictate and have the speech immediately converted to text for storage, emailing or adding to a database has tremendous opportunities. Speech recognition and conversion as an industry is at the early stage of adoption and we are intrigued at the industry level as well as from the bottom-up fundamental measures.
How would you describe Nuance's competitive environment?
Nuance is generally recognized as a leader in this space. The competition comes from large providers of software and hardware devices such as Google (NASDAQ:GOOG), Apple (NASDAQ:AAPL), Microsoft (NASDAQ:MSFT) and IBM (NYSE:IBM) in the mobile and enterprise speech recognition space. Although this competition is clearly formidable, we believe that Nuance's solutions are superior and the pure-play nature of Nuance and its independence provides advantages.
On the healthcare side, a small $250 million firm called MedQuist (PINK:MEDQ.PK) competes in the healthcare space and is focused on this business, providing some direct competition to Nuance. [Nuance is competing against stalking-horse bidder MedQuist and Transcend Services (TRCR) in a Tuesday auction for bankrupt medical transcription company Spheris Inc.]
On the document management and editing side of the business, Adobe (NASDAQ:ADBE) is the major competitor and clear dominant player in the PDF (portable document format) business. Given the brand recognition and strength of Adobe, we have focused on the telecom and healthcare parts of Nuance's business; anything out of the documentation side of the business is just upside to our outlook.
We anticipate that Nuance's strength and positioning in the industry and recent momentum, combined with very reasonable valuation metrics, could lead to one of the larger providers such as Apple, Google or Microsoft viewing Nuance as an acquisition target. We do not own a stock based on a potential takeover, as this can be a very frustrating business. However, this potential viewed as a bonus could lead to significant upside potential to our fundamental case.
What about how valuation compares with competitors?
As I mentioned, we believe Nuance is very underappreciated in the marketplace given the valuation levels. On a P/E basis, the stock is at a discount to its peer group and the market as a whole. Thirteen times next year's EPS is a very reasonable valuation level for a leading software provider.
Given the mid-teens expected EPS growth, the stock trades at 1.00 or slightly less on a P/E-to-growth basis. We believe there is upside to the earnings numbers based on the trends within mobile technology and in healthcare.
As such, we believe this business is underappreciated in the marketplace. This could lead to appreciation in three ways: 1) EPS growth, 2) P/E multiple expansion as the stock becomes better appreciated in the marketplace and 3) potential takeover candidate as speech becomes more widely adopted.
What is the current sentiment on Nuance, and how does your view differ from the consensus?
The current sentiment is one of fair valuation. It appears that the marketplace respects Nuance's software and capabilities as well as the trend towards speech conversion. However, our enthusiasm for this stock does not appear broadly shared and this is reflected in the lack of momentum in the name. The stock has been rangebound and unable to materially break through the $17 upward range in any sustainable manner.
We differ from the fair valuation sentiment in a few ways: We believe the current valuation on consensus EPS is too low. A more fair valuation for this stock given the industry positioning and growth trends, management strength and stability, and EPS growth could be in the 16-17 times earnings range. At 17 times earnings, the stock could trade at almost $22 per share or almost 30% higher.
In addition to the underappreciation in the multiple, we believe consensus earnings are likely low, as we expect wider distribution deals and higher adoption rates as Nuance further separates their technology from the competition.
Does management play a role in your position?
Yes. Management plays a key role in our security selection process; in particular, managers that exhibit stability, good vision, and shareholder-friendly and prudent decision making. To this end, CEO Paul Ricci had the vision in the early part of the decade to place a large (and very accurate) bet on focusing on speech technology.
Acquisition decisions have been a key to Nuance's success and Ricci has demonstrated an expertise to this end as well. His leadership, vision, and sound decision-making has served shareholders well over the years and we expect this to continue into the future. He remains focused on the long-term growth of the franchise.
What catalysts do you see that could move Nuance's stock?
We anticipate there will be a few catalysts for this stock over the near term. First and foremost are earnings. We anticipate a solid fiscal second quarter ending March 31 and this should provide further confidence around adoption rates and continued management execution.
Second, we believe product announcements will solidify our belief that Nuance is gaining momentum as the leading provider of speech translation software. The company recently announced a deal with Audi to be the provider of speech technology in the Audi A8's leading MultiMedia Interface (MMI) Touch infotainment system for navigation. This announcement went virtually unnoticed. We believe that this could be the first of many wins to come in the high end automotive space and this could be a strong catalyst for the name.
At the same time, Nuance has recently announced that the Dragon Dictation software is available on the iPad as an application. This should create further awareness of Nuance and its capabilities. We anticipate more deals to be announced as the year progresses and this all could lead to multiple expansion.
What could go wrong with this pick?
The software and technology space in general can change very quickly and render products obsolete. Nuance competes with some very formidable players in technology. As mentioned above, the list is star studded with Adobe, Apple, Google, Microsoft, and IBM. One of these competitors could leapfrog Nuance and their technology. We believe one of these companies should seek to acquire Nuance instead of trying to build their own, and this would be a much cheaper option and better use of capital.
However, the risk remains that these are large companies with large cash balances and they could choose to invest heavily in speech technology - and this could potentially derail the Nuance story.
Thanks, David, for sharing your thesis.
Disclosure: Braver Wealth Management is long NUAN.
Read more High Conviction Picks »
If you are a fund manager and interested in doing an interview with us on your highest conviction stock holding, please email Rebecca Barnett.