Microsoft (NASDAQ:MSFT) announced second-quarter earnings on January 23, 2014 (see: this report). The company reported better-than-expected results, beating Wall Street's expectations in both revenue and earnings per share. Investors rewarded Microsoft and the stock regained momentum after several weeks of uncertainty due to the lack of determination in Microsoft's search for its next CEO.
One of the main catalysts behind Microsoft's great second quarter is its cloud services division. Revenue from cloud services increased 107% to $609 million year-over-year. In fact, the year-over-year revenue growth accelerated during the second quarter of this fiscal year. Revenue from cloud services increased 103% year-over-year in the first quarter of this fiscal year compared to the 107% year-over-year revenue growth in the second quarter of this fiscal year.
Cloud services market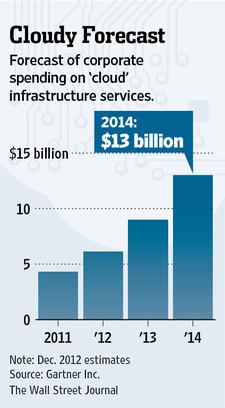 According to Gartner Inc. and The Wall Street Journal, the market for corporate cloud services will grow 45% to $13 billion in 2014 from $9 billion in 2013. This will support cloud services revenue in the future, because most of the revenue is earned in corporate cloud infrastructure services (see: this article).
Azure and Office365 are two well known cloud services offered by Microsoft. In this article I provided four reasons to buy the Microsoft's stock. The first of four reasons was the potential of the cloud services division. Therefore, I was not surprised that Microsoft was able to grow cloud services revenue by more than 100% in the previous quarter.
Microsoft's main competitor is Amazon (NASDAQ:AMZN). Other competitors are Google (NASDAQ:GOOG), IBM (NYSE:IBM) and Salesforce.com (NYSE:CRM). Amazon is the market leader with its well-known product Amazon Web Services (AWS). Analysts expect that AWS revenue will top $1 billion in the fourth quarter of 2013 (see: this article). Amazon publishes fourth-quarter earnings on January 30, 2014.
Microsoft versus Amazon
The estimates provided by The Wall Street Journal show that the market for cloud services is booming (45% year-over-year increase in corporate spending on cloud services in 2014). Therefore, investors should own at least one stock in a diversified portfolio to cover this fast growing market. Despite the fact that Microsoft (most likely) earned only 60% of Amazon's cloud services revenue in the previous quarter, I favor Microsoft over Amazon as my favorite cloud services stock. I provide several arguments below.
First, Microsoft has been a long-term partner of (large) corporations and businesses. Therefore, the company has already a network with the big spenders in the industry and the company could scoop multi-billion dollar contracts away from its competitors. Microsoft has the advantage that most of the corporate customers already use Microsoft products and services. Therefore, Microsoft is able to offer cloud services that are more compatible with other applications and software supported by Microsoft.
Second, Microsoft has deeper pockets than Amazon. The company has $84 billion in cash and short-term marketable securities according to Microsoft's second-quarter earnings report. It is likely that the competition in the cloud services market will heat up and that prices will go down. Microsoft is in a better financial position to cope with the (potential) battle with Amazon over (corporate) cloud customers in order to support growth in the future.
Microsoft is also more profitable than Amazon. Last year, Microsoft earned almost $22 billion in net profit. Amazon is likely to post a small profit (at best) over the full year 2013. This is also reflected by the trailing P/E ratio's of both companies. Microsoft is valued at 13.55 times this fiscal year's earnings, while Amazon is valued at 1,404.24 times this fiscal year's earnings (source: Yahoo Finance).
Conclusion
Following the argument above, it is obvious that I prefer Microsoft over Amazon as my favorite stock. I rather own a stock that is highly profitable, is rich, pays a nice dividend (3.00%) and supports the stock price with share repurchases (Microsoft) than a stock that barely makes a profit, has very thin margins and pays no dividend at all (Amazon).
In my opinion, the fact that Amazon is the market leader in cloud services does not make up for the arguments mentioned above. Further, I expect that Microsoft eventually will close the gap in market share with Amazon because of its existing corporate network and the ability to offer a service that is more compatible with other popular Microsoft products.
Disclosure: I am long MSFT. I wrote this article myself, and it expresses my own opinions. I am not receiving compensation for it (other than from Seeking Alpha). I have no business relationship with any company whose stock is mentioned in this article.