GATX Corporation (GMT) recently delivered impressive fourth quarter results and provided bullish guidance for 2014.
This motivated analysts to revise their estimates much higher for both 2014 and 2015, sending the stock to a Zacks Rank #1 (Strong Buy).
Shares of GATX soared following the Q4 report, but the valuation picture still looks very reasonable at 15x forward earnings.
GATX Corporation is a railcar leasing company. It is headquartered in Chicago and was founded in 1898.
Strong Fourth Quarter Results
GATX delivered strong fourth quarter results on January 23. Earnings per share came in at $1.14, crushing the Zacks Consensus Estimate of $0.93. It more than doubled EPS in the same quarter last year.
Revenue rose 8% to $356.6 million, ahead of the consensus of $348.0 million. This was driven by 8% revenue growth in the 'Rail America' segment and 14% growth in the 'Rail International' segment. Utilization rates improved in both divisions too.
Meanwhile, total segment profit surged 66% as the company leveraged its fixed expenses.
Estimates Rising
Following strong Q4 results, management at GATX provided bullish guidance for 2014. CEO Brian Kenney stated:
[O]verall, we are optimistic about the year ahead.... We currently expect 2014 earnings per diluted share to be in the range of $3.85-$4.05, which would mark another record EPS level for GATX.
That was well ahead of the $3.57 Zacks Consensus Estimate at the time, prompting analysts to revise their estimates significantly higher. The current consensus is calling for 2014 EPS of $3.93, which is within guidance.
The 2015 consensus also jumped higher, from $3.88 to $4.38 over the same period.
You can see the dramatic bump in consensus estimates for both 2014 and 2015 in the company's 'Price & Consensus' chart: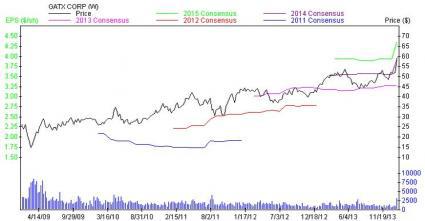 It is a Zacks Rank #1 (Strong Buy) stock.
In fact, rising earnings estimates can be seen at several companies within the 'Transportation - Equipment & Leasing' industry. It currently ranks 27th out of the 265 industries that Zacks Ranks, putting it in the top 10%.
Reasonable Valuation
Shares of GATX are up more than +10% since the Q4, but the valuation picture still looks reasonable. Shares currently trade at 15x 12-month forward earnings, which is in-line with its historical median.
Its price to book ratio of 2.0 is above its historical median of 1.6 but below the industry median of 2.1.
The Bottom Line
With rising earnings estimates, improving industry trends and reasonable valuation, GATX Corporation offers investors attractive upside potential.
Todd Bunton, CFA is the Growth & Income Stock Strategist for Zacks Investment Research and Editor of the Income Plus Investor service.
GATX CORP (GMT): Free Stock Analysis Report (email registration required)