By David Russell
Western Refining (NYSE:WNR) has been fighting its way back from all-time lows, and one investor is confident it's putting in a base.
optionMONSTER's tracking systems detected the sale of 20,200 January 2.50 puts for $0.15 to $0.20 against open interest of 11,449 contracts. The trade pushed options volume in the debt-laden oil refiner to 10 times greater than average.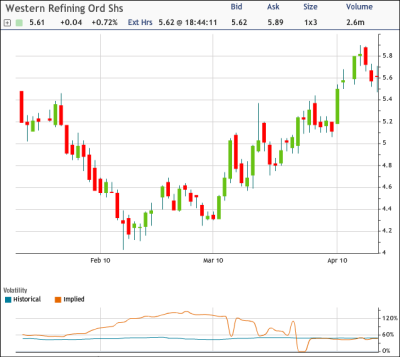 WNR rose 0.72 percent to $5.61 on Friday and is up 13 percent in the last month. The shares have been fighting their way back from an all-time low of $4.03 in February after management cut costs and refinanced debt. The company got crushed in June after increasing the size of a capital-raising effort.
Friday's options trade reflects a belief that WNR will remain above the $2.50 level through expiration. The investor may also expect implied volatility to keep falling below its current 60 percent area now that it's taken out the 65 percent level that had been support over the previous year.
Short interest also represented a hefty 16 percent of the float in WNR as of March 15, which could potentially drive the shares higher. The next scheduled event that could serve as a potential catalyst is the release of first-quarter results on May 6.
Investors may also expect the company to benefit from improved demand for fuel amid signs the economy is improving.
The put sale accounted for 95 percent of the options volume in the name on Friday.
(Chart courtesy of tradeMONSTER)