Buying low price to cash flow stocks has produced some over-sized gainers in the Victory Formation stocks I follow the past few years. Stocks like GameStop (NYSE:GME), Best Buy (NYSE:BBY), First Solar (NASDAQ:FSLR), Hewlett-Packard (NYSE:HPQ) and others were valued at less than 4x trailing annual cash flow numbers at their lows, before doubling and tripling in price the next year or two. Even after a strong 12-24 month rise in stock prices, these four are still at relatively low multiples of 6-10x trailing cash flow today.
Price to Cash Flow is one of about 10 fundamental screens run on my favorite undervalued blue-chips to find truly cheap stocks worth buying for the long term. Cash flow calculations are available from a variety of sources like Yahoo! Finance or MSN Money. Current capital expenditures and projected capital equipment spending are important to evaluate and determine "free" cash flow, but the plain vanilla cash flow number on a trailing basis is a great and easy first step. Cash flow for our purposes includes earnings before special restructuring items, plus depreciation and amortization expense on existing assets, and rarely minor changes in how working capital calculations are made. I also like to find a repeatable number that may subtract lawsuit money paid out or received, and similar one-time instances of cash appearing on the accounting books.
Typically, stable ongoing businesses trade near certain multiples of cash flow year in, year out. Trends in price to cash flow valuation are a key component of the Value Line ranking system, and have a successful track record over the last 100 years, under differing economic backdrops, of pinpointing meaningful long-term undervaluations. Often plenty of bad operating news, government regulation changes, lawsuits, recession, excessive debt and leverage, plus sky-high investor pessimism are common in low price to cash flow multiples.
The fun part comes in whittling away the companies that will survive the problems of the moment, from those that will probably have to go out of business, file for bankruptcy protection, or sell out to a competitor or private equity firm near insolvency valuations. The four stocks listed above were (and still are) leaders in their industry, and not overly leveraged. Each retained decent experienced managers at the corporate level, substantial moats against competition (barriers to entry) from existing assets and brand names, plus plenty of cash to pay bills if business did not turn quickly in their favor.
So which blue-chip stocks hold strong price to cash flow valuations today? Here is my list, focused purely on the companies with many of the characteristics listed in the above paragraph, also witnessing bouts of buying interest based on relative price action and volume accumulation, among other technical indicators.
Commodity Miners
Cliffs Natural (NYSE:CLF) is one of the "cheapest" stocks I can find using cash flow analysis. The company is still generating earnings and cash after a multi-year slide in iron ore and coal prices, has large size, has cut costs and restructured to a degree in 2013, and has been in business for many decades. I discussed Cliffs at length in a previous Seeking Alpha article here. Cliffs today sells at a trailing price to cash flow number of 3.5, using the last four quarters of financial reporting, at a $20 stock price. The 10-year average for price to cash flow for Cliffs is 7, a historically lower number than usually the stock market appoints capital spending-intensive businesses like miners and heavy industry participants. Basically, the market is projecting iron and coal prices to continue their decline, with a stock price just one-half the level of average trailing cash flow valuations. At current pricing for iron and coal, Cliffs has a resource base of 30-50 years, but a stock price expecting the company to go out of business in 2-3 years! Go figure? You cannot have it both ways. Amazingly, the company is generating $1 billion in annual cash flow, and has almost ZERO debt due until 2017! (P.S. It's hard to go out of business with few debts due.)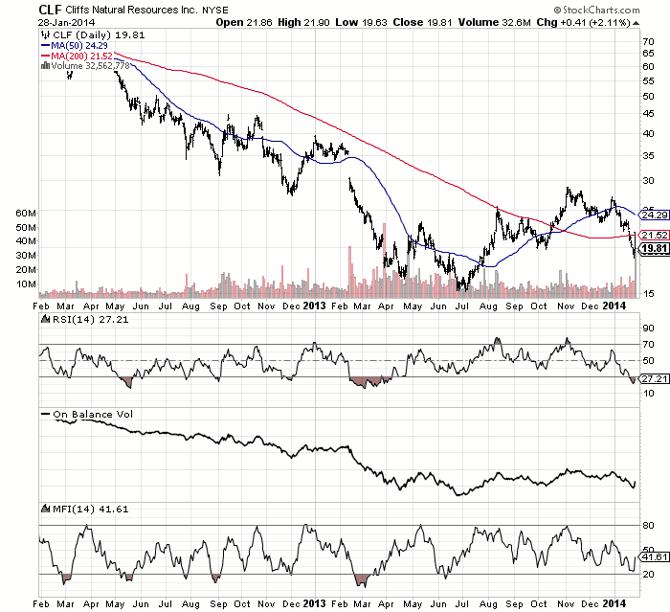 Click to enlarge
Charts courtesy of StockCharts.com
Peabody Energy (BTU), the world's largest coal producer, currently has its stock priced at a very "depressed" operating cash flow level of 6, given a $17 stock quote. Typically cyclical businesses like Cliffs and Peabody sell at high price to cash flow ratios after a multi-year drop in underlying commodity prices. I reviewed Peabody in the same article as Cliffs a few weeks ago. Peabody has an average price to cash flow ratio closer to 10 the last decade. Despite being priced at just 6x annual cash flow, Peabody has economic reserves that will be producing coal 20-30 years into the future, and is one of the lowest cash cost miners of the major players!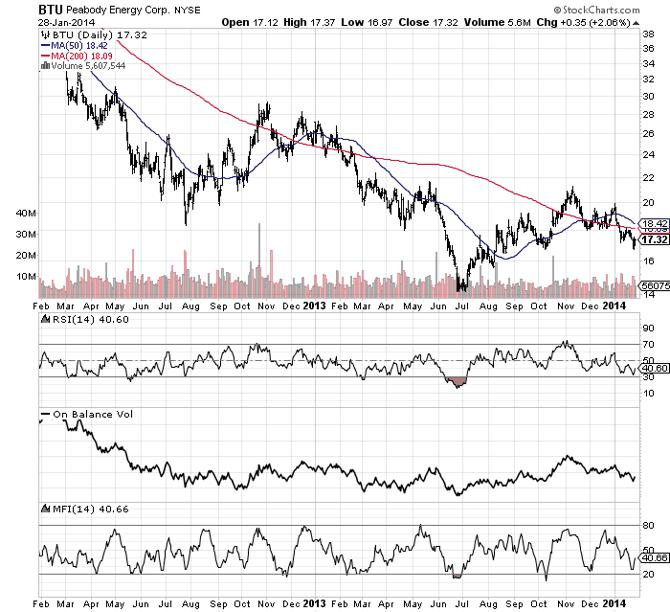 Click to enlarge
Newmont Mining (NYSE:NEM) is part of a plentiful group of deep value precious metals miners today. Newmont is one of the largest gold, silver and copper miners on the planet. The company has some leverage, but I would not say Newmont is overly burdened with debt, as cash mining costs are quite low and in-ground reserves very long-term in nature. Despite a 10-year average price to cash flow multiple of 12, Newmont is now just 5x trailing cash flow with a $25 price per share, near a cyclical bottom in precious metals quotes, mind you. In past cycles, Newmont would have a price to cash flow number ABOVE the norm of 12 by now, expecting a rebound in its business fortunes. Shorter-term problems like a regulatory headache at one of the company's biggest mines in Indonesia are a reason. Indonesia has lately decided to tax miners at greater rates if they do not build smelters and create new jobs in the nation. However, I feel the stock price has been overly punished by investors. The Indonesian tax may be repealed or changed in 2014-15 as miners cut back production, plus long-term Wall Street expectations regarding the demise of precious metals as a legitimate investment class are quite misguided. If a compromise is reached between Indonesia and the large mining concerns, plus gold/silver/copper prices rebound, Newmont could truly fly higher in both valuation and price.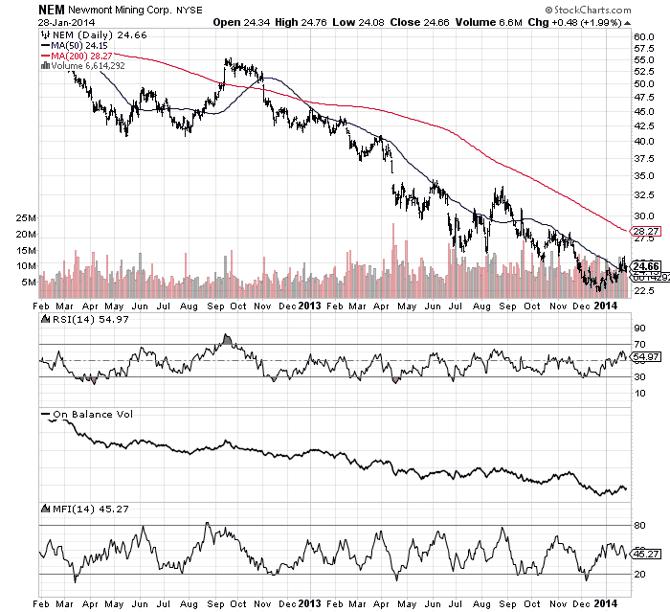 Click to enlarge
High-Tech Names
Xerox (NYSE:XRX) is a forgotten stock. I have not paid attention to it honestly for years, and Wall Street gives it little affection, as the core business of photocopy/printing machines is in slow decline. Nevertheless, it has added businesses that revolve around electronic document storage and IT consulting the last 5 years, including Affiliated Computer Services - ACS. Xerox has steady revenues and cash flows as a consequence, including very high-margin service and consulting divisions. The company is smartly paying down debt to manageable levels, buying back stock, increasing its dividend, and generally moving in the right direction year after year. You can buy Xerox shares at just 4.5x annual cash flow at $11 per share. While not a high-growth or appreciation candidate, Xerox's consistent operations and improving balance sheet should help per share results to rise faster than the typical S&P 500 company, in my opinion, the next 3-5 years.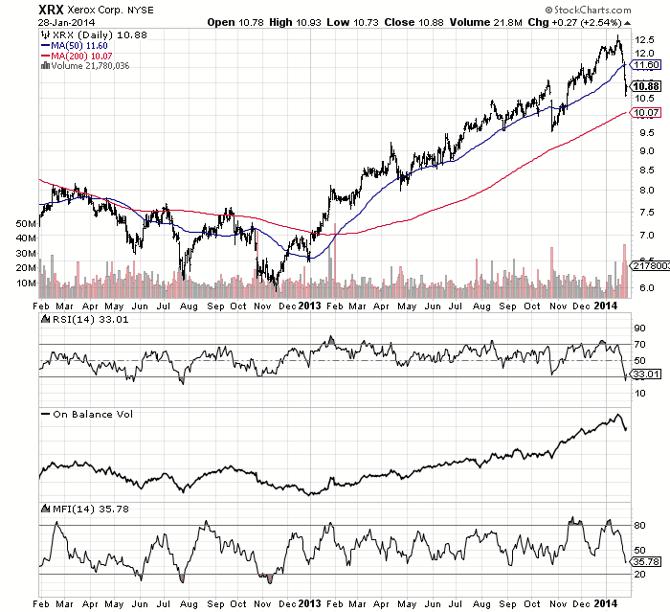 Click to enlarge
Cisco Systems (NASDAQ:CSCO) is likely the cheapest large capitalization company in the high-technology space. Cisco is a critical player in the hardware and software development of computer networks, the internet, smart phones, and cell phone communication on the planet. With the majority of its sales and income growth occurring overseas the last couple of years, the stock price is greatly affected by fluctuations in the U.S. dollar vs. other currencies and the health/state of economic expansion worldwide. If you take $25 billion in net cash from the balance sheet and subtract it from the stock market capitalization at $22 a share, Cisco is priced at just 6.5x trailing annual cash flow. The company has a super-conservative balance sheet, with nearly $50 billion in cash held at the end of October 2013 and $40 billion in net working capital. Cisco had only $42 billion in total liabilities at the end of October vs. $65 billion in short-term liquid assets! It is both fair and useful to value the operating business and Cisco's stock valuation minus the unproductive total of $25-30 billion in cash earning next to nothing right now. Anyone purchasing shares at $22 is basically getting $8-9 per share in net cash back. When subtracting working capital from the stock valuation, price to cash flow is closer to 5! For comparison, over the past decade, Cisco's stock has traded at a price to cash flow number above 10, even after adjusting for its enormous and growing cash-like holdings.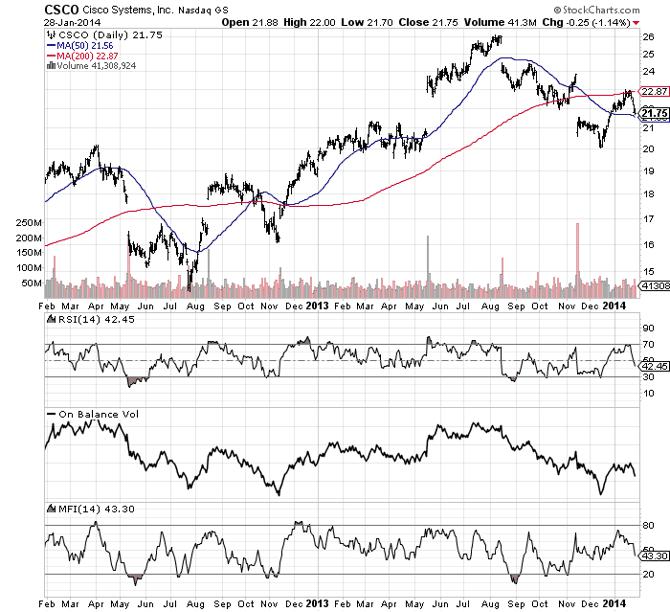 Click to enlarge
Retailing
Staples (NASDAQ:SPLS) is a leading retailer of business and office supplies, plus technology for the home and business. The 2013 merger of competitors Office Max and Office Depot (NYSE:ODP) and coming rationalization of their operations (downsizing and restructuring of the combined store count and online choices) should result in less competition for Staples and better operating margins going forward. Staples has a strong balance sheet and is better positioned, in my opinion, to keep customers and grow financial results starting in 2014. The stock is priced at 7x annual cash flow today, at $13 per share. The 10-year average price to cash flow number is about 11. The good news for new purchases is the fact that Staples stock price is lower than 15 years ago in 1998. Plenty of underlying value is now present in the shares using a variety of financial metrics. Consequently, any upturn in operating revenues and income should generate a nice double or triple in the stock price the next 3-5 years. If you believe in the big-box retail concept and the future of brick and mortar locations globally, Staples should be near the top of your retailing research list.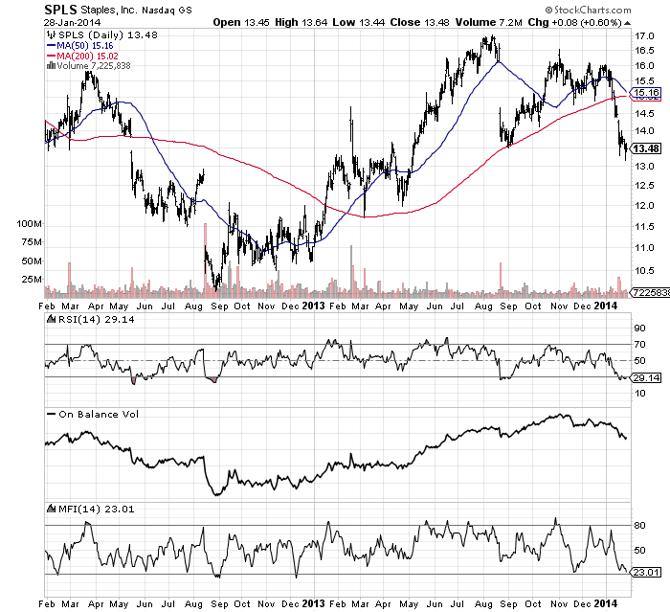 Click to enlarge
Oil & Gas Favorites
Many have read my articles in the past few years regarding oil & gas prices. My Seeking Alpha story written in November outlines some of my views. Count me as an outspoken bull regarding energy assets overall, and oil/gas assets in particular. We have the Peak Oil supply situation that will only get worse over time. Global oil supplies are hard pressed to grow much in the future, as we are drilling 3 miles under sea, 1 mile into the ground, and squeezing sand to find any new oil supply in 2014. Honestly, all the cheap/easy-to-find oil has already been discovered and burned for fuel! We have out-of-control money printing by the world's central banks. And we have geopolitical/instability/violence issues in the majority of oil-producing regions of the world. Taken together, fossil fuels are likely entering (remaining in) a prolonged uptrend in price for a number of years, no matter how strong economic demand is forecast to be. I am sticking to my $300US to $500 a barrel forecast for crude oil prices by 2020. Here is an article I wrote a few years ago on the subject at the Motley Fool website.
Philips 66 (NYSE:PSX) is perhaps best positioned for investors of all U.S. refiners of oil into gasoline/fuel products. After being spun off from ConocoPhillips into an independent company in 2012, it has closed many high-cost refineries. Profit margins have increased from the company's restructuring of assets. The outlook for the industry long-term is the most positive I can remember. A big decline in available gasoline/fuel supply in America resulting from new government EPA regulations and a rationalization of industry capacity following years of oversupply should put a floor under the Phillips stock quote far into the future. Today, Phillips is the leading and largest independent refiner in the nation. The price to cash flow multiple is 7 right now, at a $75 stock quote. This cash flow number is not historically an ultra-low reading versus other refining businesses the last several decades, however, if crude oil prices rise and refining margins remain the same the next couple of years (or possibly even rise from lack of industry capacity), earnings and cash flows will jump by leaps and bounds for Phillips shareholders. Phillips 66 is currently a Top 10 selection in the overall Victory Formation system.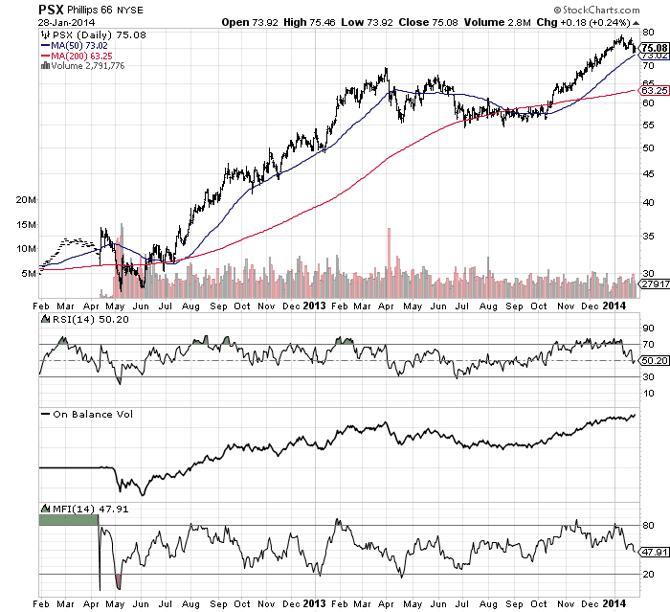 Click to enlarge
ConocoPhillips (NYSE:COP) is one of the biggest oil & gas exploration and production companies in North America. The company is focused on U.S. assets and holds plenty of crude oil and natural gas reserves to take advantage of rising commodity prices for decades to come. From a valuation and margin of safety perspective, Conoco ranks highly as a great investment option for long-term consideration. In early 2014, Conoco is trading at a "trailing" annual price to cash flow number of 5, given a $66 stock level. Despite Wall Street projections that crude oil and natural gas prices could only fall in price the last two years from oversupply and a slow global demand trends, oil is still around $100US a barrel and natural gas prices have spiked to $5US per MMBtu, the highest spot quote in many years! Plus, overseas selling prices for Conoco's oil & gas production are even higher than in the U.S. If we are at a floor for energy prices in 2013 and early 2014, and the UP part of the demand cycle lies ahead, are the company's future reserves and production worth just 5 years of current cash flow? Decades of reserves, low cost production, a conservative balance sheet, excellent and experienced asset managers, and a stable geopolitical environment for operations argue NO! Conversely, if Wall Street was wildly bullish on Conoco and oil prices going forward, the price to cash flow ratio would be closer to 10 in 2014.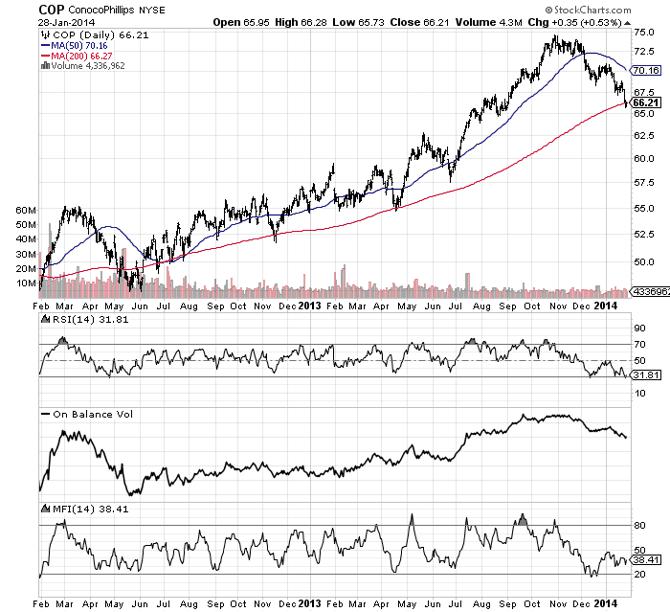 Click to enlarge
Marathon Petroleum (NYSE:MPC) is another large independent oil refiner. In a similar organizational setup to Phillips 66, Marathon Petroleum was recently spun off. Its parent oil & gas production company, now Marathon Oil, correctly decided in 2011 that separate companies and redirected focus on local operations would create better capital allocation and profit margins for owners of the businesses. Just like Phillips 66, Marathon Petroleum should benefit from improving company-specific margins alongside a brightening industry-wide outlook. The company's price to cash flow ratio is 6.5, at a stock quote of $83. Try for a minute to imagine a double and triple in crude oil prices the next 3-5 years. If Marathon Petroleum and Phillips 66 are able to maintain refining margins, earnings and cash flows will double and triple alongside the crude oil increase. Remember, it takes several years to build a new refinery and can take 1-2 years of environmental study and local population convincing before ground is broken for one. If demand for gasoline/fuel is decent in coming years and a refined product shortage develops, it is possible margins will grow on top of the underlying jump in the crude commodity. Marathon Petroleum also scores in the Top 10 overall in the Victory Formation system as of this writing.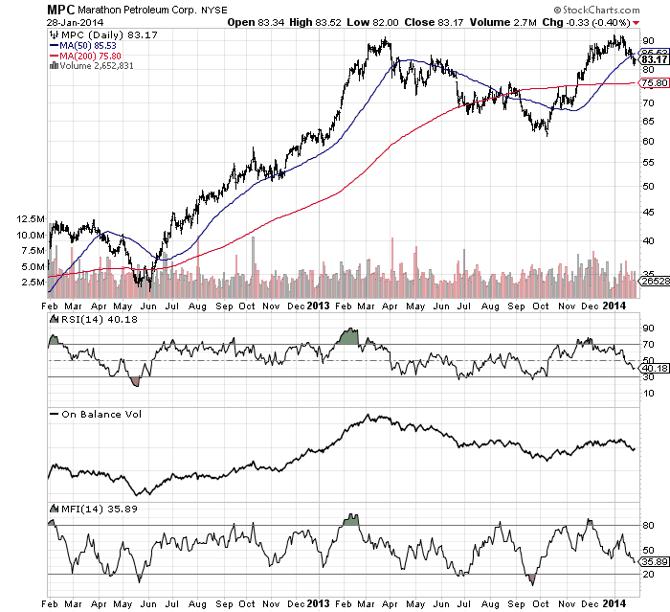 Click to enlarge
Marathon Oil (NYSE:MRO) is a major oil & gas exploration and production company worldwide. It holds many of the same positive investment characteristics as ConocoPhillips, minus the concentrated and more stable U.S. reserves and production Phillips owns. Marathon Oil's $33 price is 4.5x annual cash flow presently. The company is paying down debt and has great long-term assets. Like several other oils mentioned in this article, Marathon Oil is trading close to its tangible book value, while the S&P 500 "average" stock is well above 5x tangible book value! An investment in Marathon Oil is purely a play on higher oil & gas prices. If you are bullish on energy, Marathon Oil should be given a serious look. At face value, it appears to be one of the cheapest oil resource investments in the sector.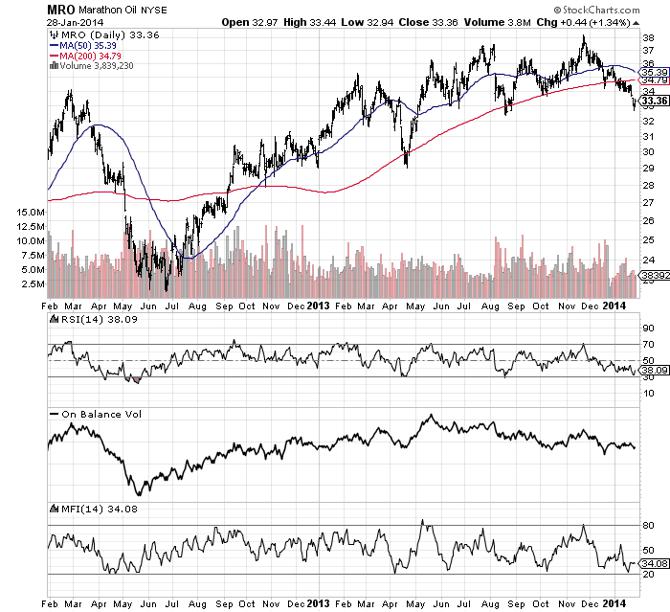 Click to enlarge
Hess (NYSE:HES) has been a favorite of mine for a few years. Hess is intelligently restructuring itself by selling off a number of low-margin North American midstream and downstream units, closing refineries, offloading overseas assets, and reinvesting its cash flow into U.S.-centered oil & gas reserves and production. I applaud this effort, and Wall Street has rewarded the refocus on core profitability by steadily increasing its share price and valuation metrics. Hess sells at 5.5x trailing cash flow per year, at a price of $77 per share. The goal of the restructuring effort is to turn Hess into a low-risk, high-margin, clean balance sheet energy asset with decades of reserves and production from the U.S. mainland. The company is well on its way, as debt is being repaid rapidly from asset sale proceeds and consistent reinvestment in America is upping home-grown production. In another year or two, Hess shares should be valued at higher financial multiples of operating performance, given stronger margin of safety considerations and company growth prospects. The current stock price to cash flow ratio of 5.5 is based on an amalgamation of a variety of lower-margin businesses. The 10-year average price to cash flow multiple is closer to 7, generated by the company's past lower-margin setup. In time, the Hess stock price should benefit from rising commodity sell prices, greater U.S. production volumes, and "higher multiples" on ever-stronger operating cash flow. A win-win, if you will, like many of the selections mentioned in this article.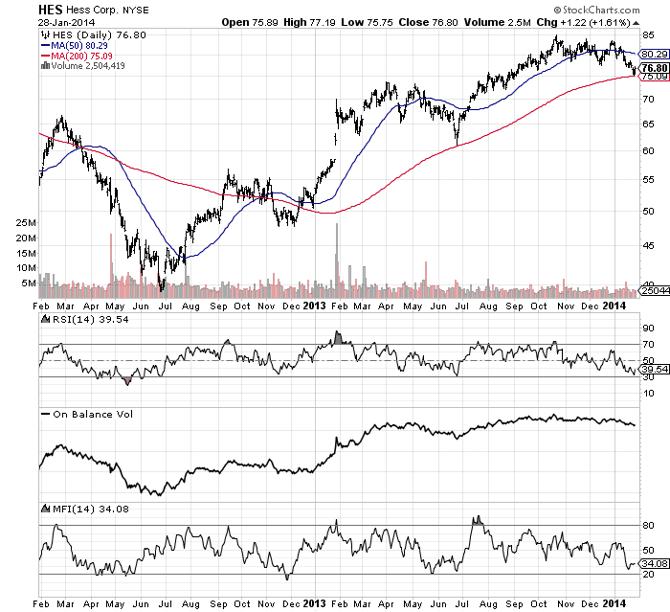 Click to enlarge
Devon Energy (NYSE:DVN) is going long oil and gas assets in North America. It was the first to decide to shun foreign assets years ago in favor of U.S. and Canada ones. Others in the industry have followed Devon's lead, as it is becoming increasingly difficult to find high-quality, long-term reserves in foreign nations that do not come under physical attack by local populations or require intensive effort to retain ownership in a chaotic political/government changing backdrop. Lately, the company has decided to form a new partnership entity that will hold its midstream operations, and Devon has purchased another large Texas oil & gas holding for billions of dollars. Devon is priced at 5x annual cash flow, using a $59 stock quote. The company is slated to increase production considerably the next 3-5 years, and holds the best leverage to natural gas prices of the large capitalization pure plays in the exploration and production industry.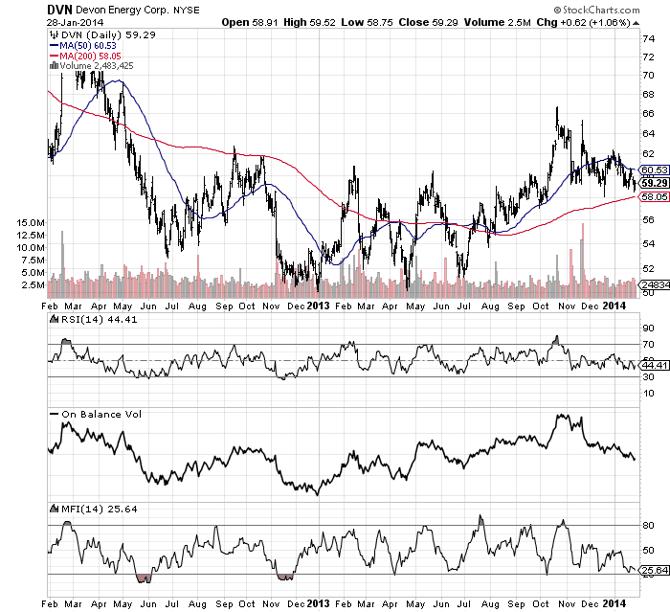 Click to enlarge
Conclusion
Stocks that have a combination of low price to cash flow multiples, low price to earnings readings, and can cover a higher-than-normal dividend rate typically outperform the market the next 12-24 months. This article discusses a variety of blue-chips retaining these value-based characteristics, using attractive price to cash flow as the main ingredient. This list is not all inclusive for the universe of 5000+ stocks available for public investment in the U.S. It is gathered from a smaller subset of between 100 and 200 blue-chips screened weekly, showing both fundamental value (on a variety of metrics) alongside some buying interest by investors as evidenced by technical trading pattern techniques. While each has great long-term potential to outperform the average stock available for investment, they will undoubtedly have their ups and downs the next few years. I hope this list and some basic background on the selections will be a good starting point for readers to do their own due diligence. Many on the list are capital-intensive businesses that do poorly in recessions or rising interest-rate environments. Nevertheless, every company on the list could turn into a big stock market gainer under the right circumstances, including proper management oversight and a growing U.S. economy.
Disclosure: I am long FSLR, HPQ, CLF, BTU, NEM, CSCO, PSX, COP, DVN. I wrote this article myself, and it expresses my own opinions. I am not receiving compensation for it (other than from Seeking Alpha). I have no business relationship with any company whose stock is mentioned in this article.
Additional disclosure: I am looking to enter long positions or increase holdings on weakness on all the stocks mentioned in this article.