What on earth is happening to BlackBerry (NASDAQ:BBRY)? Its stock has soared while its business has been plummeting.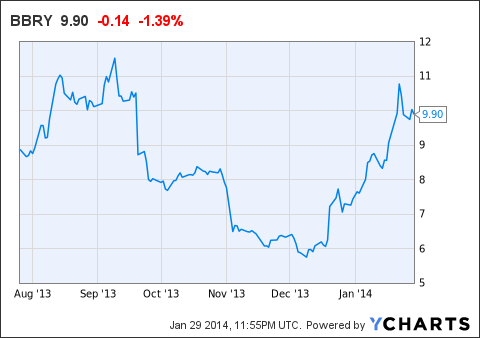 Though I recommended buying BlackBerry's shares at $6.14 in early December, I also recommended selling BlackBerry at $8.33 on the 15th of January. Subsequently the share price spiked higher to over $10 per share. What was behind this rise?
First, a highly bullish report from a famed short seller, called Citron, pushed shares past $10 and then secondly, news that the Pentagon had bought 80,000 new BlackBerry phones, led to shares hitting $11. The Pentagon story turned out to be incorrect - they hadn't bought any new BlackBerry phones, but rather they were still using them almost exclusively.
However, BlackBerry shares have remained at the $10 level, implying that the Citron note should be taken seriously. The impact on BlackBerry's shares from just one "analyst upgrade" would be surprising if not for the fact that Citron is usually considered a short seller, who is famous for questioning the accounts and activities of various dubious and fraudulent companies. There is therefore an element of the man bites dog story to this research report.
First of all, let me tell you where I agree with Citron. He is right to note that BlackBerry has changed direction:
Chen took the reins of BlackBerry in November of 2013. But analysts and shareholders have not fully understood Mr Chen's message … yet. BlackBerry is no longer a device company. It is an enterprise software company.
I also now think that BlackBerry's cash position is better than I considered in my article: BlackBerry is set to plummet. BlackBerry has $3.5 billion in cash at the moment and Citron notes that RBC Capital estimates that BlackBerry should be able to stabilize its cash balance within a few quarters at $3 billion, of which $1.25 billion is the convertible debt from the Fairfax led consortium.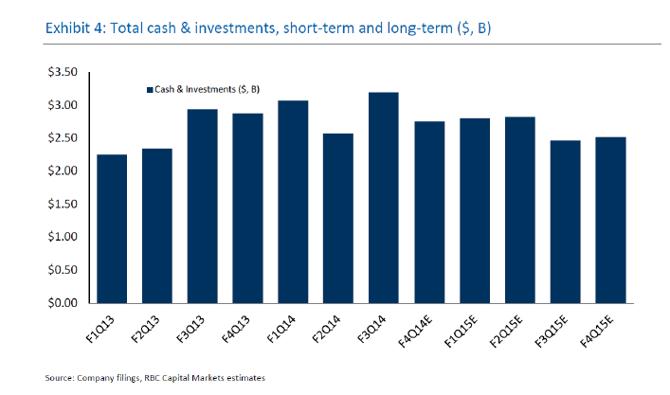 This will either be converted to shares if BlackBerry's share price is above $10 or will be debt that will need to be subtracted from the company's cash pile. From the point of view of calculating BlackBerry's fair value it doesn't matter a great deal which eventuality occurs - there will either be more BlackBerry shares or less cash on BlackBerry's balance sheet.
Having $1.75 billion in net cash, assuming the share price doesn't stay above $10, will provide support to the stock. Still the cash only accounts for $3.50 of the share price, the remaining $6.50 has to be based on BlackBerry's other assets.
In my previous BlackBerry article, my valuation of BlackBerry was based on three things: BlackBerry's patent portfolio, real estate, and enterprise business unit. However, the patents and real estate value would only be unlocked in a break up situation - a scenario I now believe is less likely to happen. Instead, I think you should value BlackBerry as a going concern, which implies just two things matter: its net cash, and BlackBerry's software and service enterprise division.
BES 10
How does Citron value BlackBerry at $15 a share? Citron compares BlackBerry's BES 10 mobile device management service to other company's offerings. As he points out, BlackBerry's competitors are valued far more richly than BlackBerry on the basis of number of customers. According to John Chen, BlackBerry has three times the customer base of AirWatch, Good Technologies and MobileIron combined, yet each of these competitors are valued at $1 billion or more - in fact after Citron's report was published AirWatch was bought out for $1.5 billion by VMware (NYSE:VMW). This would seem to be a slam dunk case for giving a much higher value to BlackBerry, over $10 billion perhaps.
What this analysis ignores is that these competitors to BlackBerry are growing while BlackBerry's revenue is plummeting. We don't have figures for these private companies but we can safely assume that their growth matches or exceeds that of iPhone and Android smartphone sales. In contrast, BlackBerry's software and services revenues are collapsing at a 35% annual rate.

The critical question for BlackBerry is at what point its service revenue stabilizes? BlackBerry should be able to count on government employees to continue to use its services, but what about corporate customers?
It must worry BlackBerry that during 2013 it lost 35% of its service revenue even though it opened up its mobile device management services to Android and iOS devices at the beginning of the year. Presumably, what is happening is that as employees switch from using BlackBerrys to iPhones and Android phones, employers are becoming more open to workspace security offerings from other companies besides BlackBerry, like AirWatch, Good Technologies and MobileIron. In effect, BlackBerry's phones were the company's best marketing tool, a constant reminder to enterprise clients that they should go with BlackBerry for their security needs.
BlackBerry's troubles are only going to get worse with the purchase of AirWatch by VMware, since VMware can afford to be much more aggressive with pricing. BlackBerry will either have to cut its own prices to compete or accept even steeper market share losses.
Valuation
As much as I'm impressed by John Chen as BlackBerry's new leader, I'm having trouble imagining him turning around BlackBerry immediately. Usually corporate turnarounds take at least a couple of years before the company bottoms out and then begins to grow again. Therefore, I would predict BlackBerry's service revenue to continue to fall over the next two years. Let's say a decline of 40% annually, so that service revenue falls from a $2.5 billion annualized run rate now, to just under $1 billion annualized by the end of 2015. At that point we'll assume the business stabilizes. If we apply a 2X multiple to that revenue, which is what IBM (NYSE:IBM) is given, that results in a $2 billion enterprise value. Now I think the 2X revenue multiple is being quite generous to BlackBerry, since IBM is a much bigger company - $100 billion in revenue - and therefore has better operating efficiencies.
If we further discount that by 12% a year, we get $1.6 billion in present value, and after adding BlackBerry's net cash of $1.75 billion, a $3.35 billion market cap. With no further share dilution that implies a share price of $6.5, or 35% downside from the current share price.
However, I don't think it's a good idea to short BlackBerry at this point in time, since BlackBerry's stock has a lot of momentum behind it. I do think, though that it would be a good idea to take profits, after all, the current share price is now 10% higher than the $9 offer Fairfax Financial Holdings made for BlackBerry back in September 2013. This came after a lengthy period where BlackBerry tried to shop itself to various other companies and private equity groups, who decided to pass on it. I think it would be a mistake to assume that current BlackBerry investors have a better insight into BlackBerry's prospects than they did.
Disclosure: I have no positions in any stocks mentioned, and no plans to initiate any positions within the next 72 hours. I wrote this article myself, and it expresses my own opinions. I am not receiving compensation for it (other than from Seeking Alpha). I have no business relationship with any company whose stock is mentioned in this article.