By John Biggs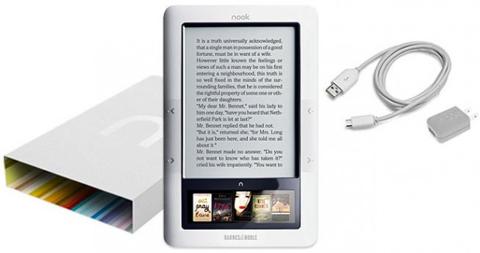 Click to enlarge
Barnes & Noble (NYSE:BKS) and Best Buy (NYSE:BBY) have teamed up to sell B&N's Nook ereader on April 18, just as we predicted. As the press release states, this is just in time for Mother's/Father's Day, graduation, and the Feasts of St. Apollonius the Apologist and St. Wicterp. The Nook will cost $259.99 and will be available in Best Buy stores.
As you recall, the Nook has generated quite a bit of buzz but folks across the country have had trouble finding them in the wild. By selling them in Best Buy, B&N is at least assured of a relatively larger audience of tech-savvy consumers walking past its displays. However, because Best Buy is also selling the iPad, I suspect those same consumers will find the Nook – heck, even the Kindle – a hard sell after eying Apple's latest creation.
As we mentioned before, Kindle and Nook are excellent ereaders with great battery life. However, I'm concerned that smaller, cheaper ereaders, some without eink screens, will be taking their share of this sub-$300 market from Amazon and B&N.