Bank Failure Friday bags just one. Banks are overvalued and we need transparency on and off balance sheets. The Regional Bank Index (BKX) is outperforming. The Banking System remains extremely over-leveraged. Dow 11,000 – So What! Buy & Trade replaces Buy & Hold.
Bank Failure Friday – I am surprised that only one bank was closed by the FDIC last Friday. That bank was Beach First National Bank (BFNB) in South Carolina. This bank was publicly traded and was on the ValuEngine List of Problem Banks. Their exposures to C&D and CRE loans were 363% and 929% respectively, and their pipeline was 98.3% funded. With almost 3,000 banks with this profile more banks are likely to fail in the coming weeks, months, quarters and years.
The Deposit Insurance Fund is now at an estimated accumulative loss of $27.5 billion with $6.6 billion cost year to date in 2010.
The Finance Sector has improved ValuEngine ratings, but keep in mind that stock screening services do not take into account the FDIC data presented in their Quarterly Banking Profiles. The Finance Sector is 8.6% overvalued with the Banking Industry 15.2% overvalued. Overall there are 153 BUY rated stocks in the sector, 408 rated HOLD and 228 rated SELL.
click to enlarge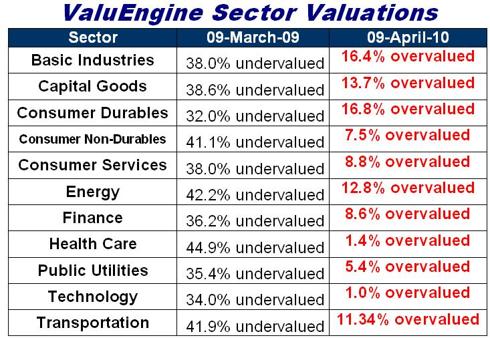 In the Regional Banking Index (BKX) there are six BUY rated banks; BB&T (NYSE:BBT), Citigroup (NYSE:C), Capital One (NYSE:COF), Fifth Third (NASDAQ:FITB), PNC Financial (NYSE:PNC) and Wells Fargo (NYSE:WFC). On Friday I read about an analysis from the New York Fed that shows that large banks are hiding risk by unwinding positions just before reporting periods. This happens at quarter end, and then they lever up again once the next quarter begins. The way to stop this lack of transparency is to have a reported mark-to-market daily, and force those off balance sheet items back onto the balance sheet. This would force a return to less favorable fundamental screenings. My monthly pivot is $53.31 with weekly resistance at $57.46.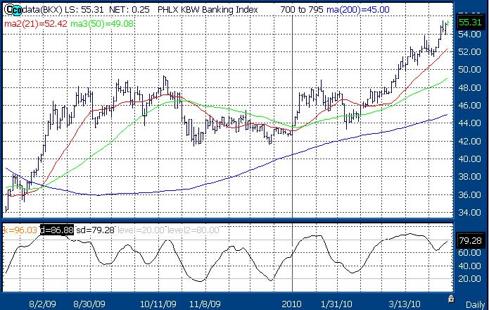 Chart Courtesy of Thomson / Reuters
The Banking System Remains Extremely Over-leveraged - In the ValuEngine monthly update out this week for our Quarterly FDIC Report I compiled a unique study of six categories of consumer and real estate loan exposures going back to 2001. Current dollar GDP is up 38.6% since the end of 2001 with Total Assets in the banking system up 66.6%. This occurred despite considerable write-downs in 2009. This is a clear signal that our country's GDP is way over-levered with debt, and the only way to sustain GDP growth is to increase the lending leverage.
· Commercial real estate loans are up 91.6% since the end of 2001, which is where considerable write-downs are likely in 2010 through 2012 and perhaps beyond.
· Construction & Development loans declined 23.6% in 2009, but still up 95% since the end of 2001. Banks overexposed will continue to reduce lending while unwinding bad loans or fail.
· Home equity loans are up 258.9% since the end of 2001 with credit card balances up 68.6%.
· Other Real Estate Owned is up 795.8% since 2001.
· Noncurrent loans are up 526.4% to $328.8 billion since 2001.
· The notional amounts of derivative contracts are up 370% since 2001 to $213.6 trillion. You would think that our banking regulators would be forcing a reduction of this leverage?
Dow 11,000 – So What, there's only another 4% to my semiannual resistance at 11,422. The risk to my quarterly support at 7,490 is 31.9%. Not a favorable risk / reward. I am not saying that you can't capture another 4%, but make sure to have a sell stop given this risky profile. The "Wall of Resistance" stretches from my monthly resistance at 11,228, my annual resistance at 11,235, my weekly resistance at 11,330, and my semiannual resistance at 11,442.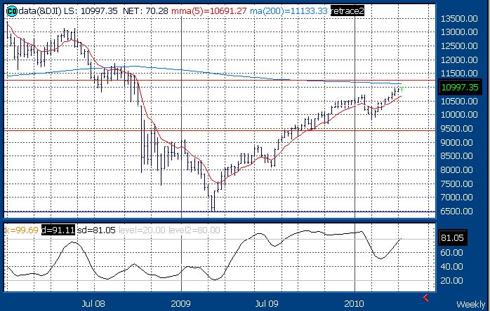 Chart Courtesy of Thomson / Reuters
It seems that the average investor chases market momentum ignoring fundamentals like in March 2000 and again in October 2007. These were two times that I suggested taking at least 50% off the table and most disagreed.
Many investors get hurt on market weakness so they do not have the buying power or are afraid to buy as markets slide like in the second half of 2002, March 2003 or March 2009. At these points most told me it was not prudent to buy at those times.
This is not a Buy and Hold market, you need to Buy and Trade. Capture a portion of the major up trends and down trends and don't be greedy. Buy weakness to a Value Level and sell strength to a Risky Level is the way to do this. Too many investors bail out at bottoms and chase stocks at the top.
Disclosure: No positions