Western Union (NYSE:WU) is down almost 20% from its 52-week high reached in late October. The S&P 500 and the S&P Midcap are each up ~ 2% during that time period. Most of this drop occurred after WU reported Q3 earnings that underwhelmed investors. The stock is known for significant price volatility around earnings and that is a concern heading into the full-year earnings release on Feb. 11. However, I believe now is a good time to begin scaling into the stock. I bought a half-position on Friday to give myself room to add if the stock sells off around earnings again. WU isn't a growth story. It's a cash cow story that offers a compelling valuation.
The main risks are well-known with WU. The company is under constant pricing pressure, has lost exclusivity in some important markets (Mexico, for instance) and faces a growing threat from online transfer companies. All of these risks have been well known for over a year and should be fully priced in to the stock. The company has significantly increased capex to build its own online presence, and Westernunion.com transaction volume grew almost 70% in Q3 2013. It still represents only 3% of total revenue, but having an online presence, coupled with its global brand name, gives it significant advantages over newer rivals.
Consumer transactions account for 80% of WU's revenue and many of these transactions are immigrants in developed economies sending money to their families back in their home country. The Western Union brand is well known and respected in most of the world, and I believe consumers will be leery to change as long as WU is relatively competitive on pricing. Additionally, the willingness and/or ability of many of these consumers (both senders/receivers) to quickly adopt online money transfer services are greatly exaggerated.
Cash Flow
WU generates stable, relatively consistent free cash flow. Since 2007, the company has generated almost $7bn of free cash flow, averaging just under $1bn a year. The company's peak FCF was just over $1.1bn in 2009 and trough was $881mm in 2010. In the LTM period, WU generated $885mm in FCF. Much of the drop in FCF in the last two years has been ramped up capex spending to build its online operations. That already appears to be tailing off, and I estimate the company should generate $900mm to a $1bn in free cash flow annually over the next few years. Based on the current valuation, the equates to an attractive 10% cash flow yield.
Click to enlarge images.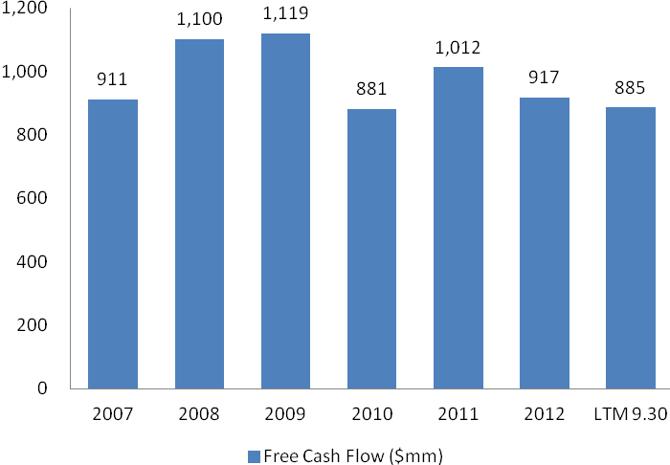 Share Buybacks and Dividends
Western Union has been a prolific buyer of its own shares since its IPO in late 2006. From 2007 through Sept. 30, 2013, WU has bought back almost 200mm shares, over 26% of shares outstanding, averaging over $700mm a year the last couple of years. The company appears to be slowing its repurchases slightly, saying it expects to return $700mm to shareholders in full year 2013, of which roughly half of that will be through dividends. However, I believe WU can generate $900-$1bn in annual free cash flow and should be able to maintain an annual buyback going forward in the $500-600mm a year range.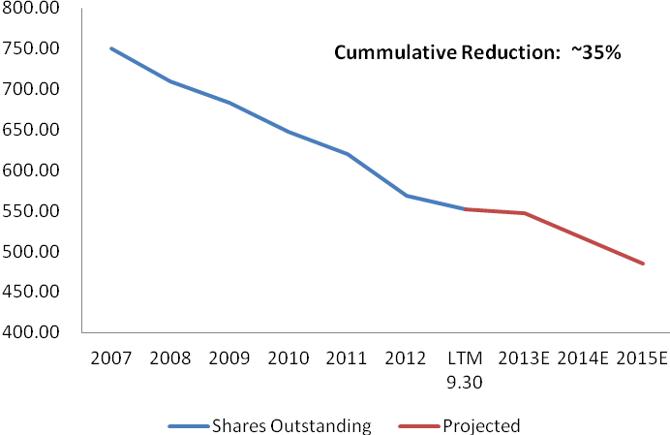 Western Union paid $341mm in dividends in the LTM period and currently yields 3.2%. The company has increased its dividend over 700% since 2009. The company currently pays $0.50/share annually and has increased the dividend every year since 2008.
Valuation
Assuming the company spends $1bn over the next two years on buybacks, shares outstanding should drop another 50-70mm shares. Holding the market capitalization constant implies a future share price around $18. I believe there is room for multiple expansion. The depressed multiple is based on an overly pessimistic view of future earnings and cash flow from undervaluing the brand/reputation of WU for most of its customers/markets. I project a future price of $20-22/share with a two-year total return of 30%-45%, including dividends. That is appealing to me in this market with current valuations.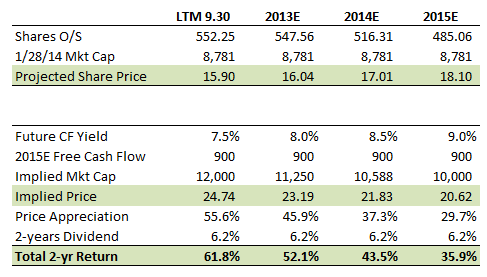 Stock Performance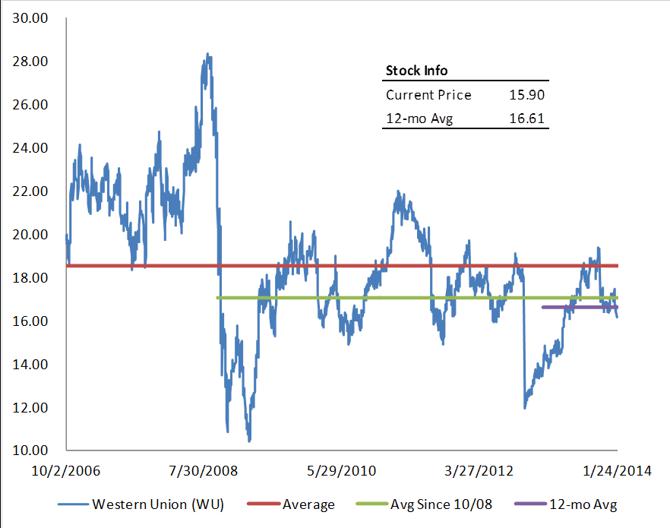 Disclosure: I am long WU. I wrote this article myself, and it expresses my own opinions. I am not receiving compensation for it (other than from Seeking Alpha). I have no business relationship with any company whose stock is mentioned in this article.