By David Russell
Ciena (NASDAQ:CIEN) ripped to a 17-month high on an upgrade from Bank of America / Merrill Lynch, and the bulls apparently think that it's going to keep running for a long time.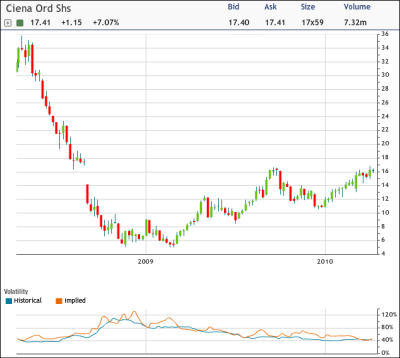 optionMONSTER's Heat Seeker tracking system detected the purchase of more than 8,500 January 2012 20 calls for $3.10 and $3.20 against open interest of 2,656 contracts. The activity is part of a bullish pattern so far in CIEN, where calls outnumber puts by more than 8 to 1 in the session.
The networking technology company gapped higher on the open and is up 7.07 percent to $17.41 in morning trading. Bank of America / Merrill Lynch upgraded CIEN to "buy" from "underperform," predicting better demand for its fiber-optic products and benefits from its merger with Nortel (NT). The target price is $22.
Today's rally put the shares above the $16.50 area that had been support in August 2008 and resistance since last September. Some chart watchers may expect steady gains now that the level has been breached.
CIEN needs to climb 34 percent over the next 21 months for the trade to turn a profit.
Other investors bought the April 16 calls for $1 to $1.50, though volume at 4,372 was below open interest.
Those traders are looking for a quick trade over the next five sessions, using in-the-money contracts to gain leverage at little cost because most of the time value has disappeared with expiration near.

Disclosure: No positions