By Bryan McCormick
Alcoa's (AA) daily chart shows a potential bearish "head and shoulders" pattern in development.
The head of the formation -- the large peak on either side of the vertical line demarcating 2009 from 2010 -- is readily apparent. The left shoulder is a bit more complex than what one would typically see in such a pattern.
The tricky part of this pattern is that there is no right shoulder, where price currently ends on the right side of the chart. The red neckline would need to be reached for the pattern to be triggered.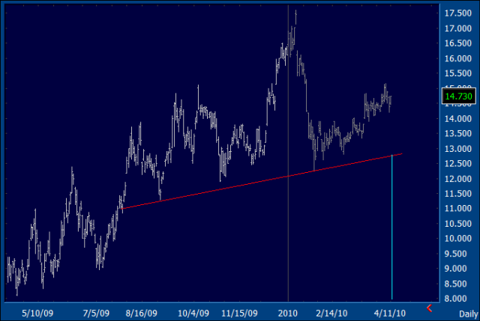 (Click to enlarge)
That area, close to $13, is nowhere near where the stock is trading today. If this were any other day, the chances of that shoulder forming and the pattern triggering would be remote. But with AA reporting its earnings results today after market closes, large gaps and moves are much more possible than they might be otherwise.
It is quite possible that price could reach the trigger level on a disappointment. If it did trigger, the downside potential for the pattern would be to the lows of the one-year period at $8, as I have drawn with the light blue vertical line.
A move above the peak of the right shoulder area, now at $15.25, would void the pattern. On better news, that would not be at all unlikely.

Disclosure: No positions