Utility stocks underperformed the broader markets last year. Investors sought stocks with higher growth rates in 2013, staying away from utility stocks due to their interest rate sensitivity and lower growth rates. Volatility has returned to the markets in 2014, which could drive investors back to the relatively conservative utilities sector. Utilities are also starting to offer an interesting value proposition. P/E ratios are below the market multiple and dividends are attractive and growing. We can use the Utilities Select Sector SPDR Fund (NYSEARCA:XLU) as a proxy for domestic utilities. The SPDR S&P International Utilities Sector ETF (NYSEARCA:IPU) provides a proxy for international utilities.

Source: SPDRs.com
The BlackRock Utility and Infrastructure Trust (NYSE:BUI) could benefit from a shift to more conservative investing. BUI is a relatively new closed end fund that, as its name suggests, invests in utilities and infrastructure assets. The fund was launched in November of 2011 so only a short track record is available. BUI has offered competitive performance. Right now it can be purchased at an attractive 13% discount to NAV and an 8% distribution. In addition to utilities, BUI offers exposure to MLPs and global infrastructure assets. This allows the management team flexibility as they allocate the fund's capital. BUI also allows the management team to use options to boost the distribution.
Performance:
Using an ETF with a similar investment objective gives a good comparison to allow for evaluation of the management's performance. The iShares Global Utilities ETF (NYSEARCA:JXI) offers a narrower but similar investment universe to BUI and allows a comparison to evaluate performance. However, JXI doesn't use options to generate extra income, so that strategy must also be considered when evaluating the funds. As mentioned above, BUI is a relatively young fund so there isn't much history to evaluate the fund's performance. However, over the short term BUI has been competitive with JXI from a total return perspective. BUI outperformed in 2012 and slightly underperformed in 2013.

Data as of 12/31/2013 Source: Morningstar

Data as of 12/31/2013 Source: Morningstar
Premium/Discount: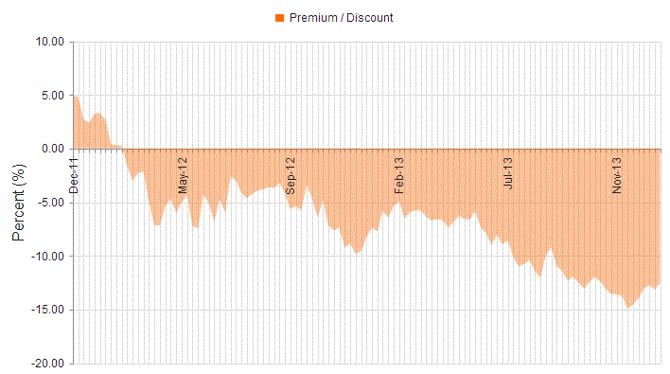 Source: CEFConnect
The fund closed 1/29/2014 at a 13% discount to the NAV, or underlying value of the portfolio. This is below the 52 week average discount of 9.69%. Morningstar calculates the discount 1 year z-statistic of -1.01. BUI is trading near its widest discount to NAV in the past 12 months of 14.91%. BUI's narrowest discount in the past 12 months was 4.64%, so there is potential for the discount to narrow significantly from here. The relatively tame performance since the fund's launch and the use of return of capital are likely key contributors to the discount to NAV.
Expense Ratio:
The management fee is 1% of average daily net managed assets. Administrative fees and director's fees are also charged. The calculated management fee and other expenses came to 1.10% in 2013. The total cost of the fund is reasonable for a global specialty sector fund, particularly one that uses an options overlay strategy.
Distribution:
BUI has paid a $0.3625 distribution quarterly since inception. This represents 8.03% at the current market price and 6.98% at NAV. The distribution has included income, long term gains, short term gains, and return of capital. The return of capital in 2013 was not destructive to the fund's NAV.
Leverage:
BUI uses an options overlay but does not employ other leverage.
Liquidity:
BUI is a relatively small CEF with $350 million in net assets. BUI's average daily volume is 56,000 shares. This represents $1 million in daily volume at current prices. This is a reasonable amount of liquidity for a CEF and should allow individual investors the ability to get their orders filled. It is always wise to use limit orders to purchase or sell shares of closed-end funds, as the bid/ask spread can be wide.
Management:
BUI is managed by BlackRock (NYSE:BLK). BLK is one of the largest asset managers in the world. BUI is supported by a large analyst team with access to the significant resources that BLK has to offer.
Holdings:
Asset Allocation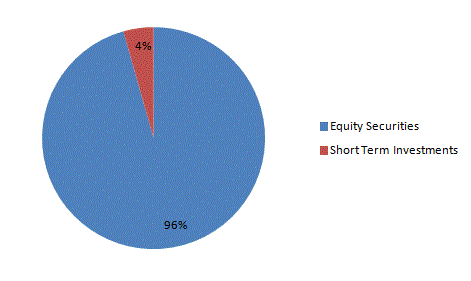 As of 10/31/2013 Source: BlackRock
The fund is mostly invested in listed equity securities holding back 4% in short-term investments to facilitate account trading.
Region Allocation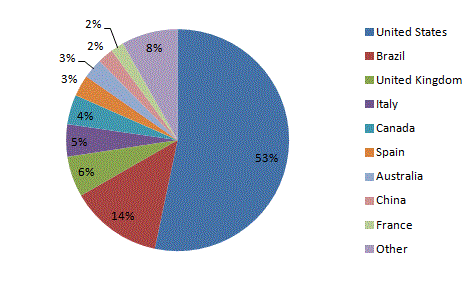 As of 9/30/2013 Source: BlackRock
More than 50% of the fund is invested in the United States. The 13.4% allocation to Brazil is a key area to watch with the recent volatility in emerging markets. Brazilian assets are largely water and electric utilities which should be stable. Also, Brazil will be hosting the upcoming World Cup this year and the Olympics in 2016, which should support utility and infrastructure investment. The remainder of the portfolio is mostly allocated to international developed economies.
Sector Allocation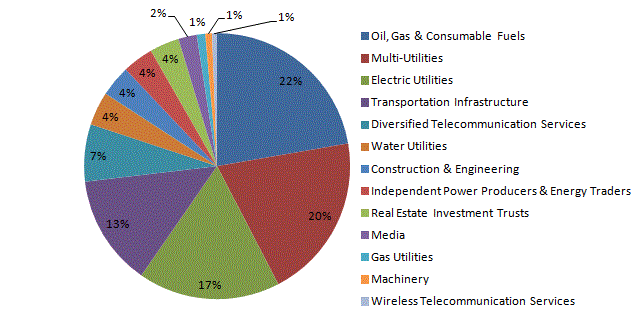 As of 10/31/2013 Source: BlackRock
BUI has good diversity within its investment mandate. More than 50% of the portfolio is invested in traditional utilities. Another 22% is invested in "Oil, Gas & Consumable Fuels" which largely consists of MLP assets. These assets representing nearly 75% of the fund offer stable growth and a high income. The remainder of the fund is invested in a broad range of assets including transportation infrastructure, construction & engineering, REITs, media, and machinery.
Top Holdings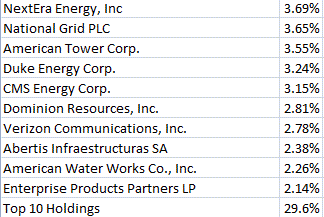 As of 10/31/2013 Source: BlackRock
BUI offers a moderately diverse portfolio with 79 positions and only 29.6% of the fund in the top ten holdings. The managers don't make really large bets with the largest holding less than 4% of the portfolio. The portfolio turnover is high at over 130% annually likely due in part to the option overlay strategy.
Strategy:
BUI's primary investment objective is total return through a combination of current income and capital gains. The fund invests at least 80% of managed asset in equity securities issued by Utilities or Infrastructure sectors. The fund is able to invest anywhere in the world and is not constrained by market capitalization. The fund is able to invest in master limited partnerships (MLPs). MLP exposure will be limited to 25% of total assets. The fund can sell options to produce additional income. The fund can also use options to hedge against losses in the portfolio. BUI mostly writes single stock options but can also use index options. Under normal market conditions BUI intends to write options on approximately 30%-40% of net assets.
Options:
BUI has an option overlay to generate additional income on the portfolio. BUI uses single stock options to execute this strategy. As of 9/30/2013, options were written against 35.01% of portfolio holdings.
Tax Issues:
As of October 31, 2013, the fund had $46,599,122 of unrealized gains in the portfolio. The gains represent 13.25% of the portfolio. There are no tax loss carry forwards available to the fund. The high turnover could lead to gains being taken including short-term capital gains. These embedded capital gains could add to tax bills and may be contributing to the market discount.
Conclusion:
BUI is an interesting contrarian investment. It offers exposure to the relatively conservative utilities sector. The fund has an attractive distribution and the relatively wide discount. There is an opportunity for positive returns even in a flat market if the discount narrows back to its historical average. BUI should provide some shelter if we see a broader market pull back due to the conservative nature of Utilities and the option overlay strategy employed by the fund. The relatively high distribution, if reinvested at a discount, can add to total returns. However, the fund is likely to underperform if the market sees strong performance. BUI could also trail broader markets if there are significant unexpected upward moves in interest rates. The fund has performed in line with ETFs that track the space. However, there isn't a long track record to prove the ability of the management team so performance should be watched closely. In order to become a longer term investment the management team must prove itself.
Disclosure: I have no positions in any stocks mentioned, and no plans to initiate any positions within the next 72 hours. I wrote this article myself, and it expresses my own opinions. I am not receiving compensation for it (other than from Seeking Alpha). I have no business relationship with any company whose stock is mentioned in this article.