GOL Linhas Aereas Inteligentes S.A. (NYSE:GOL) has announced the total passenger traffic for March 2010 in comparison with March 2009.
During the month, total passenger traffic increased 36.8% year over year, with domestic traffic up 38.5% and international traffic up 23.6%.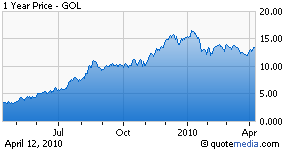 During February 2010, total passenger traffic grew 46.9% over the same period last year, fueled by a 47.9% growth in the domestic market and a 40.3% growth in the international market.
In January, GOL's total passenger traffic grew 32.1% over the same period last year. Domestic passenger traffic increased 31.4% compared with January 2009 and international passenger traffic increased 36.9% year over year.
All three months of the first quarter of 2010 saw passenger traffic increase due to the company's better positioning in its markets and increased demand driven by the recovery of the Brazilian economy.
The increase in international demand was also due to adjustments in the company's international network, which now includes new routes from Brazil to the Caribbean with flights to Aruba and Curacao, and the repositioning of sales channels, including the opening and renovation of airport stores abroad in order to adjust them to GOL's business model and the client profile of the location in question.
GOL remains better positioned to capitalize on the increase of discounted air travel in Brazil and the rest of Latin America, given its strong market share and efficient operations. We expect the company to experience growth in the short-to-medium term given its continued investment in fleet renovation and international agreements.
Moreover, other Latin American and Chinese airline stocks have performed well in 2009. We believe that 2010 may be another profitable year for the airlines industry in the emerging markets, provided the overall economy continues to grow. Besides, the economic growth in emerging markets will be higher than in the developed markets.