General Electric's (NYSE:GE) Annual Meeting of Shareholders is April 28th. All 16 of its directors are up for election, as well as the selection of the company's independent auditor, and voting on 6 shareholder proposals. Please be sure to vote if you are a GE shareholder.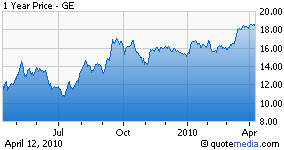 And don't simply accept the board's recommendations because every board member will then be re-elected and every shareholder proposal rejected, which will likely happen anyway, but greater evidence of shareholder dissatisfaction could bring meaningful change.
Before discussing my votes for directors and the proposals, find below a 10, 5, and 1-year performance comparison between GE, the S&P 500 and the Dow.
10-year performance (through Friday, April 9th)
GE: -65%, S&P 500: -21%, DJIA: +0.7%

5-year performance
GE: -48%, S&P 500: +1%, DJIA: +5.7%

1-year performance
GE: +63%, S&P 500: +46%, DJIA: +41%
Election of directors
Starting off with the election of the 16 directors, a board size which some may call unwieldy, exactly half have served since 2000 or prior, including Chairman/CEO Immelt himself. Among the other half, five of them have served since between 2000 and 2005. The tenure of all but two of the directors has clearly not coincided with positive returns as evidenced by GE's stock price. The rise and fall of GE Capital happened on many of these directors' watches. It seems certain all of them save perhaps Mr. Warner (former chairman of JP Morgan) likely had no cognizance of company's transformation into a giant speculator.
After a review of GE's directors, in which I considered their tenure (many are too long in the tooth to be considered "independent," not to mention GE's disappointing stock performance mentioned above), expertise (see comments below), and other professional commitments (many directors hold multiple directorships and equivalent roles at nonprofits), I was left scratching my head at the dubious collection of bodies who neither seem to be holding management accountable nor representing any value to shareholders. Accordingly, I am only voting in favor of Mr. Immelt, Mr. Mulva, and Mr. Castell.
As for Mr. Immelt, I believe that he should not be chairman of the board (see shareholder proposal 3 below), but I don't see a problem with him remaining a board member. Finally, overall the board is seriously lacking in industrial exposure and has an overall soft feel featuring consumer products (Ms. Jung, Avon; Mr. Lafley, P&G; Mr. Larsen, J&J), marketing (Ms. Lazarus, Ogilvy & Mather; Ms. Fudge, Young & Rubicam Brands), and academia (Mr. Swieringa, Ms. Hockfield, and Mr. Cash).
Selection of independent auditor
I am rather agnostic concerning the selection of an independent auditor. GE's board advises voting for retaining KPMG, which billed the company $110M in 2009 and $133M in 2008. I don't have much to say on this topic other than that given the questionable value and accountability of having an auditor sign off on the books (no need to name names), I don't see much point wasting time pondering if KPMG would be better than anyone else. ABSTAIN.
Shareholder proposals
*Note GE's board is against each of these proposals
1. Cumulative voting — FOR — note 32.3% in favor in 2009; it is clear even if your eyes are closed that the board is practically meaningless to shareholders. It is far too entrenched. Cumulative voting may be the only way to shake things up.
2. Special shareowner meetings — FOR — the individual who submitted this proposal has clearly done his homework and has a laundry list of governance issues at GE. I believe that without cumulative voting, lowering the threshold to call special meetings is reasonable. In fact, given the broad shareholder base of GE, I don't see why the board would not go along with this proposal, since unless GE shareholders miraculously unite, there seems little risk to the board and management actually having to meet shareholders beyond normal correspondence.
3. Independent board chairman — FOR — I don't see the need for Mr. Immelt to head both the company and the board. Heading the latter hinders the independence of the board. Note that CalPERS is supportive of independent board chairmanships.
4. Pay disparity — AGAINST — While I can understand the thinking behind this proposal, I don't think conducting such a review is practical. That said, I like the idea behind the 4th matter for review that was submitted within this proposal, which involves the compensation and provision of benefits such as health care to departing executives.
5. Key board committees — FOR — This is a no-brainer, especially since there is no cumulative voting (yet).
6. Advisory vote on executive compensation — FOR — "Say on pay" matters are critical, particularly when shareholder value is being eroded. A number of companies have agreed to implement said vote, and groups such as RiskMetrics are supportive as well. Furthermore, it may become law.
Disclosure: The author is a GE shareholder.