In February 2012 when Apple (NASDAQ:AAPL) was trading around $440 we published an article titled "Apple Is Still A Bargain, Likely Headed Past $500". The $500 barrier was broken by the end of the month and the stock soared to $700 a short time later only to return to the $500 level over the next year and a half. Why? Growth projections for Apple in all categories by analysts (and this author) turned out to be too optimistic. An example can be taken from the above article:
A key question is whether the iPhone market is starting to mature, or whether there is continued growth ahead. We've put together a market projection based on a recent interview with Kulbinder Garcha of Credit Suisse and a Gartner market projection. We've combined these forecasts and interpolated data for the middle years (2012-2014).

| | | | | | | |
| --- | --- | --- | --- | --- | --- | --- |
| Year (sales in thousands) | 2010 | 2011 | 2012 | 2013 | 2014 | 2015 |
| Smart phone Market | 293000 | 462000 | 630000 | 800000 | 950000 | 1053000 |
| iPhone Sales | 47487 | 93102 | 138600 | 160000 | 178125 | 184275 |
| iPhone Market Share | 16.2% | 20.2% | 22.0% | 20.0% | 18.8% | 17.5% |
| iPhone growth | NA | 96.1% | 48.9% | 15.4% | 11.3% | 3.5% |

Based on these reports, iPhone sales growth will continue to be robust through 2014 and will not dip into single-digit growth until 2015.

We calculated an average annual tablet growth rate of about 30% through 2015 based on Kulbinder Garcha's interview. Given these projections, it will be a few more years before the iPhone and iPad markets mature, allowing Apple ample opportunity to expand sales.
Fast forward to 2014; smartphone sales topped a billion, much higher than the earlier forecast, but Apple fell short with 153,493,000 units vs. the 160,000,000 above (market share of 15.3% vs. 20%). iPad growth in 2013 was about 13%. One reason is competition has heated up in both the smartphone and tablet markets. The following from BI Intelligence illustrates this trend graphically: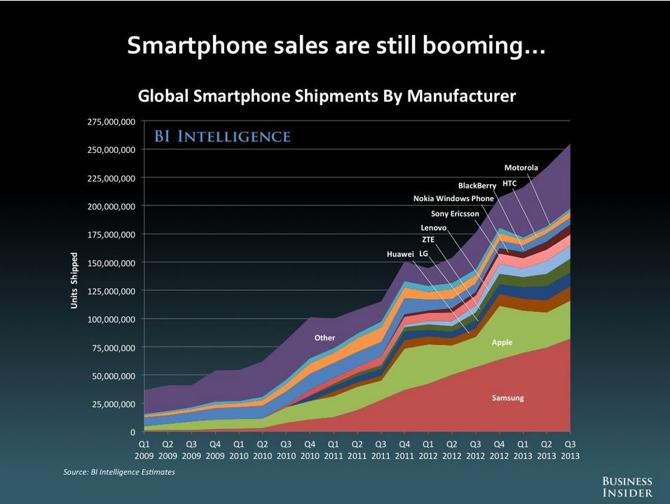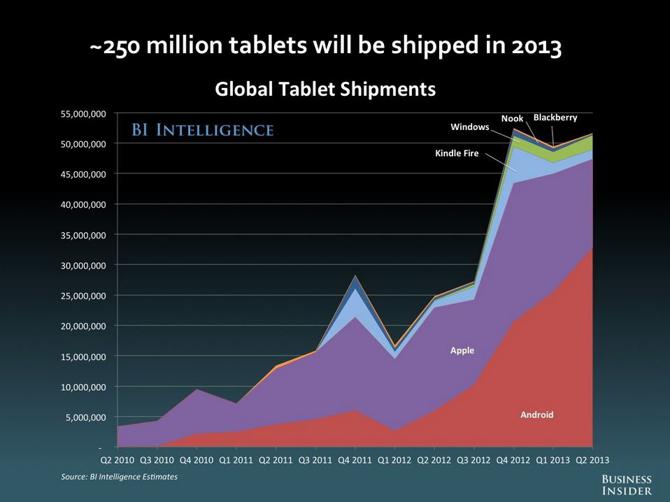 This article will value Apple by determining forward growth rates for free cash flow and earnings based on established trends. Detailed data used for this article can be found here.
TRENDS:
The following represents results from 2011 and applies a regression analysis to extend the trend. The data is plotted per Apple's fiscal year.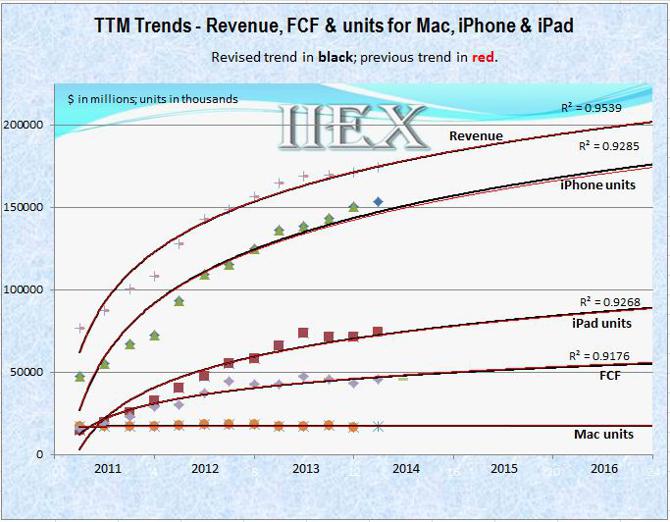 The previous quarter trend is red while the current trend is in black. This is to visually see how volatile the trend is from one quarter to the next. The trends are tracking as predicted.
Forward free cash flow growth through 2016 is 6.6%. Earnings growth is dependent on expected profit margins: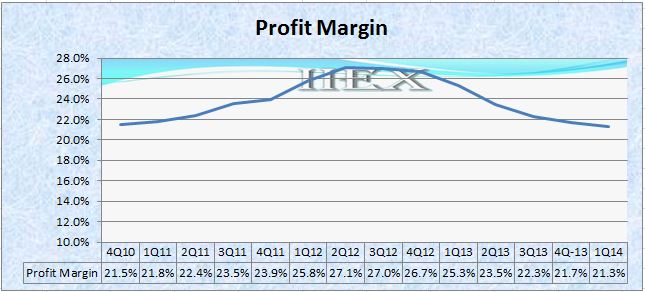 Using a 21% profit margin with the projected revenue in the previous graph yields an earnings growth rate of 4.6%.
VALUATION:
This fair value analysis is based on management's longer term financial performance as measured by the previous data. Fair values are based, in part, on the following: Discounted cash flow, a modified Graham's intrinsic value formula and a P/E analysis. The valuation model consists of two parts.
The discounted cash flow and the modified Graham's intrinsic value are blended to arrive at a fair value.
A P/E analysis based on historical adjusted values.
Fair value used is the minimum value of the two parts.
Part 1: Discounted cash flow and the modified Graham's intrinsic value.
An estimated long-term EPS growth rate of 4.6% and long-term free cash flow growth rate of 6.6% were calculated from the data described above. Running these projections through our pricing model, excluding the PE analysis, produces a fair value of $609. Needless to say, the result is sensitive to changes in the growth rates as illustrated below.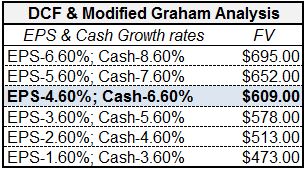 Part 2: P/E Analysis
The model looks at growth plus current and past periods to calculate a limiting P/E value. This produces a maximum allowable P/E of 15, yielding a fair value of $636. The P/E is not the controlling factor in this case.
Final fair value is the minimum of the two methods or $609.
Risks to this analysis include a continued slide in profit margins due to increased competition and mature markets in North America and Europe for existing product lines along with a lack of innovation going forward. A drop below 21% without increasing the top line growth above the current trend would be cause for concern.
Some recent analyst price targets:
| | | |
| --- | --- | --- |
| Company | Target | Source |
| UBS | 625 | |
| Barclays | 570 | same |
| JP Morgan | 585 | same |
| Canaccord Genuity | 570 | same |
| RBC Capital | 590 | same |
| Credit Suisse | 500 | |
| Goldman Sachs | 610 | same |
| BMO Capital | 560 | |
| Robert W. Baird | 600 | |
| Jefferies Group | 625 | same |
| Raymond James | 550 | same |
FINAL THOUGHTS:
What about the next big product, after all Apple is known for its innovation; mobile payments, ultra-high definition TV, iWatch, something unexpected? Whatever it is it will be harder to move the needle when compared to previous launches. The iPhone was released in 2007 when revenue was $24B, the tablet in 2010 when revenue was $65B and today revenue is running at $174B. Of course it could hit another home run but the level of success or lack of is anyone's guess at this point. We do know something is coming as CEO Tim Cook hinted at in the conference call:
The mobile payments area in general is one that we've been intrigued with, and that was one of the thoughts behind Touch ID. But we're not limiting ourselves just to that. So I don't have anything specific to announce today, but you can tell by looking at the demographics of our customers and the amount of commerce that goes through iOS devices versus the competition that it's a big opportunity on the platform.
And in response to a question on innovation:
It's never been stronger. I'm very confident with the work that's going on, and I think our customers are going to love what we're going to do… innovation is deeply embedded in everybody here. We have zero issue coming up with things we want to do that we think we can disrupt in a major way. The challenge is always to focus to the very few that deserve all of our energy. And we've always done that, and we're continuing to do that.
The success of a new product(s) is subject to speculation but without a new top line driver growth rates will decrease outside the time frame for this analysis. My vote is for the ultra-high definition TV.
Bottom line, Carl Icahn is correct; Apple is oversold.
Disclosure: I have no positions in any stocks mentioned, but may initiate a long position in AAPL over the next 72 hours. I wrote this article myself, and it expresses my own opinions. I am not receiving compensation for it (other than from Seeking Alpha). I have no business relationship with any company whose stock is mentioned in this article.