The retail sector has been particularly strong as it appears that strategic defaults are driving a significant amount of spending. Optimism may also be increasing which is driving consumers to be more willing to spend – and consequently driving savings levels lower.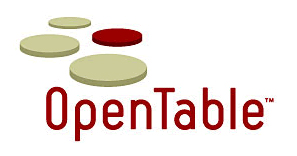 While consumer cash flows may be increasing towards discretionary purchases, the value of many discretionary spending stocks appears to show not only the expectations that the consumer will remain strong, but also proves that Wall Street to a large degree buys deeply into the recovery theory. Take, for instance, the speculative price on OpenTable Inc. (OPEN), a computerized reservation and table management system for restaurants.
The business model is sheer genius for strong economic times. Restaurants are able to subscribe to Opentable's software on a monthly basis and gain not only publicity and exposure, but also better manage their flow of guests during busy periods. Diners also have an advantage as they are able to book reservations quickly and easily, view information about different restaurant choices in their area, and even view a menu before deciding where to eat.
Opentable relies on economies of scale to cover overhead expenses and generate attractive earnings. At the end of the fourth quarter, there were 10,850 restaurants in North America using opentable's program as well as an additional 1,501 restaurants internationally. According to the fourth quarter press release, there were over 12 million diners seated during the period which was up more than 40% from the fourth quarter of 2008. Tapping into today's mobile handset market, the company recently announced that it had seated its 2 millionth diner through booking over a mobile device.
Analysts believe that the future is bright for the company as well. The current estimate is for earnings growth of 45% in 2010 to 45 cents per share. While it seems almost impossible to predict dining trends in 2011 (given the uncertainty of the current economic climate) analysts are handicapping another 44% increase to $0.69. The commentary out of the company is positive – to be expected – and management expects a positive year ahead.
We're energized by the opportunities in front of us and are focused on helping our restaurant partners grow and providing diners with the convenience of online, real-time restaurant reservations." Jeff Jordan, CEO
While I'm impressed with the way this business has been built – and will likely use the service myself in the future – from an investor's standpoint I have some significant concerns.
The first potential issue is that there are basically no barriers to entry for competing firms. Anyone with a few thousand dollars or some technical know-how could replicate the main components of OPEN's software. There doesn't appear to be anything keeping a copycat entrepreneur from creating a similar business platform which would eat into the niche that Opentable has built. And as OPEN becomes more successful and generates significant profits, the environment for competitors will become even more tempting.
Secondly, management currently owns 61% of the company. While I typically like for management to have a significant stake in a growing business, the controlling ownership makes it very difficult for shareholders to implement any changes should they disagree with management over particular business issues. At the same time, management appears to be slowly liquidating shares through exercising options and selling the stock. It makes sense for officers to be able to capitalize on the company's success, but if this trend increases it could become more concerning.
Finally, the stock is trading for an overwhelming 80 times 2010 earnings – much more than most investors should be willing to pay even for a great growth opportunity. I definitely expect OPEN to trade at a fat premium due to its unique business and the success it has enjoyed so far. But the market is essentially projecting 40% growth for several years and any disappointment could quickly send shares back down to the $25 area where it was trading in January and February (or potentially even lower).
Trading is a difficult and sometimes counter-intuitive game. Over the weekend I wrote a piece on the difference between value-based investing and technical trading. This piece might be helpful in analyzing the potential trend for OPEN over the coming weeks and months. At this point, OPEN has strong momentum and may very well continue trading higher as investors brush aside risk concerns. I'm not brave enough to step on this train – I believe the risk is too great at such lofty valuations.
But shorting this stock is a dangerous undertaking if timing is off. I would keep OPEN on the watch list for now and look to short after a failed breakout attempt (which may be forming now at the $39.00 level) or possibly on a break below $35. It will be important to confirm that the trend is in fact lower, and that there is an appropriate stop point to minimize risk. OPEN will likely turn out to be an excellent short sometime this summer, but traders must first have the patience to wait for it to falter.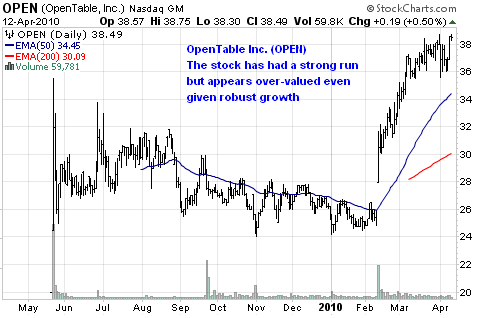 Full Disclosure: Author does not have a position in OPEN