Carl Icahn has again made headlines with his involvement in Apple (NASDAQ:AAPL). Icahn has created a shareholder proposal which calls for Apple to increase its buyback. This proposal will be voted on at Apple's annual meeting on February 28th. Since Icahn first announced his investment in Apple, he has been a polarizing figure among Apple shareholders. Some believe that Icahn and his expertise will provide a needed boost to the company and its share price. Others are convinced that he will destroy Apple by ruining their pristine balance sheet with debt. Discussion of Carl Icahn's involvement can be found in the comments of almost every Apple related article or piece of news. With his latest proposal, Icahn is calling for the company to spend at least $50 Billion repurchasing shares in the 2014 fiscal year. This vote will help to clarify whether Apple shareholders are receptive to a larger buyback.
Overview
Before Apple shareholders decide to cast their votes, it is important to understand the issue at hand. Icahn recommends that the company spend $50 Billion on share repurchases during the current fiscal year. This vote is non-binding, meaning that Apple will not have to implement the larger buyback. However, this vote is a good gauge for how receptive Apple shareholders are to Carl Icahn's continued involvement in the company as well as any increases to the buyback program. While a vote does not mean that a larger buyback will have to be implemented, it would certainly tell the Board of Directors that shareholders are behind Icahn.
Throwing support behind Icahn would seem like a wise move by shareholders. So far, Icahn's involvement in Apple has been met by large price increases. Icahn disclosed his stake on August 13, 2013 and as seen in the chart below Apple's share price increased significantly. There can be little doubt that Icahn's investment has shifted the perception of Apple stock after market sentiment turned decidedly against the company in late 2012. Once Icahn announced his position, investors began to recognize Apple as a value opportunity sitting in plain sight. Whether investors love or hate Icahn, it is difficult to deny his involvement in the Apple price increase that occurred in the second half of 2013. Without Icahn's public endorsement and calls for a large buyback, it is quite likely that the stock would be trading lower than it currently is.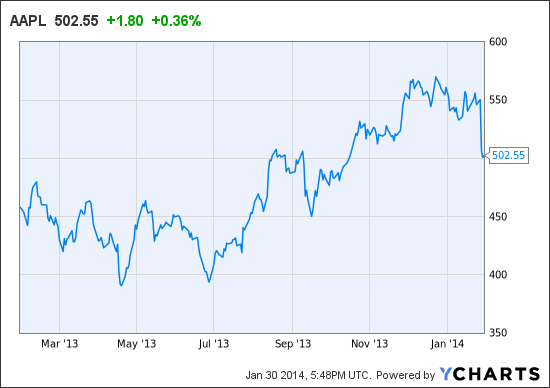 While the sentiment regarding Apple seems to have improved, the company is still battling negative perceptions. Their most recent earnings announcement provides a clear example. Apple beat EPS estimates by $.41, but their stock price plummeted following this announcement. While this performance can be attributed to disappointing guidance and lower than expected sales of the iPhone, it is strange for a company that beat expectations for both revenue and income to drop significantly in after-hours trading. The price declines seen in response to a largely positive earnings release highlight how far Apple still has to go to change the perception of its business.
Issues With Icahn?
Shareholders' mistrust of Carl Icahn may also explain part of the opposition to his buyback proposals. For largely misguided reasons, Carl Icahn has been vilified as an enemy to shareholders. This assessment is very far from the truth. Icahn is an activist investor who seeks to unlock shareholder value in all the companies that he invests in. Many Apple shareholders seem to think that he will magically enrich himself while destroying the company and leave regular shareholders holding the bag. The fact of the matter is that Icahn owns the same common stock as all other Apple shareholders. He can increase and decrease his ownership stake at the same prices available to the general public. Still, some insist that he is not a long-term owner and will leave once he can realize a large enough profit. Even if this scenario is true, there is nothing stopping other shareholders from either cashing out with him, or behaving like true long-term owners. Long-term investors ignore price fluctuations and focus only on the underlying business. Or in this case, the increased percentage of the underlying business they will own should Apple increase the size of its buyback.
Creating Value for Shareholders
For those who read my previous article about Apple, it should come as no surprise that I am in favor of this $50 Billion buyback. I support the $50 Billion buyback for many of the same reasons I supported the $150 Billion buyback. Further, many of the drawbacks of the $150 Billion buyback proposal seem negated at the $50 Billion level. The notion that a $150 Billion buyback funded solely by debt would damage Apple's balance sheet was one of the primary complaints levied at Icahn's first proposal. The suggestion that $50 Billion in debt could harm Apple is almost laughable. Also, Apple would be able to implement a $50 Billion buyback without debt. Apple's cash pile currently stands at $159 Billion. To give that some perspective, after paying repatriation taxes on the 78% of that balance that is offshore, Apple would still theoretically have enough cash to purchase McDonald's (NYSE:MCD) (Market Cap of $93.6 Billion) while having several billion dollars left over. Short of acquiring a major company, there seems to be little need for Apple having this much cash on hand. This cash could instead be used for buybacks that will enrich shareholders.
I can't help but think that some of the opposition to the buyback comes from Apple shareholders who are unsure of how buybacks create value for owners. With the fear and skepticism that surrounds any mention of an increase to the buyback program, you would think Carl Icahn was proposing Apple take out $50 Billion and dump it into the ocean. When any company is undervalued, buying back shares becomes a sound investment if no other internal uses for cash exist. Given that Apple is sitting on a $159 Billion pile of cash, I sincerely hope no unfulfilled uses for this cash currently exist. A buyback causes each remaining share to represent a larger ownership stake in the underlying business. This entitles the remaining shareholders to a larger piece of Apple's income. In many ways, buybacks are akin to reinvesting dividends albeit in a more tax efficient manner. The one caveat is that buybacks must be done when a company's share price is below its intrinsic value or shareholder value will be destroyed. As mentioned earlier, Apple shares showed a significant decline following their most recent earnings announcement. This most recent decrease provides an excellent price point to begin a larger buyback. After seeing the price of Apple plummet after-hours on Monday, it is becoming increasingly clear that the market price is not reflecting Apple's true value. As a result, management should look to create value themselves by repurchasing a sizeable amount of shares.
Conclusion
Shareholders should recognize that the result of the vote on Carl Icahn's most recent proposal would likely have a material impact in Apple's future. This vote boils down to whether or not shareholders want an increased buyback, or at the very least the continued discussion of one. So far Icahn's involvement in Apple seems to have a positive impact, so Apple shareholders should welcome his continued presence. It appears that many of those who will vote against any buyback are allowing their personal feelings about Carl Icahn to interfere with their best interests as investors. This smaller $50 Billion buyback is an easier pill for some to swallow and it will still benefit Apple owners. Investors should think long and hard when deciding how to vote with regards to increasing the buyback.
Disclosure: I am long AAPL. I wrote this article myself, and it expresses my own opinions. I am not receiving compensation for it (other than from Seeking Alpha). I have no business relationship with any company whose stock is mentioned in this article.