The Biotech and Pharmaceutical industry is supported by a company that produces the necessary packaging for drug storage and delivery of injectable drugs. West Pharmaceutical Services (NYSE:WST) is a global small-cap company that provides essential products for the pharmaceutical industry. Since the company produces products that support the industry, West Pharmaceutical Services doesn't have the same high risks associated with the companies that develop and produce drugs from scratch. The company has above average earnings growth, which drives its stock to outperform the market. Investors should do well over the long-term in WST as steady growth in revenue and earnings is expected for the future.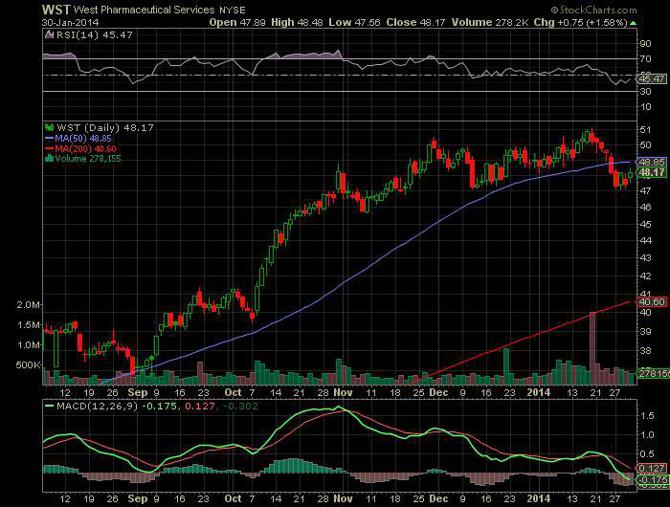 West's Products
The company is divided into two segments: Pharmaceutical Packaging which comprised 74% of net sales for the 1st nine months of 2013 and Pharmaceutical Delivery Systems which comprised about 26% of net sales. West offers infusion and IV system components, small and large parenterals, pre-fillable syringes, stoppers & seals for vials, pharmaceutical delivery systems, cartridge components, enhanced processing, and related items. The company stands to benefit due to the injectable drug industry's 14% compounded annual expected growth. The injectable drug industry is expected to grow from $22.5 billion in 2012 to $43.3 billion by 2017. The reasons for this rapid growth are: rising incidence of cancer and diabetes, advances in technology, and an increase of biologics in the pharmaceuticals market. West Pharmaceutical Services is likely to experience increased sales for its injectable drug products as a result of this growth.
West has a number of patents for its products, which gives the company product differentiation and protection from the competition. In the Packaging Systems segment, West's FluroTec barrier film is applied using a patented molding process to reduce the risk of product loss by contamination and to protect the shelf life of packaged drugs. West also uses a B2-coating which is applied to the surface of stoppers and plungers to improve compatibility of the closure and the drug. This patented process eliminates the need for conventional silicon application. This helps manufacturers reduce product rejections due to trace levels of silicone molecules found in non-coated packaged drug compounds.
West also provides post-manufacturing processes known as Westar RS and Westar RU, which are procedures for washing and siliconizing stoppers and syringe components to remove biological materials and endotoxins. Westar RS prepares components for introduction into the customer's sterilizer, while Westar RU provides sterilized components. These processes eliminate steps that would be required in each of West's customer's manufacturing processes by increasing the efficiency of injectable drug production by outsourcing component processing. The company also offers Envision components that are inspected using automated vision inspection systems ensuring that plungers and stoppers meet enhanced quality specifications for particulate contamination. West's NovaPure components are designed to ensure the safety, efficacy, and purity of injectable drugs.
West provides analytical laboratory services for testing and evaluating primary drug packaging components and their compatibility with drugs. West's laboratories provide specialized testing for complete drug delivery systems.
At 74% of sales, the Pharmaceutical Packaging segment is largely the key to West's success. The company's achievement in getting reliable, patented products in the hands of manufacturers has increased its presence in the industry. West should see steady increases in this segment's revenue as the injectable drug industry continues its strong growth.
West's Delivery Systems segment offers contract-manufacturing and assembly solutions. It uses technologies such as: multi-component molding, clean-room molding, in-mold labeling, ultrasonic welding, and device assembly used to manufacture customer-owned components and devices used in surgical, diagnostic, ophthalmic, personal care, and consumer products.
This segment also offers administration systems such as the patented MixJet™ transfer device and the Mix2Vial™ needleless reconstitution system, and vial adapters. West also offers the following safety systems to prevent needle sticks: Eris™ and B.Safe® for prefilled syringes and NovaGuard™ for luer lock syringes.
West produced the market's first syringe system without silicone oil lubrication applied to the barrel or plunger and that uses an insert molded needle to avoid the needle for adhesive. This technology is known as CZ and is licensed from Daikyo Seiko Ltd.
The SmartDose electronic patch injector system was designed for controlled, subcutaneous delivery of high volume and high viscosity drugs, using prefilled Daikyo CZ cartridges. This innovation system is fully programmable, has a single push-button operation, and a hidden needle for safety.
The ConfiDose® and SelfDose™ auto-injector systems enhance patient compliance and safety. In these systems, the needle remains shielded and retracts automatically after the injection. Since these systems eliminate preparation steps and automate drug injection, patients can have a sterile, single-use disposable system that can be used at home.
Although the Delivery Systems segment comprises 26% of net sales, it still has a positive impact on West's business. The products offered in the segment are important for the industry and provide patients with added safety and convenience.
Valuation
West has become fairly valued after the stock's strong run in 2013. The company has a trailing PE of 31 and a forward PE of 25. West's PEG of 1.63 is lower than competitors 3M Company's (NYSE:MMM) PEG of 1.8 and Rexam's (OTCQX:REXMY) PEG of 10.8. I like the PEG as a more refined valuation metric as it accounts for long-term future earnings growth. West is expected to grow earnings at a much faster pace than 3M or Rexam. The 5-year expected earnings growth for West, 3M, and Rexam are expected to be 18%, 11%, and 6.6% respectively. This shows that West is priced more attractively in terms of future growth. Therefore, West's stock is likely to outperform these competitors as the company is likely to achieve higher earnings growth over the next few years.
Catalysts
As of September 30, 2013, West had an order backlog of $355 million, which was 12% higher than the previous year. The company is seeing incoming orders for 2014 at higher levels than the same time a year ago. This increase in demand should drive revenue growth for this year. The company is looking to achieve revenue growth of 6% - 8% annually through 2018. The gross margin is expected to increase by about 10% to 12% over the same period due to a focus on lean operating efficiencies. This should result in annual earnings growth of 16% to 20% over the next five years.
The products that should drive this growth are high value products such as advanced coated and process components, which are experiencing increased demand. West plans to expand its high value products, lean operations, and growth in emerging markets for the Packaging segment. The company has moved into China and India and should see increased revenue growth for this year and beyond as a result. West has introduced customer sampling and validation in China and metals production in India. The company is also looking to shift its sales mix to West proprietary products in the Delivery Systems segment. West's strategy should lead the company to achieve its earnings targets over the next few years.
The Risks
West Pharmaceutical Services can only be as successful as its customers. West depends on its customer's sales of injectable drugs. If a new drug delivery system were to be developed as an alternative to injections, West could lose significant revenue.
Further consolidation in the pharmaceutical industry could put competitive pressure on West's business. There has already been a significant amount of consolidation in the industry. If more consolidation were to occur, West would be under more pressure to offer competitive prices, which could have a negative effect on margins.
Conclusion
West is an established, profitable company with plenty of growth ahead. The company is likely to produce revenue of approximately $1.48 billion for 2014. West's expected average annual earnings growth of 18%, should be enough to drive the stock to double in five years. I would reasonably expect this $48 stock to be trading over $100 by 2018. The growth in the injectable drug industry combined with the company's growth in emerging markets, increasing demand for high value products, and focus on lean operations, should make this a reality.
Disclosure: I have no positions in any stocks mentioned, and no plans to initiate any positions within the next 72 hours. I wrote this article myself, and it expresses my own opinions. I am not receiving compensation for it (other than from Seeking Alpha). I have no business relationship with any company whose stock is mentioned in this article.