Most people think of tacos or burritos when thinking of Chipotle Mexican Grill (NYSE:CMG). This business has succeeded and shares continued their impressive run with new 52 week highs in the after-hours market on Thursday. The company has now seen its base expand to 1595 locations, but is now nearing a saturation point. To grow revenue in the future, Chipotle could lean on its entertainment and its ShopHouse and Pizzeria Locale brands.
Earlier this week, Chipotle announced it was launching a comedy series called "Farmed and Dangerous" on Hulu. The four episode show will be a satire on the corporate agribusiness industry. The first episode will air February 17th and may once again open a debate on where our food comes from. The show centers around the fake industrial giant Animoil, which produces animal feed called PetroPellet. While PetroPellet helps increase the amount of food produced, it does produce unwanted side effects, like exploding cows.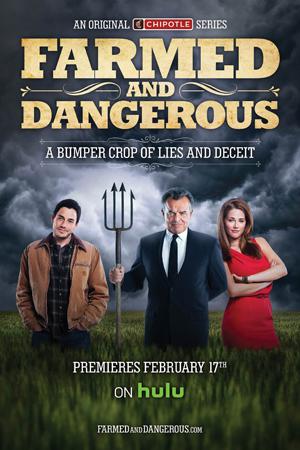 This television show is an extension of Chipotle's plans to use entertainment like television, short films, and mobile games to expand its brand and also create awareness for sustainable food. Previously, Chipotle launched "The Scarecrow", a mobile game that was free on iPhones, iPads, and iPod Touches. In that game, players fight Crowbots to "transport confined animals to open pastures and plant fields to serve minimally processed food to animated customers." Game players can also unlock rewards, like free food at Chipotle locations, with certain scores on the different game levels.
While the increased activity in entertainment ventures won't be a huge revenue driver, it could power same store sales. Chipotle regulars and infrequent customers may continue to increase their visits to Chipotle as they see the benefits of sustainable food from known sources.
Back in June, I highlighted the possible expansion of Chipotle's Asian cuisine concept ShopHouse. At that time, the company was expanding into Washington D.C. and California. I discussed how this brand could help diversify Chipotle away from its current model and help offset some of the declining double-digit same-store sales growth pressure. Now, Chipotle seems to have another brand ready for rapid expansion.
On December 18th, Chipotle disclosed it had taken an ownership stake in Pizzeria Locale, a fast casual pizza brand in Denver. The new concept will now grow and expand using Chipotle-like business models. Customers order their food at the counter and are able to receive their pizza in around two minutes. The restaurant is able to make pizzas in two minutes by cooking it evenly at temperatures of 1000 degrees Fahrenheit.
The fast casual restaurant segment continues to be one of the leading growth ideas for chains. Chipotle has had huge success with its own fast casual model and could do wonders with a pizza chain that can make individual pizzas in under 2 minutes. As the company reaches its United States base of 1500 to 2000 restaurants, it will need growth elsewhere. At the end of the fiscal year, Chipotle had 1595 locations, meaning it is getting close to its saturation point.
Chipotle's investment was not disclosed, but it was confirmed that the company was an investor in Pizzeria Locale and will help finance additional locations. Chipotle also maintains the right to become a majority owner, which would lead one to believe that they like the concept and see it growing on a national level someday.
Of course there are several competitors to Pizzeria Locale, like Buffalo Wild Wings' (NASDAQ:BWLD) new Pizza Rev chain. Like Chipotle, Buffalo Wild Wings bought a minority stake in a small fast casual chain that it can help expand regionally and nationally. Chipotle has a proven concept in its namesake brand, but it needs to expand its other concepts like ShopHouse and the new Pizzeria Locale.
Analysts continue to downgrade Chipotle as it approaches the $500 level once again. Wedbush recently downgraded shares to neutral with a price target of $510. Piper Jaffrey also downgraded shares of Chipotle to hold with a new target of $490.
Over the past 52 weeks, shares of Chipotle have traded between $298.95 and $550.28. On Thursday, shares hit as high as $550.62, a new 52 week high. In the fourth quarter, the company saw operating margins improve and total revenue improve over 20% due to the addition of more restaurant locations. Chipotle opened 56 new locations in the fourth quarter and a total of 185 in the fiscal year. Same store sales increased 5.6% on the full year. The company's total base now stands at 1595 locations.
Analysts should be impressed with the growth of operating margins and same-store sales from the latest report. Price targets should come back in the $550 to $600 range. I see shares retreating some over the week though. Long-term investors should ease back into this growth play as it has plenty of room to grow additional brands ahead. Chipotle will have future success with additional fast casual brands.
Disclosure: I have no positions in any stocks mentioned, and no plans to initiate any positions within the next 72 hours. I wrote this article myself, and it expresses my own opinions. I am not receiving compensation for it (other than from Seeking Alpha). I have no business relationship with any company whose stock is mentioned in this article.