What never ceases to amaze me about "hot stocks" is how many investors are willing to pay excessive prices to be part of a party. Amazon (NASDAQ:AMZN) certainly is such a company. The main reason for Amazon's share price jump under high volume after-hours yesterday was a reported 20% increase in net sales for the fourth quarter of 2013. The company in particular reported:
Net sales increased 20% to $25.6 billion compared to $21.3 billion in the year ago quarter
Amazon's operating income jumped 26% to $510 million in the fourth quarter of 2013 vs. $405 million a year ago
Net income skyrocketed to $239 million which compares against $97 million in Q4 2012 (an increase of 146%).
Diluted EPS also skyrocketed from $0.21 a year ago to $0.51 in the most recent quarter (an increase of 143%).
Despite healthy sales and EPS growth, Amazon missed analyst estimates both in terms of sales and earnings: Analysts expected sales of $26.1 billion and earnings per share of $0.66 which likely drove today's pre-market correction in Amazon's share price.
Full-year 2013 results include:
Net sales of $74.5 billion (up 22%)
Operating income of $745 million (up 10%)
Net income of $274 million compared to a net loss of $39 million a year ago
Diluted EPS of $0.59 vs. $(0.09) last year
Operating cash flow of $5.5 billion vs. $4.2 billion in the last fiscal year.
Q1 2014 outlook
Amazon has issued its first quarter 2014 guidance in conjunction with its earnings release. Amazon expects for the first quarter of 2014:
$18.2-19.9 billion worth of net sales which represents a y-o-y growth of between 13-24%
Operating loss/income of $(200) million to $200 million.
12-month trailing share performance
Shares of the online retailer which sells everything from socks to play stations increased a respectable 52% over the last twelve month. The earnings release yesterday clearly didn't repel investors and shareholders are looking at new 52-weeks Highs in the near future if Amazon can sustain its momentum. In light of yesterday's earnings release, Amazon shares rose nearly 5% while they are down about 4% in today's pre-market trading.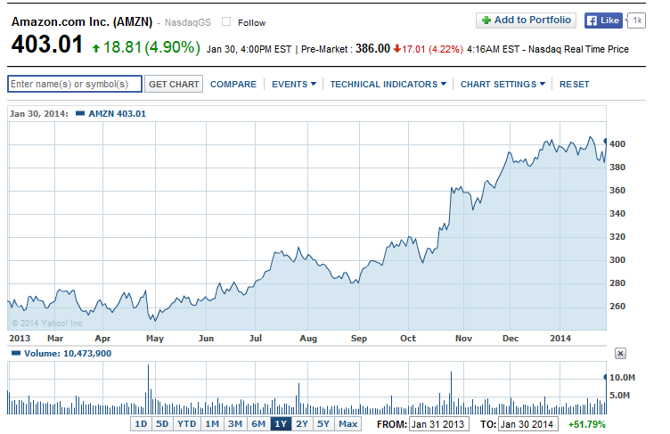 Free cash flow projections and reconciliation
Amazon's share price increase under high volume immediately after earnings release shows that investors still react very emotionally to sales growth. The company indeed has presented decent sales- and operating income growth over the year; however, Amazon's free cash flow profitability is still very low.
Amazon's stock price has surged quite a bit after I questioned Amazon's low free cash flow profitability and high P/FCFE ratio back in October when the shares were trading at $332.
Amazon's most recent results confirm what has already happened many quarters before: Investors are overly concerned with net sales growth and busy holiday periods rather than with underlying earnings or free cash flow profitability.
I have compiled Amazon's historical operating- and investing cash flows as well as my cash flow estimates for fiscal year 2014. The resulting free cash flow to equity reconciliation is reproduced in the table below.
I estimate that Amazon can achieve about $2.0 billion in FCFE in 2014 which translates into $4.30 per share. I have substantially increased Amazon's 2014 FCFE per share estimate (compared to the $3.32 per share I estimated back in October 2013). Even though I have updated Amazon's 2014 FCFE per share estimate by nearly 30% from $3.32 to $4.30, the company still trades at a massive forward P/FCFE ratio of 93.72 and at an initial free cash flow yield of around 1%. Investors pay outrageous growth premiums upfront and they should stay away from Amazon as its shares trade at mindlessly inflated multiples.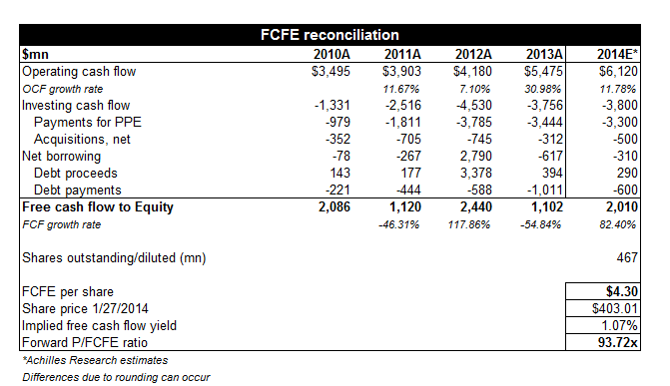 Conclusion
The slide in Amazon's pre-market share price suggests that investors are becoming more critical after the initial euphoric reaction to high net sales growth during the holiday quarter. Ultimately, investors need to pay attention to tangible valuation standards: Amazon currently trades at nearly 94 times estimated 2014 free cash flow to equity and a forward earnings multiple of 75. Shareholders should pay more attention to Amazon's underlying profitability and should concentrate less on sales growth. Amazon has historically sacrificed short-term profits for market share gains, but the company has yet to prove that the valuation multiples are deserved and that the online retailer indeed is on its way to sustainable long-term profitability. The current valuation multiples, both in terms of earnings and free cash flow, are clearly not sustainable and investors need to be aware that an investment in Amazon is of high risk. If Amazon disappoints in the coming quarters, the share price could react extraordinarily sensitively.
Disclosure: I have no positions in any stocks mentioned, and no plans to initiate any positions within the next 72 hours. I wrote this article myself, and it expresses my own opinions. I am not receiving compensation for it (other than from Seeking Alpha). I have no business relationship with any company whose stock is mentioned in this article.