By David Russell
Oxford Industries (NYSE:OXM) gapped lower last month on a weak forecast, and one investor is throwing in the towel.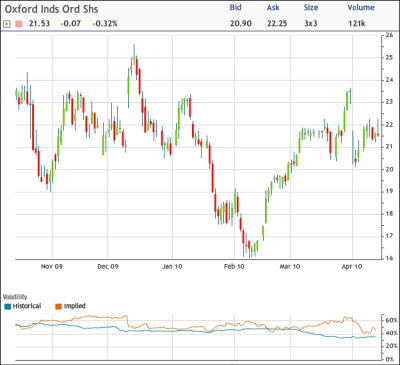 optionMONSTER's tracking systems detected the sale of 6,900 April 20 calls for $2 against open interest of only 776 contracts. The trade pushed total option volume in the apparel stock to 18 times greater than average.
OXM fell 0.32 percent to $21.53 yesterday. The stock had rallied more than 600 percent between March 2009 and late last year but has been unable to maintain upward momentum. It's been moving sideways since October and been making lower highs and lower lows, suggesting a possible correction lower.
OXM plunged on March 30 after management's full-year profit forecast came in below analysts' estimates. It reversed after attempting to fill that gap yesterday, suggesting that a new resistance level has been established.
The calls could have been sold by an investor looking to exit a position in the shares. The trade may have also been executed by a short seller who expects OXM to stay below $22 for the rest of the week.
The transaction accounted for more than 90 percent of the options volume in the stock yesterday.
(Chart courtesy of tradeMONSTER)