By David Russell
VistaPrint (VPRT) is showing signs of reversing after a big rally, and one bear is moving in for the kill.
optionMONSTER's Depth Charge tracking system detected the purchase of 1,526 May 55 puts for $1.90 and the sale of a matching number of July 45 puts for $0.55. The trade, known as a diagonal spread, cost a net debit of $1.35.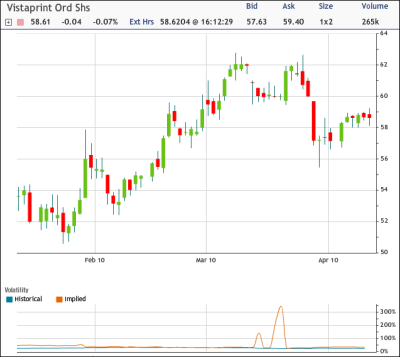 VPRT fell 0.07 percent to $58.61 yesterday and is down 4 percent in the last month. The provider of items such as business cards and signs had more than doubled in the preceding year amid bullish options activity, strong earnings and short covering.
However, the shares fell sharply on March 29 and are now consolidating below the same $59 level that had briefly provided support. Some chart watchers may interpret the price action as evidence of a reversal lower.
The diagonal spread takes advantage of the higher premiums on the July options to earn extra premium, delivering greater leverage on a push to the downside. The trade will earn a maximum profit of 640 percent if VPRT closes at $45 on May expiration and holds that level.
The risk to the investor is that the shares will continue falling after that point, leaving them exposed to losses on the July contracts. Given that danger, the trade may have been implemented by a shareholder who's looking to implement a hedge and is willing to be assigned more shares at $45.
The trade pushed overall options volume in VPRT to six times greater than average, with puts accounting for a bearish 92 percent of the activity.
(Chart courtesy of tradeMONSTER)