By Pete Najarian
Yum Brands (YUM) has been ripping for weeks, and some traders are playing for even more upside as the company prepares to report earnings results tomorrow.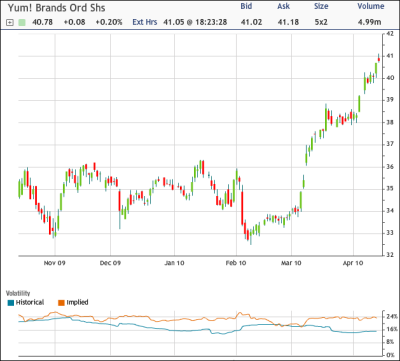 Traders are targeting the April 42 calls, where 7,546 contracts traded yesterday in a strong buying pattern for $0.25 and $0.30. The calls changed hands in some large blocks, far above the previous open interest of just 545 contracts, according to optionMONSTER's Heat Seeker tracking system.
The global casual-dining company closed the regular session up 0.2 percent to $40.78 and rose another 0.42 percent in after-hours trading. YUM has risen some 20 percent since the beginning of March, hitting new 52-week highs along the way.
Expiration is at the end of this week, so the stock has four days to gain roughly 3.7 percent for those purchased April 42 calls to turn a profit. The company will issue its first-quarter earnings release tomorrow after the market closes.
Disclosures: I own a long call spread in YUM.
(A version of this post appeared on InsideOptions yesterday. Chart courtesy of tradeMONSTER.)