Qualcomm (NASDAQ:QCOM) has been one of the best growth stories in the market for quite a while with its stock price reflecting the growth with steady gains for several years.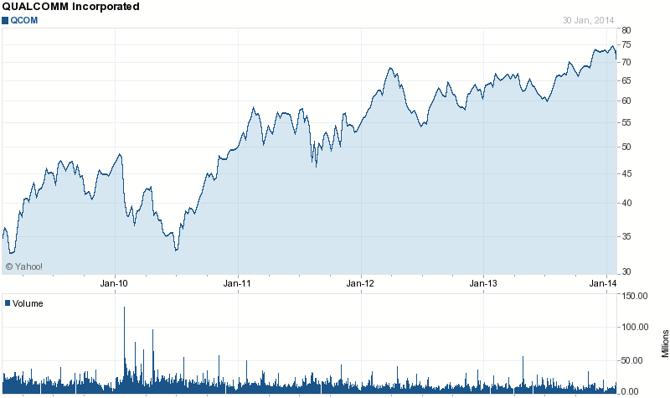 Source: Yahoo.com Finance
Qualcomm's Q1 earnings report showed a decline in EBITDA.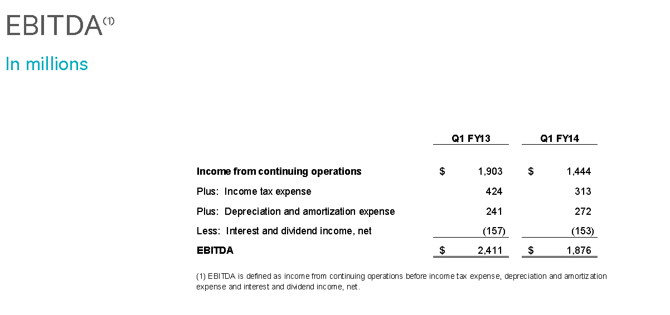 Source: Qualcomm
In its recent quarterly release, Qualcomm is calling for second quarter earnings somewhere between a decline of 7% and an increase of 3%.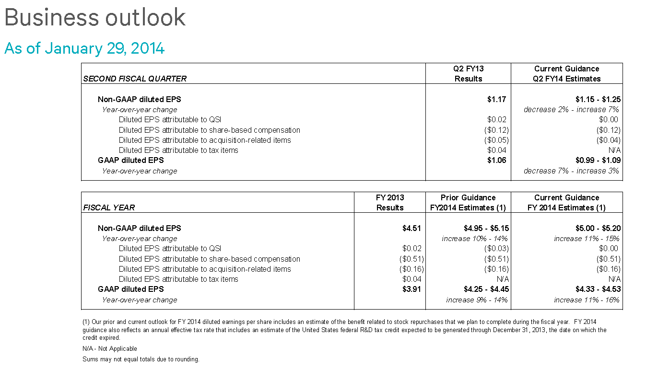 Source: Qualcomm guidance
A forecast range that includes a decline in earnings is not a good sign. Is the bloom coming off the rose for Qualcomm?
I think it is.
The outlook for growth in the smart connected device markets where Qualcomm is a leading supplier of components and licensed technology has abated. Qualcomm sees only 6% growth in developed markets and looks to 20% growth in emerging markets for its forecast of total growth between 11% and 18% in 3G and 4G device shipments.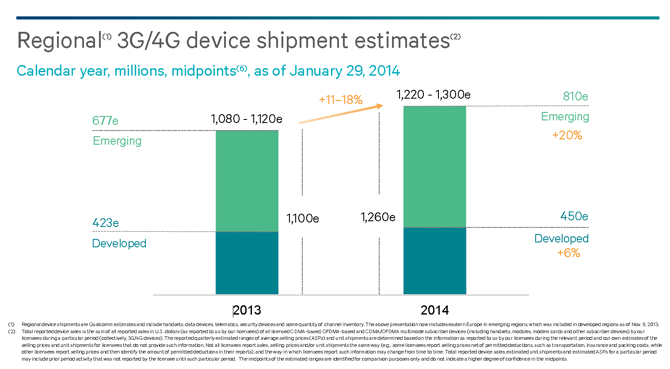 Source: Qualcomm
There is no doubt in my mind that emerging markets will grow faster than developed ones. But the outlook for emerging market growth generally is a little less clear today than it was a few weeks ago. Some economic evidence suggests the pace of growth might suffer.
In particular, we have seen some troubling signs that all is not well in these markets emerge in recent weeks. The apparent meltdown of some emerging economies is in part a reflection of the reverse currency flows that have been triggered by the impending end of United States quantitative easing where the "tapering" has reversed the flow of hot money into emerging markets to garner higher short term returns with that money now coming back to the U.S. dollar.
Some of the emerging economies are facing problems of a crisis proportion:
Argentina: an unexpected and quite dramatic devaluation, civil disorder and looting.
Venezuela: currency falls as Argentine devaluation spurs contagion.
Turkey: the country dramatically raises interest rates to stem a run on its currency.
South Africa: interest rates hit a two year high as the Rand slides.
China: failure of a significant trust product was narrowly averted by a bailout from an undisclosed buyer.
Ukraine: civil disorder continues to escalate.
India: a run on the rupee has weakened growth prospects for this key economy
The fact is that despite a few years of recovery in North America the rest of the world's economy is not burgeoning. Not only is growth in China slowing but also European growth seems to be stalling and there is an increasing number of areas where the armed conflicts are underway or likely.
High food prices in emerging markets threaten their sustained growth and will shift consumer purchasing from discretionary items such as electronic devices to essentials like food and clothing.
As the macro outlook for Qualcomm markets softens, a major assault on Qualcomm customers is just beginning from Intel (NASDAQ:INTC). Intel's "contra" revenue approach to establishing itself in tablets will be followed by its Merrifield and Sofia launches as it tries to penetrate mobile. Intel does not need to be a major success to damage Qualcomm, just take a bite out of its growth. I suspect they will.
Slowing growth and increasing competitions are forces that frequently take the bloom off the rose of a growth stock.
Qualcomm is a model of a successful business and has enjoyed earned investor enthusiasm and support as it outstripped rivals to become a cornerstone of the expansion of smart connected devices. Trading at 19 times earnings it is vulnerable in my view.
I have no current position in QCOM but will seek opportunities to buy puts to advantage over the near term.
Disclosure: I am long Intel calls, and may initiate a short position in QCOM over the next 72 hours. I wrote this article myself, and it expresses my own opinions. I am not receiving compensation for it (other than from Seeking Alpha). I have no business relationship with any company whose stock is mentioned in this article.