Investors looking to invest in the homebuilder group will usually go with the SPDR S&P Homebuilder ETF (NYSEARCA:XHB). Interestingly, as shown below, XHB has significantly outperformed the S&P 1500 Homebuilder index over the last six months. The XHB ETF is up 16.73%, while the S&P 1500 Homebuilder index is up just 7.63%. Investors aren't complaining, but why is the ETF up more than double the amount of the S&P group?
Individual stocks can't make up more than 10% of an ETF. The S&P 500 only contains three homebuilder stocks, and the S&P 1500 only contains twelve. Because there just aren't that many pure S&P homebuilder stocks, the S&P Homebuilder ETF (XHB) has to use other housing-related names to fill out the entire fund. It's the performance of the housing-related stocks (not pure homebuilders) that is adding to the gains of XHB.
click to enlarge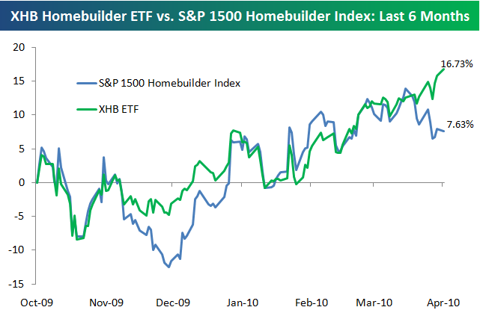 Click to enlarge
Below are the current holdings of XHB as well as the members of the S&P 1500 Homebuilder index. As shown, the top 8 holdings of XHB aren't even homebuilders. The biggest holding of XHB is USG, followed by Williams-Sonoma (NYSE:WSM), Pier 1 Imports (NYSE:PIR), and Owens Corning (NYSE:OC). Names like Bed Bath & Beyond (NASDAQ:BBBY), Sherwin-Williams (NYSE:SHW), Home Depot (NYSE:HD), Lowe's (NYSE:LOW), and even Tempur-Pedic (NYSE:TPX) are in the ETF. The bulk of the actual homebuilders have the lowest weightings in the homebuilder ETF.
If you've purchased XHB as a pure play on the rebound in the homebuilders (like Toll Brothers (NYSE:TOL), KB Home (NYSE:KBH), Lennar (NYSE:LEN), etc.), you're now also invested in a wide variety of retailers and capital goods makers. Fortunately these names have been really outperforming the actual homebuilders recently, so the ETF is up much more than the homebuilder index. Just remember that it can go in the opposite direction if the economic winds start blowing in a different direction. This is another example of the need to know what you hold.