"Avoiding danger is no safer in the long run than outright exposure. The fearful are caught as often as the bold." - Helen Keller
Looks like it is going to be another huge down day in the market on Friday, as equities continue their recent roller coaster ride. One stock that will be bucking this downward trend today will be Zynga (NASDAQ:ZNGA), as investors cheer its "bet the farm" move into mobile gaming via its $527mm purchase of NaturalMotion, a mobile gaming concern.
Regular readers of my columns know I that have become a heavy advocate for Zynga as a solid speculative play (I, II) since the one-time social media darling flamed out around $2 a share early in 2013. Like Groupon (NASDAQ:GRPN) and Facebook (NASDAQ:FB) before it, I saw a potential turnaround in the making, which is starting to come to fruition.
The maker of "Farmville" and "Mafia Wars" social media games will have doubled off its lows last year after today's trading day, judging from early trading. I still believe the shares have potential upside, especially with this recent merger, and I am hanging onto my position.
Acquisition Benefits:
The acquisition firmly places Zynga in the mobile gaming space, as NaturalMotion is a long-time player here with games such as Clumsy Ninja and CSR Racing. It is a pioneer in providing "freemium" add-on services in the mobile space.
NaturalMotion technical expertise should also be beneficial to Zynga as it tries to launch social media games like "Farmville" on mobile later this year.
Don Mattrick, the well-regarded CEO that came over from Xbox earlier last summer, stated directly after the acquisition that the first quarter of 2014 would "be the bottom and we will achieve sequential growth in each successive quarter" and "By acquiring NaturalMotion, we can significantly expand our creative pipeline, accelerate our mobile growth and bring next-generation technology and tools to Zynga that we believe will fast-track our ability to create more hit games."
The company also announced that it will be laying off 15% of its staff as part of a cost-cutting move and to boost its transition to mobile.
The company additionally announced with the acquisition news that Q4 revenue would come in $176.6mm. This was a substantial and expected decline from revenues in the same quarter in 2013. However, it was substantially above the consensus estimates of ~$141mm. The company also provided guidance that beat analysts' expectations significantly.
Although the stock has doubled since I started to acquire it a year ago; I am holding my stake in this speculative play. The new CEO is making bold moves to accelerate Zynga's transition to the critical mobile space and the stock is still down ~70% from its IPO high in May 2012.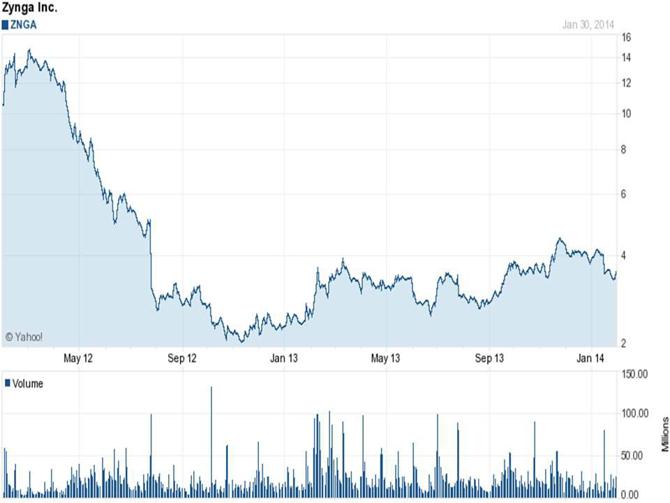 Even after this purchase, the company will have more than $600mm in net cash on the balance sheet and Zynga is getting close to breakeven on the earnings front. It is still worth a small bet that it can follow Groupon - which was in worst straits - and can regain some of its former glory under a new CEO and pull a successful transition to the mobile space.
Disclosure: I am long ZNGA. I wrote this article myself, and it expresses my own opinions. I am not receiving compensation for it (other than from Seeking Alpha). I have no business relationship with any company whose stock is mentioned in this article.