If there was ever a good time to invest in gold (NYSEARCA:IAU), it has likely now passed. During the recent recession, rising gold prices (see chart below) convinced many that precious metals (NYSE:FCX) were finally viable investments. In fact, during those heady days, some indeed made money in gold-based ETFs (NYSEARCA:GLD); however, far more lost substantial sums during 2013's protracted gold crash. In 2013, gold lost 28% of its value, leading to widespread consternation.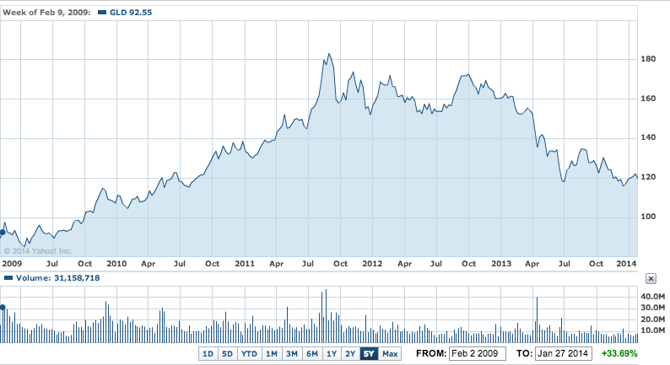 (Source: Yahoo! Finance)
Famous investor and commentator Warren Buffett (NYSE:BRK.B) hasn't shied away from releasing "I told you so" statements with regards to gold (NYSEARCA:GDX). Whether one finds Buffett (NYSE:BRK.A) refreshingly forthright or simply overbearing -- events have played out according to his predictions. Buffett has questioned the status of gold for some time as a practical medium for investment. Even more than stocks or currencies - precious metals are subject to the dictates of public paranoia: high gold prices depend on pundits convincing enough people that the global economic system is about to face a crisis of near-apocalyptic proportions. See our prior Buffett story on Gold here.
Certainly, the Great Recession was difficult for almost everyone. Now, the slow but steady recovery speaks well for the fundamentals of our economic system. Although the Federal Reserve has great power to affect the price of gold, it is short-sighted to blame the gold crash on the Fed alone. Unquestionably, the public is increasingly losing its taste for predictions of economic doom.
Despite his impressive resume of success, Warren Buffett is still just one man. For many, Morgan Stanley's (NYSE:MS) new warning about gold is even more well-timed and persuasive. Morgan Stanley recently changed its bullion forecast substantially. Cutting its 2014 target by twelve percent, MS has added further fuel to the growing concern about the precious metal. As the worldwide financial recovery picks up steam, Morgan Stanley believes that rising interest rates will only accentuate the structural weakness of gold investment.
Of course, Warren Buffett and MS analysts are far from the only experts warning about the problems of gold. For decades, economic thinkers of all stripes have cautioned against the reactionary dynamics of trusting in gold. Though gold does have its uses, time has a way of repeatedly exposing the limits of gold as a true investment medium. During times of extreme economic stress, gold may achieve short-lived rallies from time to time. As the global economy becomes more interconnected, stronger foundations will improve public peace of mind. Gold bugs and prophets of doom may soon find themselves addressing shrinking audiences, which can only mean bad things for the future of gold-based investing.
Disclosure: I have no positions in any stocks mentioned, and no plans to initiate any positions within the next 72 hours. I wrote this article myself, and it expresses my own opinions. I am not receiving compensation for it (other than from Seeking Alpha). I have no business relationship with any company whose stock is mentioned in this article.