Golar LNG (NASDAQ:GLNG), announced last year its signing of a five-year, $213 million charter contract with the Kuwait National Petroleum Company (KNPC). The biggest thing going for Golar is the fact it has only four out of 13 vessels under long-term contracts. Golar is able to capture any rise in demand prices in the spot market, unlike other shipping companies. This alone is the single biggest advantage the company has as evidenced by its spectacular performance for the last 10 years.
As evidence of management optimism and its bright prospects, the company is about to launch 11 newly built vessels in the next few months of this year.
Additional Moat
The company is also unique in the sense that it is going up the value chain, unlike its competitors, by developing the first FSRU, or floating storage and regasification unit. It allows the gas from an offshore platform to be processed and conveniently stored until it is ready to be loaded to a tanker or transported through a pipeline.
Click to enlarge images.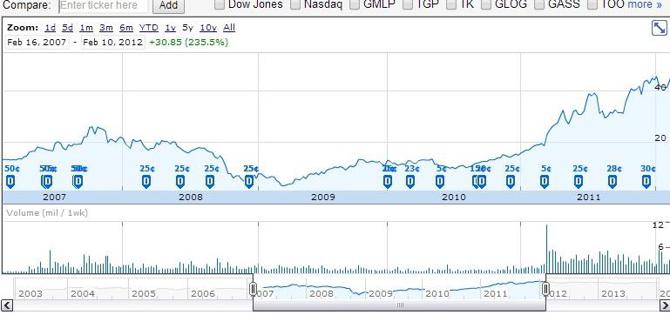 Click to enlarge
The recovery after the 2008 recession has been very strong and steady.
Fundamental Strengths
As found here, the natural gas shipping carrier has amazing fundamentals. It has low debt, steady net income growth for the last four years and a very cheap stock price, set at a P/E around 3.31 at the time of this writing.
Worldwide Demand
The rise of the world's population naturally means an increase in fossil fuel demands. There are several other energy sources, but LNG is simply one of the cheaper and convenient sources for domestic and industrial purposes.
2011 Japan Earthquake
Japan became one of the biggest spot cargo purchasers of LNG because of the 2011 earthquake they experienced. As a result, other developing markets such as Thailand, Vietnam, and the Philippines are forced to reevaluate their spot cargo agreements. In any case, it is a favorable event for Golar as it can capture more of the increased revenue.
Threats to LNG industry
Unrest in Egypt and the potential production by Japan of its own gas sources near its own coast (expected to be completed around 2018) pose a threat to Golar's profitability, obviously. Nevertheless, these are not the only factors in play. The production volumes are expected to make Japan a self-sustaining nation for its gas energy needs, but it remains to be seen whether it is going to be a threat to other gas-producing nations such as the U.S.
Summarizing Golar's Pros and Cons

The Pros:
A bright industry prospect: Energy demands continue increasing, despite the elimination of Japan as one of the potential buyers of LNG because it isn't big enough to dampen the entire industry's potential
Strong sales for the last four years as a result of spot contracts, instead of long-term contracts that would have tied the company down
Conservative financing, very little debt
Management is optimistic and shareholder-friendly
Sustainable competitive advantage in the form of FSRUs that no other gas carrier company has done yet
The Cons:
The only thing against it is obviously the huge amounts of capital needed to create and increase its profit levels. Its return on assets were almost non-existent before 2012, but that was a transitional period. Now it is set to grow aggressively for quite some time, especially with the arrival of the new carriers in the later part of 2014.
Modified Discounted Cash Flow Valuation
We will use earnings per share instead of free cash flow to simplify it. The growth rate is 10% for EPS, while a 5% discount rate is used to compare it to a U.S. treasury bond investment as a cost of using capital.
The data for 2015, as well as the succeeding years, will be the result of multiplying 2014 EPS with a growth rate of 10% and compounding the results every year. There will be no terminal value at the end of five years to make it even more conservative, and thus have reliable numbers to make our investment decision.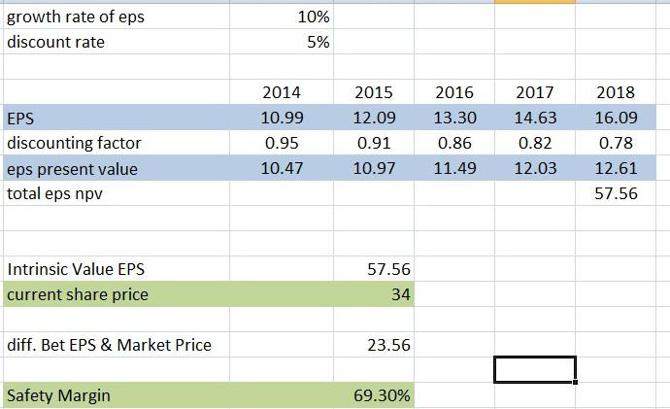 Click to enlarge
Conclusion
As you can see, even with a very modest growth assumption of only 10%, the intrinsic value calculated for Golar is nearly 70% more than its current market price. We are not eliminating negative events, but rather expecting it. No matter what the case is, a safety margin of 70% is something that can make you sleep well at night. Even if the price drops, you have a very big cushion waiting for it. All of the other negative intangible elements that can render this calculation invalid have been analyzed already and found to be negligible or non-existent.
Disclosure: I am long GLNG. I wrote this article myself, and it expresses my own opinions. I am not receiving compensation for it (other than from Seeking Alpha). I have no business relationship with any company whose stock is mentioned in this article.