We have been spending a lot of time on some of the internet companies which have had a lot of momentum lately, focusing on those with earnings power and an ability to leverage their current success for future success. This has forced us to spend an awful lot of time on Google (NASDAQ:GOOG) in recent weeks and after going through the conference call we wanted to highlight some of the key points we think are important for investors to focus on.
Shares were up in after-hours trading as investors looked to the bright spots of the quarterly report, but we suspect that Google will come under pressure today along with the general market as emerging markets create further volatility.
Chart of the Day:
Google will be one of the bright spots today in the market, but we could see the stock open at the highs for the day and then fade with emerging markets the focus today and the fact that we are now heading into a weekend. Investors might not want to carry that risk into Monday, but forgetting the short-term issues the long-term does look quite favorable for investors.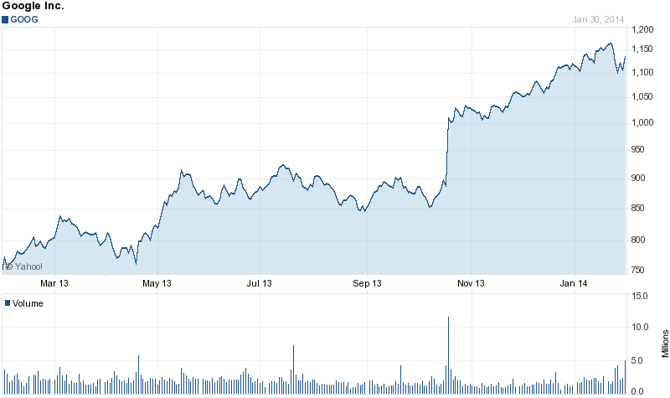 Click to enlarge
Source: Yahoo Finance
We have economic news today and it is as follows:
Personal Income (8:30 a.m. EST): Est: 0.2% Act: 0.0%
Personal Spending (8:30 a.m. EST): Est: 0.2% Act: 0.4%
PCE Prices - Core (8:30 a.m. EST): Est: 0.1% Act: 0.1%
Employment Cost Index (8:30 a.m. EST): Est: 0.4% Act: 0.5%
Chicago PMI (9:45 a.m. EST): Est: 58.0
Michigan Sentiment - Final (9:55 a.m. EST): Est: 80.4
Asian markets finished mixed today:
All Ordinaries -- up 0.04%
Shanghai Composite -- CLOSED
Nikkei 225 -- down 0.62%
NZSE 50 -- up 0.51%
Seoul Composite -- CLOSED
In Europe, markets are trading lower this morning:
CAC 40 -- down 1.06%
DAX -- down 1.44%
FTSE 100 -- down 1.05%
OSE -- down 0.34%
From The Call
Stock Split
The item which will get a lot of investors excited from the call is the complicated stock split previously announced by the company is set to occur on April 2, 2014. For those who do not remember, Google is set to issue a new class of shares, to be referred to as C-Class shares, as management looks to maintain control of the company moving forward. The C-Class shares will assume the GOOG ticker symbol with the current shares moving to the GOOGL ticker symbol. This event does not create value for shareholders, but should drive interest in the shares as the April 2nd date approaches.
Lower Ad Rates, Strong Mobile Growth
Google bears will be focusing on the continued decline in ad rates, which occurred for the ninth quarter as mobile ads make up more of the company's ad inventory. Although lower ad rates are a bad thing, the mobile growth is a positive and we are seeing healthy growth in the segment which could lead to higher pricing down the road as competition among advertisers drives rates higher.
Google continues to push an integrated approach to advertisers whereby they use various channels to advertise, and this is helping drive mobile growth while also utilizing desktop-based ads to stabilize the ad programs as it is perceived by advertisers that bigger screens lead to higher utilization. Google did indicate that they have begun to use their various platforms to track users and highlight that consumers are using ads they see on one device to discover a product to then complete the purchase on another device. One customer was highlighted where this pushed their rate of conversion up 7%, which could push mobile ad sales higher if Google can provide evidence to other advertisers that this is true in their case as well.
Yes, it does appear that Facebook (NASDAQ:FB) has managed to monetize mobile, but we doubt that many realize that they had extremely low ad rates to begin with due to the infancy of their ad program. Now they are seeing growth in adaptation of their ad platform, but we suspect they face the same issues as Google right now with stagnant mobile ad rates but strong overall mobile growth. Essentially, Facebook does not have mobile dragging down an established desktop business that had the highest margins in the business.
This will be arguably the most important segment to watch moving forward, as it appears that Facebook will be able to develop a strong competing ad platform supported by various sites and apps but as it stands now Google has not lost the mobile ad war.
Entertainment Driving Revenue Growth
Management was very clear on the call that they were very pleased with the growth in their entertainment properties. Chromecast was discussed a few times, with management covering it in their prepared comments as well as having analysts ask about it in the Q&A session at the end of the call. It was clear that Chromecast was a big winner over the last quarter and will become a key component in Google's plans moving forward.
YouTube was highlighted by management due to its growth in daily watch time year-over-year, which was 50% for 2013. It was also used as an example for how the company is utilizing various forms of advertising to engage consumers and assist advertisers in reaching their targeted audience. Google believes that the key here is not simply putting television ads on the internet, but crafting ads designed specifically for the web to engage the audiences that advertisers want to reach. To this end it is important to note that of YouTube's top ten videos of 2013, three of those were brand marketers.
Google Play, essentially Google's version of the iTunes/App store, also saw strong revenue growth during the quarter. Google is playing catch-up here, but management alluded to the fact that they have not fully penetrated the Android market to monetize all users. Growth should be expected to continue here and our thinking is that the company is using Google Play to develop Google Wallet and figure out how consumers shop online (more of this next).
Google Wallet
Management noted that they were happy with Google Wallet and were seeing a lot of growth with the segment due to it being tied to Google Play. The payment system is using the Android OS user to grow by being the payment processor for Google Play. This has reduced the friction between the consumer and what they want to purchase within that store and we heard management describe their desire to reduce that friction outside their ecosystem. The holy grail for Google right now is figuring out how to convince their search users to use Google Wallet and while searching for products or services to be able to click and pay. This is obviously down the road, but it is obvious that Google is looking to get paid for ads and the success of those ads as well as collect a fee by providing a means to drive online sales, much as eBay (NASDAQ:EBAY) does with their Paypal unit. This might be the second most important item to watch moving forward after the mobile ad pricing.
Google Shopping Express
The Google Shopping Express segment has performed well in the Bay Area and looks to be a rival to Amazon (NASDAQ:AMZN) Prime with same day delivery offered to shoppers. This is still in its infancy but is yet another program that is helping to utilize Google Wallet and cut down the friction within the sales process for consumers. Right now it remains an experiment, but Google should be able to monetize it moving forward via fees on the listings, an annual fee for consumers, delivery fees and a possible fee for successful sales from the retailers.
Conclusion
Although there was not a lot said about the company's devices we think that moving forward we will see Google integrate devices into its ecosystem to further build out its offerings and help drive organic growth by further monetizing the consumer, and helping advertisers deliver better messages. The company may have missed analysts' consensus numbers but we think that the company is grabbing market share early while demonstrating to clients how targeted ads work across multiple platforms. It is hard not to be bullish here, especially with the solid results from devices and the company's continued ability to roll out successful new products by leveraging their market leaders.
Disclosure: I have no positions in any stocks mentioned, and no plans to initiate any positions within the next 72 hours. I wrote this article myself, and it expresses my own opinions. I am not receiving compensation for it (other than from Seeking Alpha). I have no business relationship with any company whose stock is mentioned in this article.