Halliburton Co. (NYSE:HAL) – one of the largest oilfield service providers in the world – has agreed to acquire well-intervention firm Boots & Coots Inc. (WEL) for about $240.4 million in stock and cash. The transaction, which has been approved by the boards of both the companies but is still subject to regulatory and shareholder approvals, is expected to close by summer.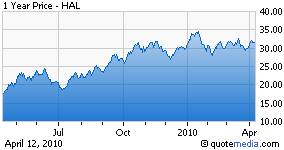 As per the deal, Boots & Coots shareholders would get $1.73 in cash and $1.27 in Halliburton stock for each share they hold. This represents a combined price of $3.00, 28% premium to Boots & Coots' Friday's closing price.

Houston-based firefighting company Boots & Coots has been synonymous with putting out some of the world's biggest oilfield fires. It specializes in providing pressure control services for oil and gas wells and employs about 700 people.

Post merger, Boots & Coots will be part of Halliburton's new product-service line that will combine its existing coiled tubing and hydraulic workover operations with Boots & Coots' well intervention services and pressure-control business.

The acquisition will allow Halliburton, the world's second-largest oil services firm after Schlumberger Ltd. (NYSE:SLB), to offer a more complete portfolio of offerings to its clients by adding equipment and services to fight oil-well fires. The combined entity will be able to provide a complete array of intervention services across the globe.

Halliburton aims to retain Boots & Coots' management to lead the new division, keep the iconic Boots & Coots name, as well as majority of its 700-strong workforce. The company expects the deal to be accretive in the first full year of operation.

Houston, Texas-based Halliburton offers a variety of equipment, maintenance, and engineering and construction services to the energy, industrial, and government sectors.