Shares of Zynga (NASDAQ:ZNGA) soared in after hours trading yesterday afternoon, after the company reported Q4 results that -- once again -- missed analysts' estimates, but the loss was less than expected.
Revenue for Q4 came in at $176 million, a decrease of 43% compared to Q4 of 2012 and a sequential decrease of 13% compared to Q3 quarter of 2013. Bookings were $147 million for Q4 of 2013, a decrease of 44% compared to Q4 of 2012 and a sequential decrease of 4% compared to Q3 of 2013. Analysts were expecting $186.2 million and a $0.04 per share loss.
In addition, The company announced it's buying NaturalMotion for $527 million in cash and stock. The company also announced a 15% Reduction of its workforce in its continuing effort to reduce costs.
As far as Q1 2014 guidance, including the impact of the NaturalMotion acquisition, the company expects the following:
Revenue is projected to be in the range of $155 million to $165 million

Net loss is projected to be in the range of $56 million to $49 million, including a restructuring charge of approximately $15 million to $17 million

Diluted net loss per share is projected to be in the range of $0.07 to $0.06, based on a share count of approximately 860 million shares

Bookings are projected to be in the range of $138 million to $148 million

Adjusted EBITDA is projected to be in the range of $5 million to $10 million

Non-GAAP loss per share is projected to $0.01, based on a share count of approximately 860 million shares
Please note that for the current quarter, revenue guidance of $155 to $165 million by the company is short of the street's estimate of $170,9 million, while the $0.01 per share loss is one cent lower than the $0.02 the market was expecting.
On my last take on Zynga I said the company would disappoint once again. And judging from the numbers, the company did just that. In fact Q1 guidance was at the very low end of the most bearish estimates.
So why was the stock up? Guidance, guidance guidance! In the conference call management expects Q1 of 2014 to be the absolute bottom and thereafter sees sequential growth in revenue, audience, bookings and adjusted EBITDA for the remainder of 2014.
For the entire 2014 calendar year, management expects bookings of $760 to $810 million, adjusted EBITDA between $65 and $100 million and non-GAAP EPS between $0.01 and $0.03 per share.
Yes this is good news, However, everything comes down to valuations.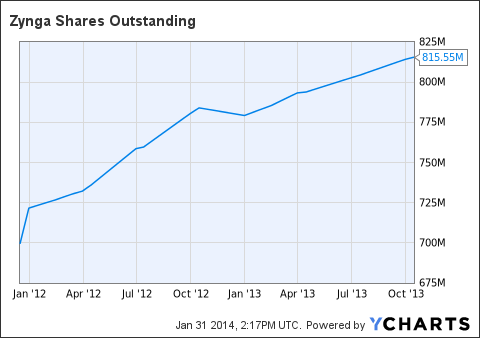 ZNGA Shares Outstanding data by YCharts
Please have a look at the current share count above as you read further ...
Management's Q1 guidance is modeled on a share count 860 million shares. Based on that number and the price of the stock today -- around $4.3 as I write this article -- that gives Zynga a market cap of about $3.40 billion. My question is, what can market participants expect going forward with the current valuation? I mean, why would I want to be a shareholder in a company worth this much, if it will not produce much profits going forward?
One can make the case that if the company hits a home run with one of its games, potentially that might be a reason for the current fluffy valuation. Indeed, that might be turn out to be the case, but even then, the case for two bagger (my benchmark for recommending stocks) within the next 12 months is far stretched (to say the least).
But there is another reason why I cannot buy or recommend the stock. The current Q1 count of 860 million shares can be accounted for, because the company will issue about 40 million shares for the NaturalMotion acquisition. However when it comes to the company's full year guidance, the company is guiding that it will have a share count of 985 million shares.
My question is, what is the reason for the expansion of the float past Q1? Also, how can we talk about shareholder value creation, when management will be diluting shareholders by almost 20%, above the shares needed for the NaturalMotion acquisition?
So on a forward 12 month basis, based on management's float guidance, the company has a projected market cap (at today's prices) of about $4.3 billion.
Bottom line
While the company's turnaround seems to have finally arrived, the question as to whether the stock is a buy is still open to debate. Because on a pure valuation basis, one can find many other stocks out there that are of much better value. And on the other hand, with all the shares projected to be issued looking ahead, shareholders will be fighting an uphill battle hoping to make any capital gains.
Disclosure: I have no positions in any stocks mentioned, and no plans to initiate any positions within the next 72 hours. I wrote this article myself, and it expresses my own opinions. I am not receiving compensation for it (other than from Seeking Alpha). I have no business relationship with any company whose stock is mentioned in this article.