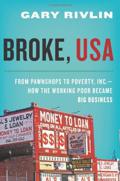 (Editors' Note: This article covers a micro-cap stock. Please be aware of the risks associated with these stocks.)
Broke, USA by Gary Rivlin is a book about the alternative financing industry. This industry, which focuses on lending money to lower and middle income individuals, includes payday lenders, tax preparation companies, and pawn shops.
It is easy to tar this industry, which Rivlin calls "Poverty, Inc," with the same stigma as the subprime lending industry that got the US into so much trouble during the 2000s. Both industries serve many of the same customers, and both appear in the book.
That said, from an investing perspective what is interesting is the difference in performance between the two industries. Unlike most subprime mortgage lenders, companies such as payday lenders and pawn shops passed the 2008 financial crisis with flying colors. In turn, though, such companies face unique risks that their mortgage lending brethren do not. Broke, USA shows us both the competitive advantages and risks of this sector.
Before we begin, though, it is worth noting that Broke, USA was written to criticize the alternative financing industry. Its heroes are those who campaign against payday loan operators and tax refund lenders. Thus, there is a certain irony in mining such a book for investment ideas in the industry it criticizes-an irony which some may not be comfortable with.
That said, it is because of the very success of this industry that a book such as Broke, USA exists. Without the various characteristics that have made payday lenders, rent to own stores, and pawn shops so profitable, no such book would have been necessary. These characteristics include high returns on investment, pricing power, and growth opportunities.
High Returns on Investment
One of the most striking profiles in Broke, USA is that of Fesum Ogbazion, the founder of tax preparation company Instant Tax Service. His story illustrates the high returns on investment possible in the alternative financing industry.
Ogbazion, an Eritrean immigrant, founded his first tax preparation store at the age of 19. He did so after realizing the power of combining tax preparation services with high interest refund anticipation loans. Soon, he had used credit cards to open 25 more stores in six years as part of a chain which he then sold to Jackson Hewitt. He later began Instant Tax Service in 2001, growing the company to over 1200 locations as of 2013.
What is striking about Ogbazion's story is the high returns he earned on the small amount of capital he used to begin his tax preparation empire. Ogbazion started his first store with roughly $20,000, and accrued roughly $400,000 in credit card debt in building up his first company. Though this is a large amount for an individual, averaged across his 26 storefronts, it equaled only $15,000 per location. Each location earned about $85,000 in revenues and had an average profit margin of 50%, or roughly $42,500 in profits. Thus, each store had an astonishing average return on investment of over 280%, or in other words, they earned $2.80 in profits per year per dollar invested in them.
This is characteristic of the extremely high returns on investment earned across the alternative financing industry. For example, in its last full year before its 2012 acquisition by Grupo Elektra, Advance America, the largest payday lender in the United States, earned a return on equity of over 23%. In the five years before that acquisition-a period which included the Great Recession-the company managed a return on equity of over 21%, with its ROE never dropping below 15%. Put simply, for every dollar of equity in the company, the company earned no less than 15 cents per year.
| | | | | | | |
| --- | --- | --- | --- | --- | --- | --- |
| (Numbers in '000) | 2007 | 2008 | 2009 | 2010 | 2011 | Average |
| Net Income | $54,385 | $38,471 | $54,203 | $35,763 | $67,623 | $50,089 |
| Equity | $250,291 | $171,259 | $212,613 | $235,041 | $288,629 | $231,567 |
| Return on Equity | 21.73% | 22.46% | 25.49% | 15.22% | 23.43% | 21.67% |
Source: Advance America 10-Ks, 2011, 2009, 2007
Advance America's returns on investment are just as impressive when one considers the company's returns on net tangible assets. In his article "How Warren Buffett Thinks about Stocks," Geoff Gannon described how Buffett (NYSE:BRK.A) (NYSE:BRK.B) looks for companies with the ability to deploy capital at high rates of return. For example, in his 2010 letter to shareholders, Buffett described businesses with "earnings on unleveraged net tangible assets" (italics in original) between 12% and 20% as "[producing] good returns," while those that "[enjoyed] "terrific economics" earned returns over 25%.
In light of this, it is interesting to evaluate Advance America's returns on net tangible assets for the last five years before its acquisition. To do so, it is necessary to define net tangible assets. One such definition is offered by Geoff Gannon, who describes it here as "(Receivables + Inventory + PP&E) - (Accounts Payable + Accrued Expenses)." To that, I would add cash, since for a financing company such as Advance America, cash is essentially the company's inventory because, after all, the company is essentially selling cash to borrowers at a high rate of interest.
| | | | | | | |
| --- | --- | --- | --- | --- | --- | --- |
| (Numbers in '000) | 2007 | 2008 | 2009 | 2010 | 2011 | Average |
| Net Income | $54,385 | $38,471 | $54,203 | $35,763 | $67,623 | $50,089 |
| Net Tangible Assets | $259,320 | $234,329 | $229,268 | $206,716 | $258,140 | $237,555 |
| Return on Net Tangible Assets | 20.97% | 16.42% | 23.64% | 17.30% | 26.20% | 21.09% |
Source: Advance America 10-Ks, 2011, 2009, 2007
With an ability to earn over 20 cents per dollar of tangible net assets invested in the company, Advance America approaches Buffett's benchmark of a business with terrific economics. Moreover, such results are not unique to just Advance America, but reflect the alternative financing industry as a whole:
Company

Product

5-Year Average Return on

Net Tangible Assets

First Cash Financial Services (NASDAQ:FCFS)

Pawn Loans

29.44%

Aaron's (NYSE:AAN)

Lease-to-own

12.15%

H&R Block (NYSE:HRB)

Tax Preparation, including Refund Anticipation Products

33.46%
Source: Gurufocus
Though these companies offer totally different services, what unites them is their high returns on net tangible assets over the past five years. Such returns range from good to terrific according to Buffett's metric. Thus, the alternative financing industry is an industry which Warren Buffett would consider as offering high potential returns to investors.
Pricing Power
One major reason for the high returns on investment offered by the alternative financing industry is the pricing power held by companies in the industry. This pricing power can be seen in an anecdote from Broke, USA about Tim Thomas, the owner of Daddy's Money Pawn Shop in Wichita, Kansas.
Among the services offered by Thomas is check cashing. Thomas charges 2 percent of the check's face value when cashing a payroll check, but 10 percent when cashing a personal check. Though this seems at first to be because of risk management, Thomas states in the book that there is actually little difference in risk between the two types of check. The pawn shop calls both the writer of a personal check as well as the issuing bank before cashing it, thus almost eliminating the risk of the check bouncing. Thus, Thomas charges a higher fee for cashing personal checks essentially because he can.
This ability of Thomas to charge almost arbitrary fees reflects another characteristic of the alternative financing industry-its pricing power. Warren Buffett has described pricing power as the ability of a business to raise prices without losing customers. Based on that definition, Thomas' business has nearly perfect pricing power-after all, he doesn't worry about making prices five times higher for one product than for another, even when both products are essentially the same! Moreover, since Buffett has described pricing power as "the single most important decision in evaluating a business," Thomas' fees bode well for the alternative financing industry as a whole.
Of course, check cashing is only a small part of the industry. However, this pricing power can also be seen in a much more important sector of the industry, namely payday lending.
Since the beginning of the payday lending boom in the late 1990s, the interest rate on payday loans has consistently remained in the triple digits, between about 200 and 600 percent. This is noteworthy because in that time period, the number of payday lenders has grown by a factor of ten from under 2000 to over 20,000.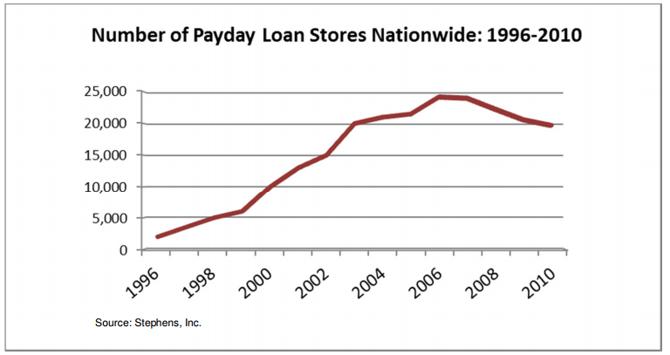 Click to enlarge
In that time period, interest rates have also fallen significantly, reducing the cost of capital for the major payday lenders. In theory, this combination of greater competition and lower costs should reduce the interest rate on payday loans. After all, economic theory tells us that, in a competitive environment, lower costs should be passed on to consumers. In reality, payday lenders are still charging the same extraordinarily high percent interest rates in 2014 as they did in 1996.
It is possible to see that pricing power is the reason for this by examining the divergence in payday loan interest rates between states. There is significant divergence in the interest rates paid on payday loans between states, ranging between 196% in Minnesota to 574% in Wisconsin. Though it is possible that different states have different risk profiles, it seems unlikely that Wisconsin would be nearly three times as risky as Minnesota. Moreover, it wouldn't make sense to say that Wisconsin payday lenders need to have revenues three times higher than Minnesota lenders to cover their costs. Rather, the reason for the difference is that Minnesota has caps on the fees that can be charged by payday lenders; Wisconsin does not. Thus, in Wisconsin, payday lenders charge more because they can; in Minnesota, they charge less because they cannot.
Thus, by examining the difference in their interest rates between states, it is possible to see that payday lenders can essentially charge fees as high as they want, as long as such fees are legal. This ability reflects the nature of a payday loan-to someone who absolutely needs the money, there is little difference between a $20 fee and a $15 fee on a $100 loan. That said, to the lender, that difference means a difference in APR of 130%. This ability of a payday lender to raise interest rates by 130% without losing significant business is indicative of extreme pricing power. Moreover, this pricing power extends to the alternative financing industry as a whole because it is reflective of two major causes-a desire for convenience, and a need for liquidity.
The desire for convenience as a source of the pricing power of the alternative finance industry is alluded to in Broke, USA. Rivlin notes that unbanked and underbanked people, who make up most of the alternative finance industry's customers, have to use the industry's services to do everyday things such as pay utility bills, send money, and shop online. In doing so, they offer a steady stream of business for the industry, business which is largely price inelastic. After all, utility payment fees and prepaid debit card fees are usually a small part of one's budget, even for the very poor. Thus, the average customer is unlikely to change providers due to price, even if providers of such services are earning high margins from them. It's simply too inconvenient to be constantly changing one's provider of such services to save a couple of dollars per month.
Moreover, convenience also factors into the decision of consumers to look to the alternative finance industry for services such as tax preparation and loans. For example, Tim Thomas, the aforementioned owner of Daddy's Money, offers a $65 tax preparation service, even though most of his customers probably qualify for free tax preparation sponsored by the IRS. Thomas' customers are willing to pay more for the convenience of having their taxes done where they already cash their checks and pay their bills.
Moreover, having one's taxes done by a business like Daddy's Money reflects another reason for the pricing power of the alternative financing industry-the need for liquidity. Most people take out payday and pawn loans because they need liquid cash immediately. Even people who get products such as refund anticipation loans generally have immediate needs for the money. As a result, they are willing to pay high fees for immediate liquidity.
For example, many of Thomas' customers have their taxes done in his store so they can immediately get a refund anticipation loan, which they then can cash instantaneously in the store. In doing so, the customer pays Thomas loan fees and check cashing fees. Thomas can charge these very high margin fees because his customers have an immediate need for the money from their tax refunds. As a result, they are insensitive to the high prices they pay for various services, giving Thomas' business-and by extension, businesses like it-pricing power.
Thus, the pricing power of the alternative finance industry comes from two sources. The first is the desire for customers for the convenience of "one stop shopping" in their financial needs, be they money wiring, check cashing, or loans. The second, and more important, reason is the customers' need for immediate liquidity. Because of these factors, the alternative financing industry has extreme pricing power in the interest rates it charges for short term loans and in the fees it charges for essential services.
Growth
At first glance, it seems odd to speak of growth in the alternative financing industry. The market for payday loans and pawn shops is thoroughly saturated. For example, in my home state of Missouri, there are more payday lenders than there are McDonalds (NYSE:MCD) and Starbucks (NASDAQ:SBUX) locations combined. In fact, the number of payday loan stores nationwide has actually been dropping since 2007, from nearly 25,000 to under 20,000.
And yet, there are genuine growth opportunities within the alternative financing industry. The first, most basic source of growth comes from the ability of revenues to grow with the overall growth of the US economy. Though at first glance this sort of growth seems fairly unexciting, it is actually quite important. Such growth means that an investor in the alternative financing industry doesn't have to worry that he or she doesn't have to worry about owning a "melting ice cube," a company that seems cheap, but which will actually shrink into oblivion, taking the investor's capital with it.
This growth is fueled by the industry's pricing power and is reminiscent of the growth in the US tobacco industry. Though tobacco as a whole is a shrinking industry, the ability of tobacco companies to consistently raise prices means that revenues can grow at least as fast as the overall economy. The ability of the US alternative financing industry to do the same ensures the same basic level of growth as well.
Beyond the basic growth that comes from the growing American economy, there are also growth opportunities from structural changes in the alternative finance industry. These changes are alluded to in Broke, USA in the story of Fraser MacKechnie, the head of privately held alternative financing company Amscot Financial. MacKechnie has diversified Amscot away from traditional alternative financing businesses such as payday lending and check cashing to such varied enterprises as selling bus passes, stamps, and lottery tickets. In doing so, he believes that his business can gain additional customer loyalty and traffic, and thus more businesses.
This growing tendency towards diversification and "one stop shopping" in the alternative financing industry is a running theme in Broke, USA. Mike Hodges, the head of Advance Financial, another alternative financier profiled in the book, has also worked to diversify his company away from payday lending into such areas as title loans and prepaid debit cards. Hodges has emphasized diversification to the extent that his business no longer uses the term "payday." One reason for this is, of course, the negative stigma attached to payday lending; however, another reason is that his company has genuinely moved away from focusing on payday lending into other areas of business.
Thus, it is possible to imagine a future world in which diversified companies such as Cash America International (NYSE:CSH) and EZCorp (NASDAQ:EZPW) grow at the expense of pure play payday lenders and pawn shops. This outcome has been made even more likely by the retreat of banks from lower income neighborhoods, a trend mentioned in Broke, USA. This trend may allow alternative finance to grow to fill the void left by banks. After all, Cash America already offers insurance through its branches, while EZCorp and QC Holdings (NASDAQ:QCCO) offer installment loans. As a result, it is possible to imagine continued growth in the US for investors in publicly traded alternative financing companies. Such companies will not only be able to grow by acquiring smaller, private competitors, but also by diversifying to meet additional financial needs of their customers.
Of course, it is not growth within the United States that is the greatest hope of the alternative financing industry, but growth abroad. The most obvious source of growth is Mexico. One can already see the increasing interconnectedness between the American and Mexican alternative finance markets in Grupo Elektra's acquisition of Advance America in 2012.
One major US operator in Mexico is EZCorp, which owns over 200 pawn shop locations in Mexico, as well as 60 payday lending locations through its Crediamigo subsidiary. Cash America International also has over 40 locations in Mexico. The most notable US operator in Mexico though, is First Cash Financial , which has over 500 locations there contributing 54% of the company's revenues as of the end of 2012. These locations are particularly noteworthy given that many Mexicans lack access to banking services, meaning that First Cash can fill that void with its financing business.
Though Mexico is an obvious source of foreign growth for the alternative financing industry, it is not the only one. Great Britain and Canada are also major sources of revenue for US alternative financing companies. As of the end of 2012, Cash America International earns over 18% of its revenues from online lending in the United Kingdom through its QuickQuid and PoundstoPocket websites. What's notable about this is that the company only began offering this product in the UK in 2007, meaning that nearly a fifth of its revenues have come in six years of foreign growth.
However, the alternative finance company that has taken best advantage of foreign growth opportunities is DFC Global Corp. (NASDAQ:DLLR). Since its 1999 entrance into the market, DFC Global has become the largest payday lender in the United Kingdom, with nearly 600 locations as of the end of 2013. The company is also the largest retail provider of alternative financial services in Canada, after beginning operations there in 1996. Such foreign operations have made possible the company's significant growth over the past nine years.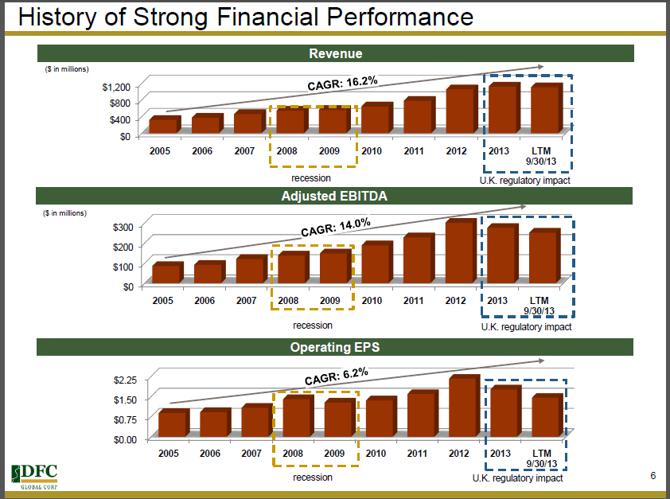 Click to enlarge
Source: 2014 Q1 DFC Global Corp. Presentation
Moreover, what is particularly notable about DFC Global Corp. is its expansion into Europe, a region in which no other US operator has a major presence. The potential of Europe for the alternative financing industry is described in Broke, USA. There, Allan Jones, the founder of payday lender Check Into Cash, says how "Europe makes him nostalgic for the United States in the mid-1990s, when most of the country was still virgin territory." DFC Global has been making this European dream into reality: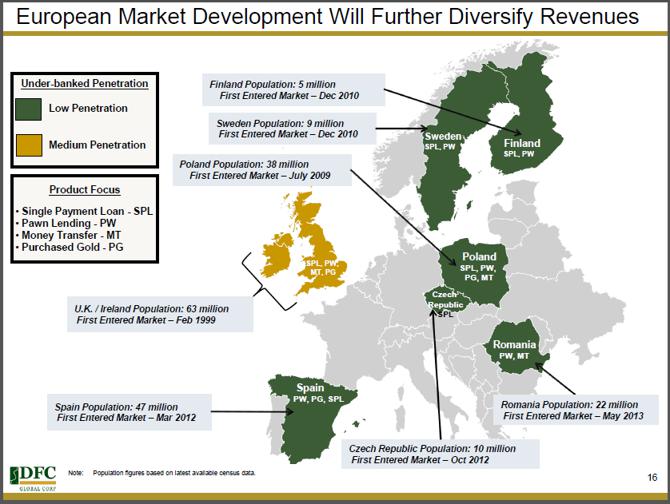 Click to enlarge
Source: 2014 Q1 DFC Global Corp. Presentation
This geographic diversity has allowed DFC Global to cushion its results from the impact of country-specific regulatory efforts. Furthermore, it also allows its businesses in various countries to support one another. The company's more mature businesses in Canada and the US have been used as sources of cash flow to support its growth efforts in Europe: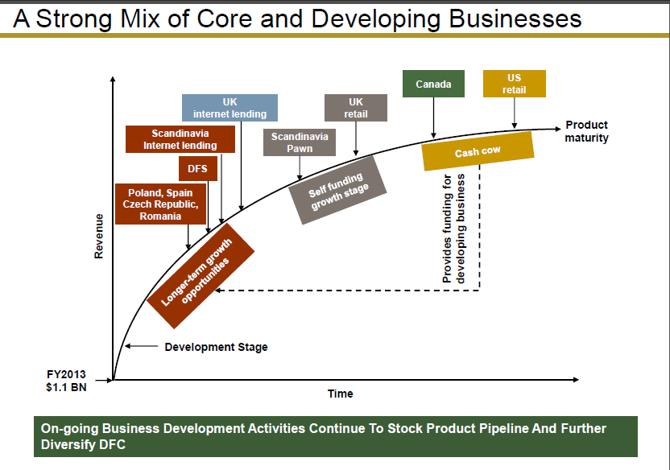 Click to enlarge
Source: 2014 Q1 DFC Global Corp. Presentation
Thus, the alternative financing industry can still look forward to growth. First, the industry's pricing power will let it grow as a whole at least as fast as the overall economy. Next, larger, more diversified companies will be able to grow by not only consolidating smaller pure-plays, but also by taking market share from banks in lower income communities. Finally, there is the possibility of growth abroad, a possibility which may fuel returns for investors in the industry for decades to come.
In summary, Broke, USA describes the three major strengths of the alternative financing industry-high returns on investment, pricing power, and growth. Of course, despite these strengths, there are also a number of risks to the industry. Those risks will be outlined in my next two articles, the first of which is "Understanding The Alternative Finance Sector Through Gary Rivlin's 'Broke, USA': Pt. 2 -Regulation."
Disclaimer: The content here is not meant as investment advice. Do not rely on it in making an investment decision. Do your own research. The content here reflects only the author's opinions. Those opinions might be wrong. The writer(s) of this content may have positions in securities mentioned in this article. This content is meant solely for the entertainment of the reader and its writer(s).
Disclosure: The author has no positions in any stocks mentioned, and no plans to initiate any positions within the next 72 hours. The author wrote this article themselves, and it expresses their own opinions. The author is not receiving compensation for it (other than from Seeking Alpha). The author has no business relationship with any company whose stock is mentioned in this article.