On Thursday January 30, Verizon Communications (NYSE:VZ) issued a retail focused forty-year senior note. The details of the offering are: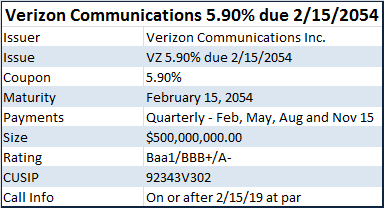 The term sheet is here, the preliminary prospectus supplement is here.
Essentially, this is 40 non-call 5 debt. To gauge the attractiveness of the debt, a look at outstanding Verizon debt is necessary.

Click to enlarge
As Verizon issued the largest ever debt deal last year, those issues are italicized as they are extremely liquid. With this information, the Verizon credit curve can be drawn: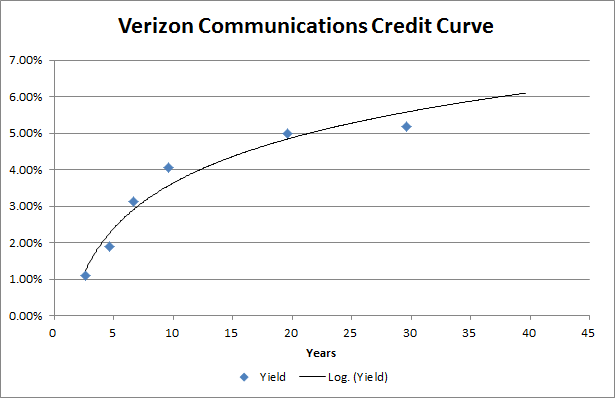 This was drawn utilizing their new debt and a logarithmic curve was added for smoothing and to create the curve. Using this data and curve, it appears that the 5.90% deal was priced on the "expectation screws" - right on the button. But let's look a little further at the extrapolation of the rate: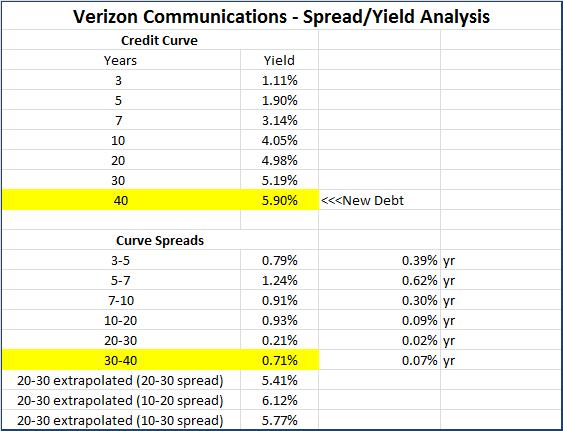 From the basis point per year extrapolation of the credit curve, a range of values from 5.41% to 6.12% can be obtained. In my opinion, the 10-30 curve extrapolation is the most accurate portrayal of the curve and therefore 5.77% would be the "at value" rate. When viewed in this context, the 5.90% is approximately 13 basis points "cheap" to the VZ curve. Given that there will be less liquidity in the issue (they will list it on the NYSE however), we can ding it ten basis points (current market and its exuberance level) and say it is three basis points cheap on an "adjusted" basis.
Is Verizon a worthy credit? In my opinion, they certainly are. They are a BBB credit due to their metrics and the fact that this is where they should be located for reasons of capital and balance sheet efficiency. A summary of their financial stats and metrics follows: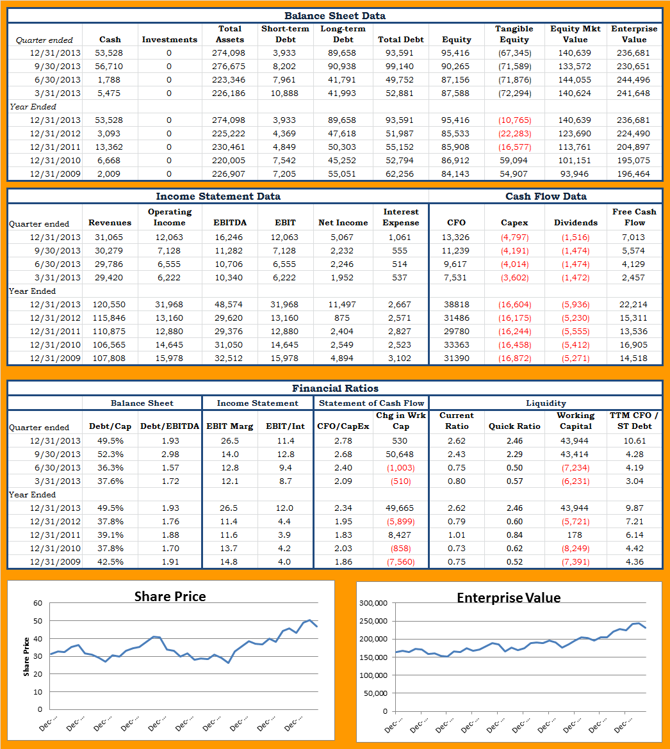 Click to enlarge
Verizon did add significant debt in order to take control of Verizon Wireless from Vodafone (NASDAQ:VOD), bur the additional cash flow/EBITDA mitigates this risk and the ability to fully define the direction of the company is a significant plus.
Using the equity market as an indicator, Verizon has performed well versus peers AT&T (NYSE:T) and smaller CenturyLink (NYSE:CTL), but has underperformed peers Sprint (NYSE:S) and Frontier Communication (NASDAQ:FTR). I would say that the underperformance versus Sprint is due to M&A talk surrounding the company and versus Frontier for somewhat the same reason and the fact that Frontier somehow remains viable despite continuously adding leverage.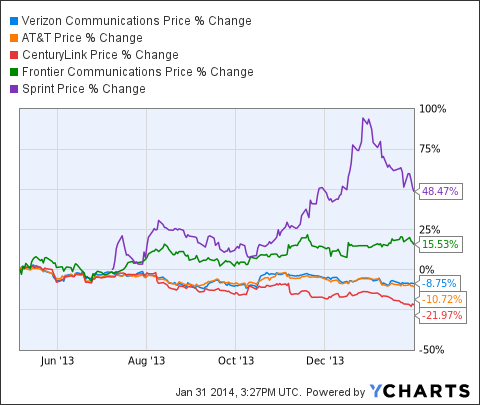 VZ data by YCharts
Bottom Line: The new debt issued by Verizon is cheap to its credit curve (nominally) and allows investors to add some diversity to their fixed income portfolios (given the $25 par nature and NYSE listing). While there could be price swings given changes in interest rates (changes are a certainty and this is long duration debt), it warrants consideration into income focused portfolios.
Disclosure: I am long T. I wrote this article myself, and it expresses my own opinions. I am not receiving compensation for it (other than from Seeking Alpha). I have no business relationship with any company whose stock is mentioned in this article.