As an investor tackling the ultimate do-it-yourself project, building a retirement fund that generates a perpetually growing revenue stream, Stanley Black & Decker (NYSE:SWK) is one of my favorite companies. It is an easy to understand, higher quality, sustainable business, which methodically increases dividend distributions year after year. It diversifies my portfolio into the industrial sector with a simple business; one that makes tools for craftsmen, do-it-yourself weekenders, and professionals of all trades.
Corporate Profile
Stanley Black & Decker, an S&P 500 company, is a diversified global provider of hand tools, power tools and related accessories, mechanical access solutions and electronic security solutions, engineered fastening systems, and more. (Source; SWK's web site)
SWK Operates in Three Core Business Segments
Construction and do-it-yourself ("CDIY") tools for consumers and professionals. The brands are household names found in every toolbox and workshop. Stanley, DeWalt, Bostitch, Porter Cable, Black & Decker, to list a few.
Industrial and automotive repair tools ("IAR") includes the Mac and CribMaster brands, tool storage systems and engineered industrial fasteners.
Electronic security and monitoring, innovative locks and automatic doors.
On January 24th, SWK announced 4th quarter and FY 2013 results. Revenues rose 8% for the year, with diluted earnings per share of $4.98. Sales and profits from the three business segments for 2013 are shown in the table.
| | | | | |
| --- | --- | --- | --- | --- |
| | 2013 Sales | Pct. of Sales | 2013 Profit | Pct. of Profit |
| CDIY | $5.4811 billion | 50% | $798.0 million | 54% |
| IAR | $3.0975 billion | 28% | $436.2 million | 30% |
| Security | $2.4226 billion | 22% | $238.0 million | 16% |
CDIY and IAR segments performed reasonably well, recording 4% and 5% organic growth, respectively. Contributions came from all business segments and global regions, including Europe, which management believes has turned the corner economically. Emerging markets are a high priority for organic growth, which gained 8%, keeping SWK on pace to achieving 20% of total revenues from that targeted region by 2016/2017.
The lone drag on revenue was the security segment in Europe, which fell off the cliff, leading to a 31% decline in security revenue. This was forewarned and discussed at length back in October, during the 3rd quarter conference call. (Transcript courtesy of SA) At that time management candidly acknowledged the underlying issues lay with the Swedish security company, Niscayah, acquired in 2011.
Essentially, the Niscayah sales force was overly dependent on referrals from the parent company. It lacked the training and initiative to generate and close deals. The good news going forward is corrective action is underway to reinvigorate Niscayah. Much of the sales force has been replaced, including four General Managers. A sales culture more attuned with SWK's business philosophy is also being implemented.
From management's vantage point, the changes are starting to gain traction, and should bear fruit in the 2nd half of 2014. To learn more about the decisive steps management has taken with Niscayah, investors are encouraged to read the 4th quarter conference call transcript available on SA.
A fundamental reason for my long-term confidence is SWK's stellar history of successfully integrating acquisitions. The assimilation of Niscayah has been bumpy, but once the process is completed, the patient investor will be rewarded. In time, it should accelerate growth with higher margins, and extend SWK's European footprint in the commercial electronic security market, which is 40% of this core business segment.
137 Consecutive Years of Dividends, with Increases for the Last 46 Years
Dividend durability is paramount when I consider investing in a business. I sleep more peacefully when I can trust my investment will continue generating income, regardless of inevitable downdrafts in the economy. When seemingly apocalyptic events, (real or imagined), are rattling markets during any given day, month, or year, it's quite relaxing to see dividends piling up, quarter after quarter, year after year.
SWK is a member of the S&P 500 Dividend Aristocrats®, an exclusive list of companies that have raised dividends for at least 25 consecutive years. Among all industrial companies listed on the NYSE none can match the 137 consecutive years, or 475 consecutive quarters, Stanley Black & Decker has paid dividends.
Over the past 10 years, dividend growth has averaged 6.9% per year. Going back 20 years, it averaged 5.6% per year. Not a spectacular growth rate, simply steady, and one that has increased every year since 1968! Currently, the dividend yield is about 2.6%.
For my investment money, there is no better testament of a company's financial strength and earnings sustainability, than a long history of consistently paying increasing dividends.
Chairman and CEO, John Lundgren, has stated very clearly a commitment to returning at least one third of free cash flow each year to shareholders, by way of dividends and share repurchases. Over the past decade, the payout ratio has averaged around 35.5%, consistent with that policy. Payout ratio is calculated by dividing the yearly dividends by net income, expressed as a percentage. The lower that percentage the wider the margin of safety for continued dividend growth. This is especially important with the cyclical nature of an industrial company, which can expect fluctuations in earnings depending on the health of the overall economy.
Inherent Risks that Can Hammer Profits, or Threaten Dividend Growth
My low tolerance for risk is why I focus my investments on dividend growth stocks. However, as attractive as a company's dividend growth appears to be, it is imperative to recognize what can put those dividend distributions at risk.
Stanley Black & Decker is heavily dependent on the overall economic cycle, domestically and abroad. Sales plummeted during both recessions last decade. (The impact from the Great Recession was so severe it helped induce the merger of the two companies.)
Competition is fierce. While its size, global reach, and impressive lineup of brand names are strong advantages, Stanley Black & Decker does not qualify as a wide moat, impregnable to loss of market share. Better products at lower prices, from innovative competitors, always pose a threat.
Safety liabilities are expensive, and potential public relation disasters. Power tools are especially vulnerable to safety issues, and product recalls. Both are costly nightmares that can tarnish even household brand names.
The teller's window for easy lending is closing. Interest rates will eventually rise and refinancing debt will be more costly than in recent years. SWK's 33% debt/market cap is modestly above its peers. However, it does enjoy strong investment grade ratings from the major rating agencies. S&P: A, Fitch: A -, Moody's: Baa1
Just about 50% of earnings come from overseas so currency fluctuations can wreck havoc with results. Like all companies, SWK anticipates certain forex rates, but those are assumptions subject to market changes.
The Outlook for 2014 and Beyond
The company has established firm financial goals it seeks to achieve by mid-decade. Revenues of $15 billion, with 20% generated from emerging markets, and an operating margin of 15%. De-leveraging is also a priority. A two-year moratorium on further M&A has been declared, to permit a larger portion of free cash flow towards reducing the debt.
The management team is skilled and experienced in assimilating acquisitions, and penetrating emerging markets. SWK plans 2500 new products in the CDIY segment over the next 3 years, with 250 of those described as World's Firsts.
I share a conservative optimism that the overall economic health of Asia and Europe, along with the U.S. housing market, will slowly continue to improve. (The operative word is 'slowly'.) Emerging markets are part of the new world order, and globally there is a growing middle class. The trajectory may be bumpy, but the trend line is inching northward.
Innovative companies, equipped with strong product brands people have coveted for decades, are positioned to prosper. Stanley Black & Decker is one of those and offers a full lineup of tools to build the brave new world that is emerging.
The View from F.A.S.T. Graphs™ 2010 - 2014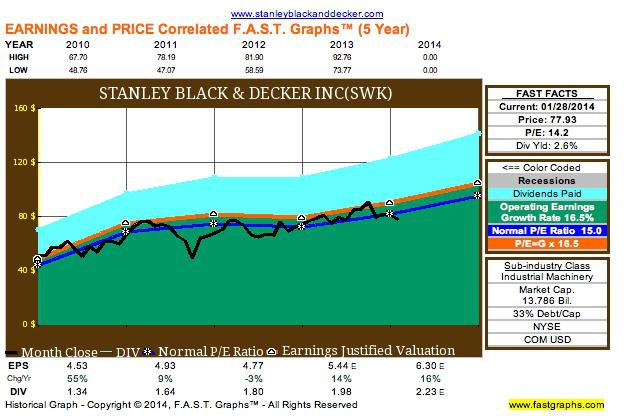 Normally I present at least a 10-year view to offer a longer perspective on the chart. However, a 5-yr view focuses more clearly on the period spanning the Stanley Black & Decker merger, which occurred in March 2010. Stock price (black line), historical PE (blue line), and earnings valuation (orange line) are tracking within a relatively tight band, with a couple of exceptions. The brief, yet steep decline in August 2011, was the overall market sell-off. In October 2013, a moment of 'irrational exuberance' appears, when the stock spiked to $92.76.
Beyond that, SWK has performed rather quietly. It is not a high beta, but more of a slow and steady tread climber. Rather than use analysts' estimates for 2014, the company just guided 2014 EPS at $5.30 to $5.50. Conservatively applying the lowest end, $5.30, with Jan. 28th closing price of $77.93, equates to a 14.7 PE. By any objective measure, the stock is priced appropriately. (Note: The 15.0 PE over the past 5 years is slightly higher than the historical 10-year average 14.1 PE.)
With reinvestment of dividends, SWK has generated an annualized total rate of return of 9.4% over the past 20 years. Nothing to shout about, yet it still eclipsed the 8.9% annualized total return of the S&P 500, over the same period.
20-Year Annualized Rate of Return, from F.A.S.T. Graphs™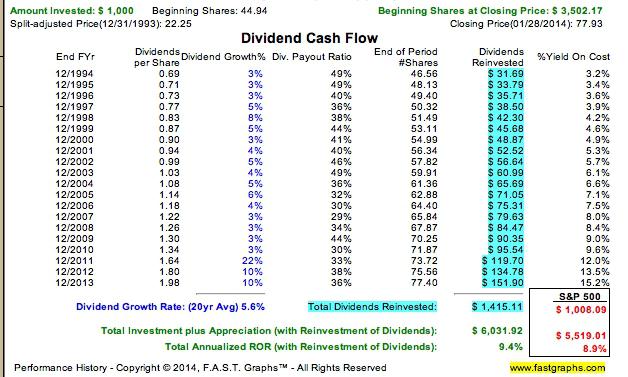 At present, SWK is priced fairly. Opportunities for an even better price may exist over the coming months because of, the taper tantrums the market is prone to display, or the next currency implosion from some remote corner of the globe. Still, it is always worthy to be mindful of Warren Buffett's wisdom on the topic of a fair price:
"It's far better to buy a wonderful company at a fair price, than a fair company at a wonderful price."
Disclaimer
Always perform your own due diligence, and respect that my enthusiasm for a dividend growth investment may not be suitable for your portfolio.
Disclosure: I am long SWK. I wrote this article myself, and it expresses my own opinions. I am not receiving compensation for it (other than from Seeking Alpha). I have no business relationship with any company whose stock is mentioned in this article.