Investors in Amgen (NASDAQ:AMGN) are making a non-event out of a solid fourth quarter earnings report. Accelerating growth on the back of the Onyx acquisition and continued growth prospects as a result of the full pipeline will continue to fuel growth into 2014, and beyond.
The valuation remains reasonably appealing in my opinion.
Solid End To 2014
Amgen reported fourth quarter revenues of $5.01 billion, which is up by 13.3% on the year before, and beat consensus estimates at $4.81 billion. Amgen reported GAAP earnings of $1.02 billion, up 29.6% compared to last year. As a result of modest repurchases, earnings per share rose by 31.7% to $1.33 per share.
On a non-GAAP basis, adjusted earnings came in at $1.82 per share. Earnings came in ahead of $1.69 per share consensus estimates, largely thanks to lower effective tax rates.
Highlights Of The Quarter
Both topline revenue growth and earnings growth saw a meaningful acceleration compared to the full year numbers. Note that this is partially thanks to the acquisition of Onyx Pharmaceuticals, acquired on October 1 of last year. Sales of Kyprolis which has been acquired through the acquisition of Onyx totaled $73 million for the quarter.
The company made good margin progress. Gross margins rose by another 80 basis points to 84.0% of total sales. Strong cost control lowered selling, general and administrative expenses by a full 400 basis points to 27.2% of sales. This was offset by a 320 basis points increase in research and development efforts, increasing to 24.3% of sales.
Strong growth has been recorded XGEVA/Prolia, generating sales of $522 million for the quarter. This was up by 41% on the year before on the back of strong demand.
Most other drugs showed healthy growth as well, offset by modest declines at NEUPOGEN and Aranesp. Neulasta, which boosts infection-fighting white blood cells, reported quarterly revenues of $1.10 billion for the quarter, 10% greater than last year on the back of higher prices. Enbrel, the immune disorder drug and only other drug with quarterly sales of over a billion, reported 3% revenue growth.
Looking Back At 2013
For the year, Amgen reported revenues of $18.7 billion, up 8% compared to 2012. GAAP earnings rose by 17% to nearly $5.1 billion.
The company continues to have access to a lot of financial resources, holding $22.8 billion in cash and equivalents. Yet total debt outstanding is sizable at $32.1 billion. This results in a solid net debt position of $9.3 billion.
Looking Into 2014
For the current year, revenues are seen between $19.2 and $19.6 billion, which suggests revenues are expected to increase between 3 and 5%.
Adjusted earnings per share are seen between $7.90 and $8.20 per share. At the midpoint of the guidance, earnings are seen up by 21%.
The guidance is a bit soft compared to consensus estimates. Analysts were looking for adjusted earnings of $8.17 per share on revenues of $19.51 billion. Especially when backing out the contribution of acquired Kyprolis, revenue growth is coming to nearly a standstill again.
Pipeline Is Filling Up
Amgen's pipeline is rather full with many candidates being in their phase III stage. An overview can be seen below.
As an illustration of some preliminary success in this area; last week, Amgen informed the market that late-stage tests of Evolocumab to treat high cholesterol met the two main goals of the study.
Further details will be released later, but these initial results are very promising. Note that analysts at Deutsche Bank predict peak sales of $2.5 billion for 2020 for Evolocumab when approved. The drug has the potential to reduce cholesterol for patients which cannot tolerate statin drugs, which means that 5-15% of the original patient group that was not able to take "traditional" cholesterol lowering drugs because of the side effects may soon have a statin free option.
Other key focus areas remain oncology therapies, one of the most promising area's within biotechnology. To illustrate the potential of the pipeline, Amgen has currently 11 marketed drugs which generated quarterly sales ranging from $73 million to $1.2 billion in the final quarter.
In 2014, some eight products in the development phase are expected to achieve significant milestone, with many of them in Phase III. Of these roughly half have the potential of becoming a blockbuster, or generate sales of over a billion per year in the coming ten years.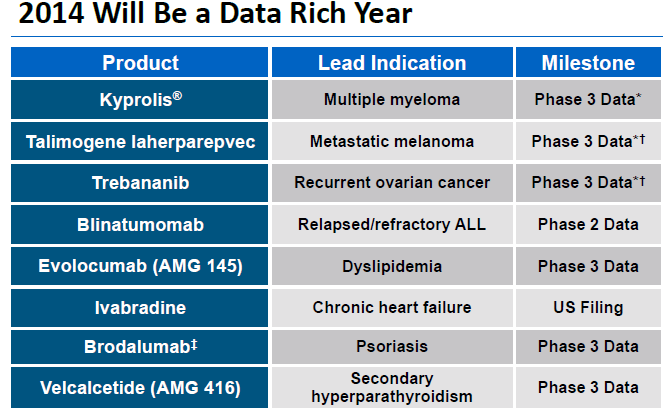 Implications For Investors
Shares of Amgen have seen very strong returns as they have doubled from levels around $60 at the end of 2011 to current highs around $120 per share. This results in a valuation of roughly $91 billion, the equivalent of 4.9 times annual revenues and 17-18 times annual earnings.
Given the company's very strong track record this seems like a fair valuation. Note that this strong performance coincided with the time at which Amgen started to pay dividends. Ever since the firm has aggressively hiked its dividends to $0.61 per share on a quarterly basis, providing investors with a 2.1% annual yield.
Back in October I checked out the prospects for Amgen which traded around all time highs while the company shifted its focus towards growth. I noted that Amgen reported stagnant revenues and earnings, as the company shifted its focus towards increased R&D efforts, while acquiring Onyx for nearly $10 billion.
While the company resorted to share repurchases in recent years to boost earnings per share growth, it stopped doing so in the final quarter of 2013. Part of this reason is the goal to deleverage the balance sheet following the deal with Onyx.
I believe that the focus on growth might be accompanied by a 20 times earnings multiple, given its world class products and the strong track record of the firm. As such a price target of $150 per share for the medium to long term seems fair in my opinion, especially as the pipeline will develop fine.
Disclosure: I have no positions in any stocks mentioned, and no plans to initiate any positions within the next 72 hours. I wrote this article myself, and it expresses my own opinions. I am not receiving compensation for it (other than from Seeking Alpha). I have no business relationship with any company whose stock is mentioned in this article.