By Chris McKhann
KeyCorp (NYSE:KEY) is breaking lower after reversing from its highest price in almost a year, and the bears are piling in.
optionMONSTER's Depth Charge tracking system detected the purchase of 6,540 June 8 puts against open interest of just 553 contracts. Most of the large trades priced for $0.60 to $0.65.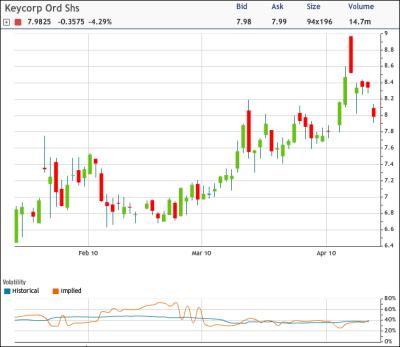 KEY has fallen 4.29 percent to $7.98 in morning trading and is down 11 percent from the $8.97 level where it opened before reversing lower on April 7. The Cleveland-based lender had been rallying along with other regional banks as investors anticipate smaller loan-loss reserves this earnings season.
The stock was one of five in the industry to be downgraded today by UBS, which said that recent gains were unsustainable. Keycorp is scheduled to report first-quarter earnings before the bell on April 20.
KEY must fall at least 8 percent by expiration for the puts bought today to turn a profit.
Our tracking systems also detected a trade in 4,000 June 7 calls against open interest, which apparently results from an investor unloading an existing open position. The transaction represents another expectation that KEY is headed lower.
Overall options volume in the stock is three times greater than average so far today.

Disclosure: No positions